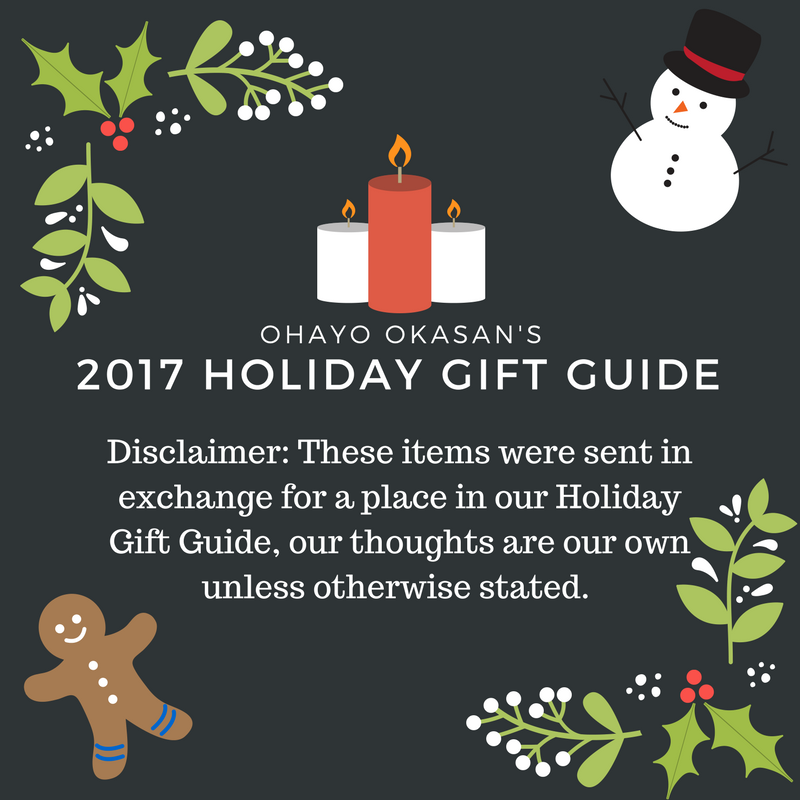 Exotic Noods is a subscription box that offers ramen style noodles from around the world.
These are awesome products that you might not be able to find where you are at, or maybe wouldn't have tried without the added push of it being picked and sent to you. Lots of flavors, lots of countries, spicy, not too spicy. Lots of options to be had with this awesome box. They feature premium noodles from China, Japan, South Korea, Indonesia, Singapore, Thailand and Malaysia.
You can get 4, 8, or 16 packages of noodles. You are also able to pick between regular packs (which may include spicy) or no spicy. Options for subscribing are monthly, 3 month, 6 month or 12 month. Depending on your options in size, the price varies. A four pack subscription right now is $20 monthly, $58 for 3 month, $112 for 6 month, and $214 for 12 months.
Save 10% off your Exotic Noods order with the code KISA10 at checkout!
You also will need to pick how you want to cook your ramen. The black pack offers dispoabowls, so you just need boiling water. Red pack features noodles that cook on the stove, and green is a mix of both.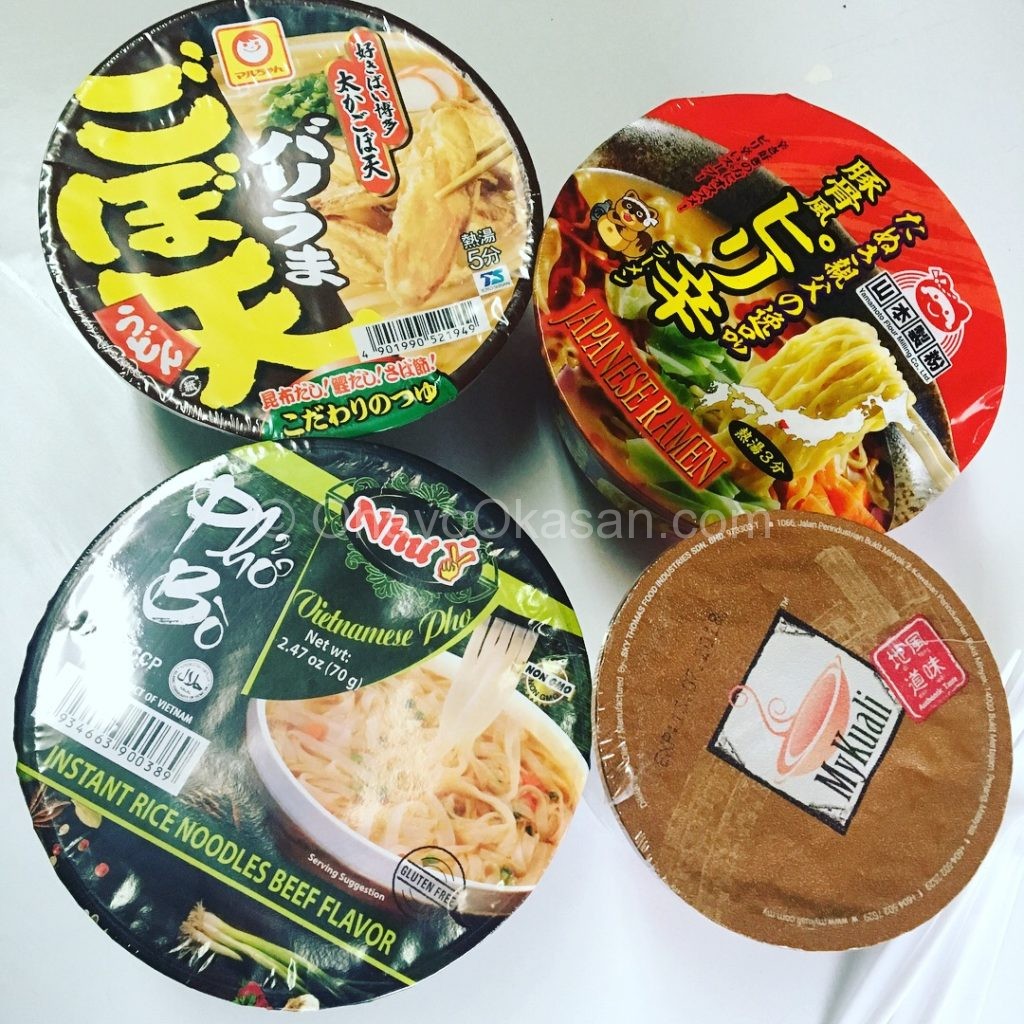 We got an Exotic Noods green pack with 8 different types of ramen. I haven't gotten yet to doing the stove top ones, as I've been busy and just… so bogged down with other things. I need to take the time to take care of that and finish the video. Which… we had some issues shooting.
So for this post we'll just be talking about the four ramen types we got that came in bowls that just needed us to add boiling water to!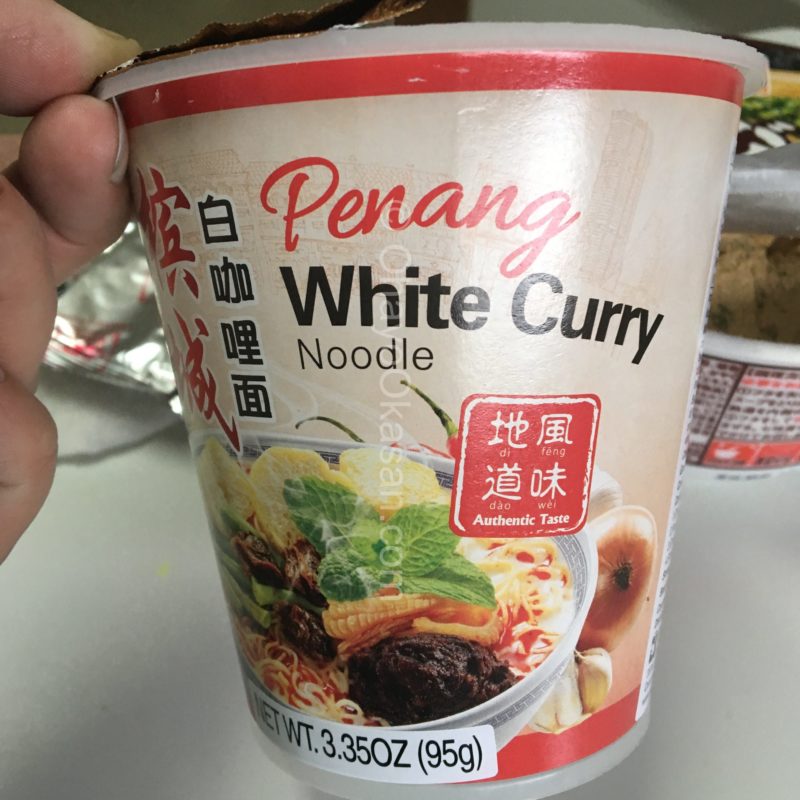 Penang White Curry – I've never had curry. I wasn't sure if I'd like the white curry. Why is it called white curry if the sauce is red? It's super spicy too. It didn't seem like much flavor at first.. and then suddenly it slapped me in the mouth with a burning sensation.
Aussie ended up eating it surprisingly. Risi wouldn't even try it based on look and smell. I had a few bites but couldn't finish. Whew. Maybe non-spicy would have been the best idea for me!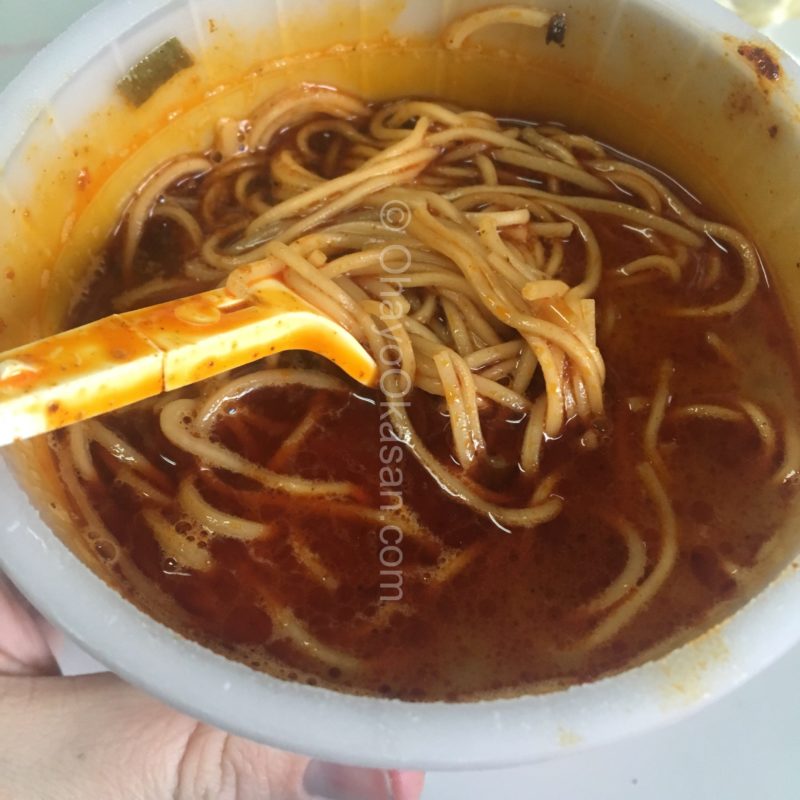 I should mention Exotic Noods sent me forks with my ramen. So I had 8 plastic forks in the box and I thought that was cute. Interestingly two of my bowls came with their own little foldable fork, which Risi REALLY loved and I thought was pretty cute. This White Curry is one that came with it's own folding fork. As you can see the sauce has a lot of oil to it, and while I didn't mind the texture of the noodles.. I couldn't handle the heat.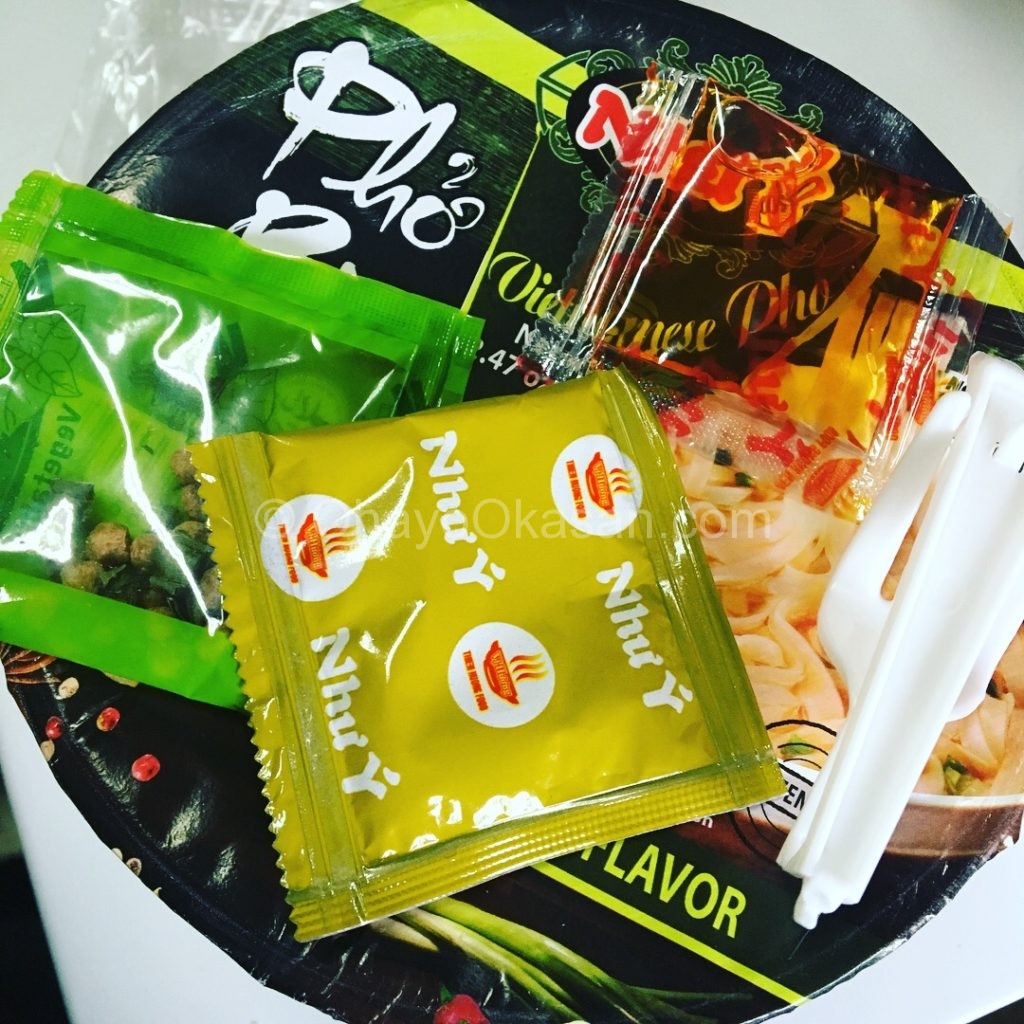 Vietmaneses Pho – Beef Flavor- The only real problem I had with this one is that the noodles got soggy a lot faster than the rest of them. So their texture went from pleasant to weird too fast for my liking. I did really like them at first, but they weren't the best for having to try other things while on camera.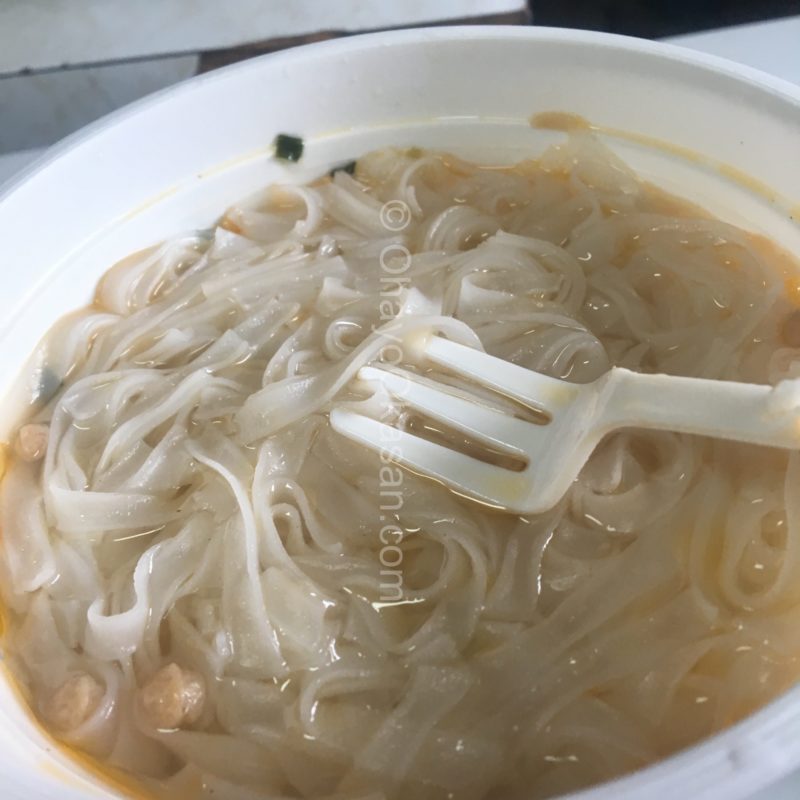 This is partially my bad, but I could also just see needing to eat these faster unless you don't have texture issues. The taste was good, and Risi even tried a noodle of this one! As you can see also included was a foldable fork.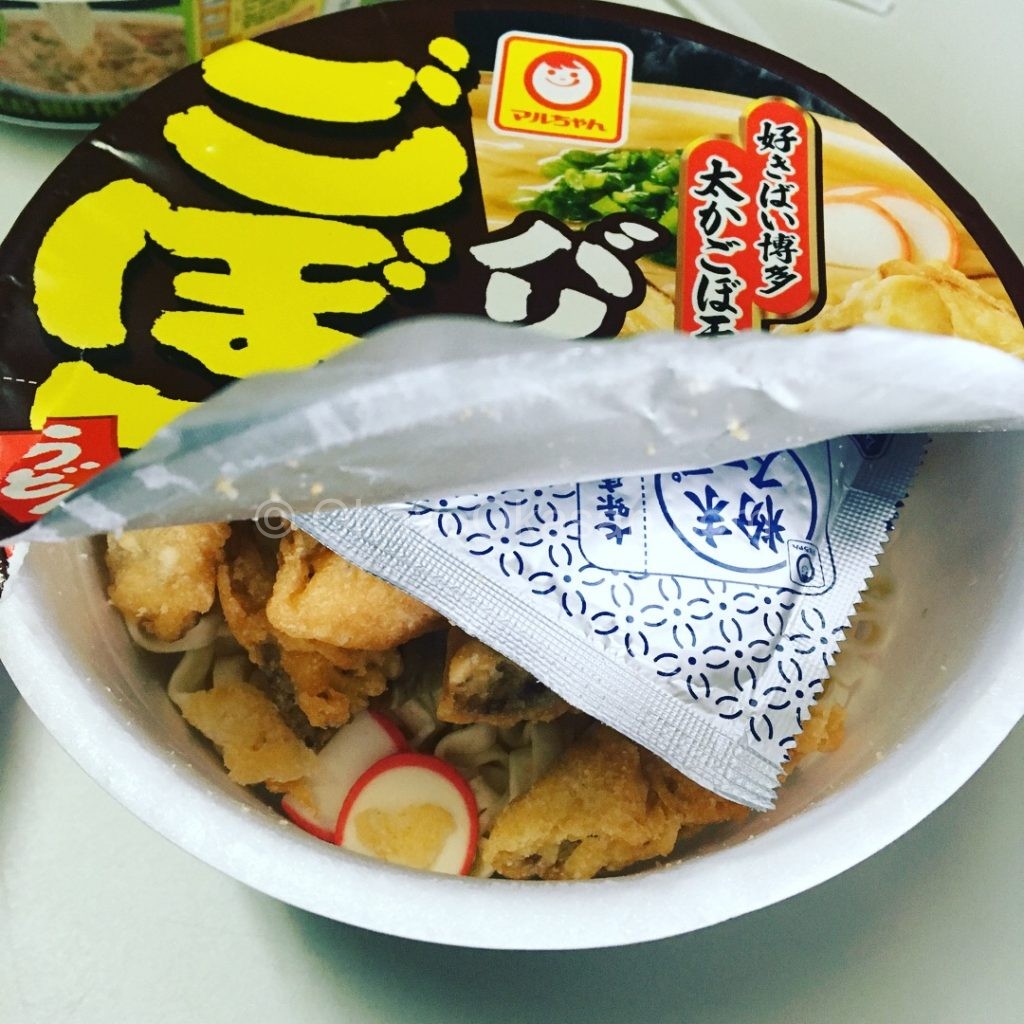 Tempura Ramen – Risi didn't like the texture of these noodles, but kamaboko is one of Risi's favorite things in ramen and she did like that. I REALLY wanted to like the tempura pieces, but tempura potato skins… was just not a good flavor to me. The skins were just too bitter and really took away from the soup. I did like the noodles just fine, even if I prefer my ramen noodles rather thin.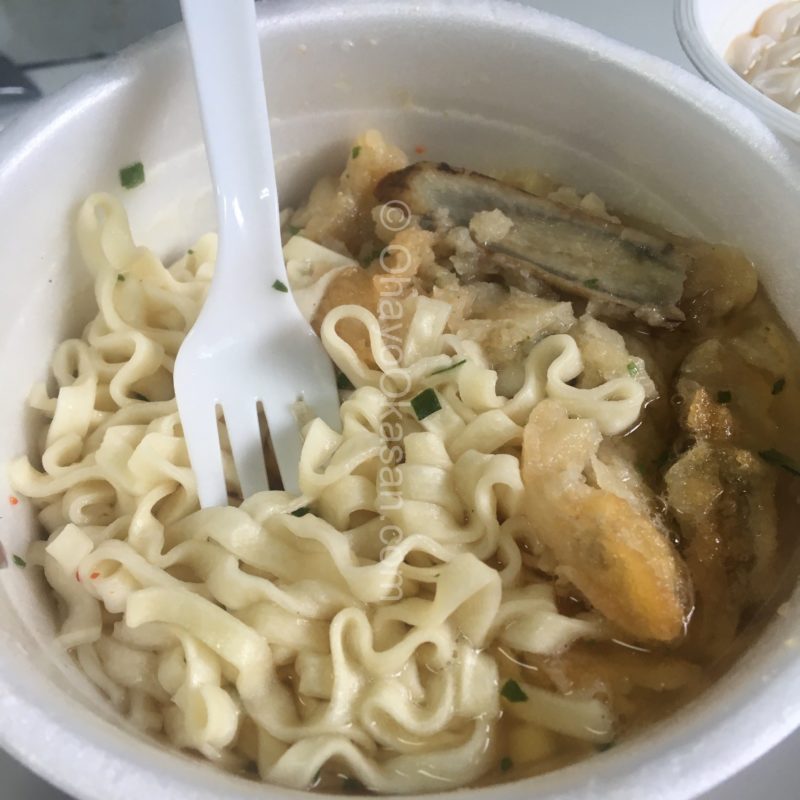 Despite the tempura potato skin pieces, I marked this one as my second favorite as the flavor was good and the noodles were not bad despite being thicker and flat like this. I did eat a bit of it.. but slowly the potato pieces started to change the flavor for me too. 
Japanese Ramen – I can't remember the name of these off the top of my head, sorry. To be honest, with the sauce in this one I thought it'd end up rather spicy too! This one and the one before it are both from Japan. This was the ramen from our Exotic Noods box that actually made the video hard to finish.
Whyyy?? Because Risiel FELL IN LOVE with it and wanted it ALL right then and there, no waiting allowed. Hungry 4 year old kiddos don't take kindly being told they need to wait a bit longer for mom to finish a video so they can have the ramen they're wanting.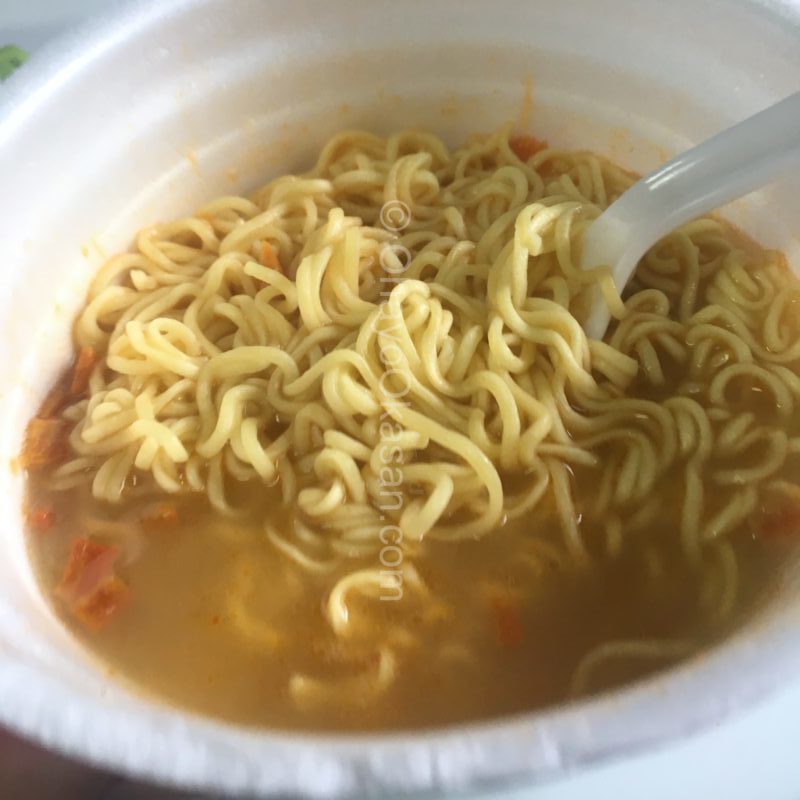 Once water was added the sauce wasn't dark at all, nor was it really very spicy. The flavor was very pleasant and the noodle texture was great. Risi finished off 2/3 of them and I had the other 1/3. She took one of the foldable forks from another ramen bowl though, because the novelty was amazing to her.
If you have a noodle lover in your life, or just someone who likes to try new and interesting foods, I would highly recommend Exotic Noods. Don't forget to use KISA10 at checkout to save 10% off your Noods! It's a fun subscription box and gets you or whoever you gift it to being able to explore some noodles from other places.
As for me, I would gladly buy the last bowl again as it'd be nice to add something else to the line up. I've got five different types of bowl ramen Risiel will eat now! Not sure about any of the spicy ones just yet. I will do another post when I get the chance to make all the stove top noodles.
What is your favorite kind of noodle?
Edit: Finally uplaoded the unboxing video! >.> I know.. I know.. I suck..