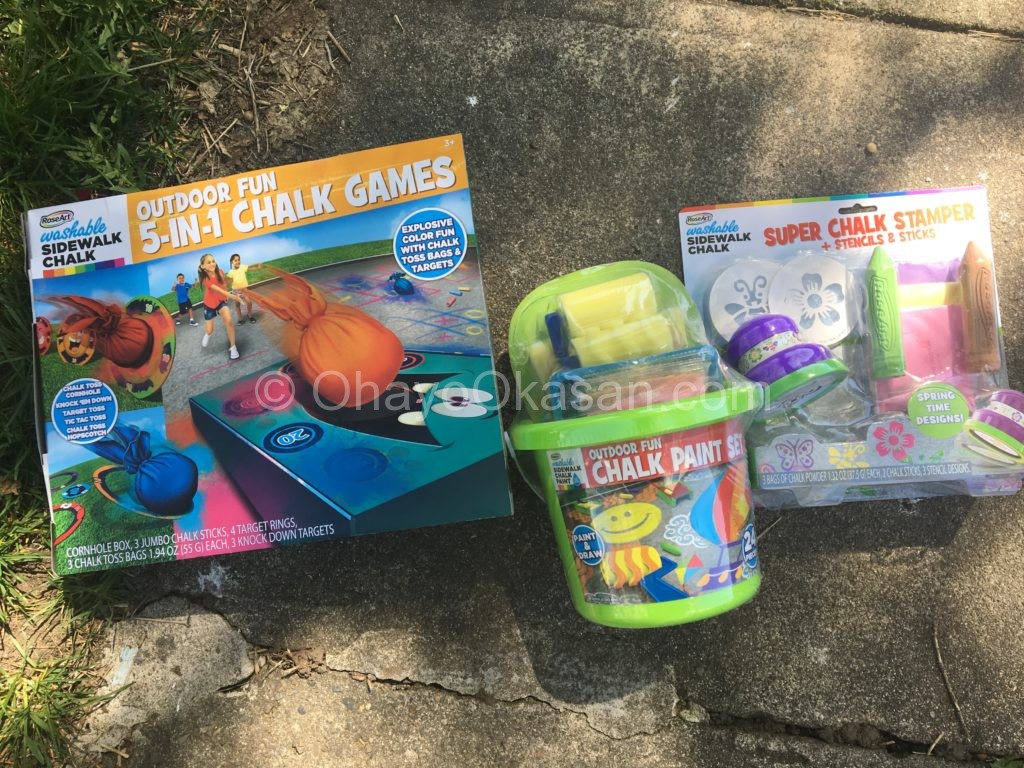 Ohayo Okasan received these RoseArt products in exchange for an honest and unbiased review and all opinions are 100% my own or those of my family members as stated. Regardless, I only review products that I am actually interested in for myself and my family and of course for sharing those reviews with my awesome readers. This post contains affiliate links as well, and I might make a small commission used to support this blog and our family if you make a purchase from them. Thanks for reading!
The weather is finally staying consistently sunny and it's getting warm enough we're going to have to put up our AC's already! So that means it's time to get to playing outside now that there's sunshine, grass and warmth. What better to do outside than play with chalk and experiment with fun chalk items? Well sure we have bikes, the swing set, a slide and a sprinkler, but we need some creative fun too.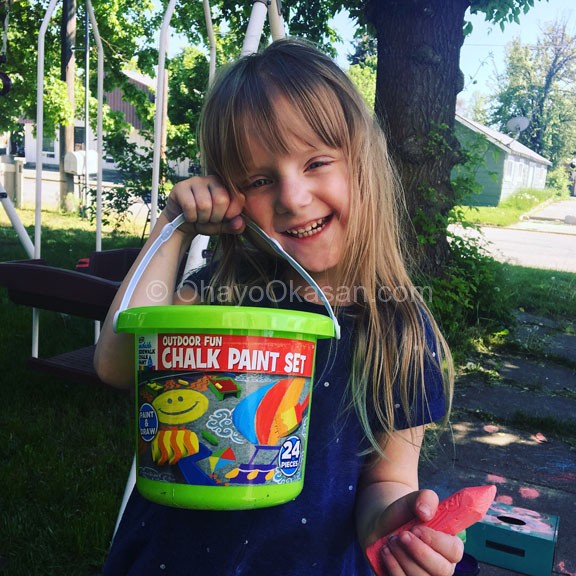 RoseArt sent us a 5-in-1 Outdoor Fun Chalk Game Set, Chalk Paint Set, and Chalk Stamper set to try out and see what we thought. Our weather has not been behaving much, so it's taken me a bit to get outsider with Ris. Plus she's battling a cold/flu and so we missed a couple of sunny days last week while she was just too sick to play or do much of anything other than be a grump butt.
Today we finally made it outside to enjoy our new chalk toys and take a video. The video will be up in a couple of days since I have to edit it a bit. Noisy cars and other things to fix yanno?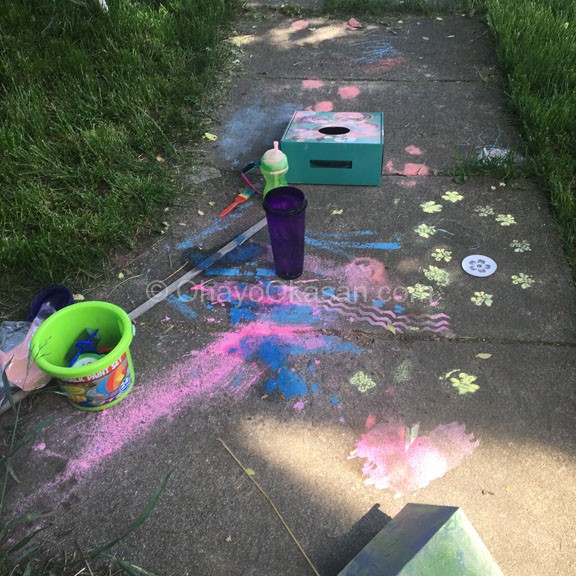 We had a lot of fun! I wasn't so sure about the chalk paint at first, as you can see I accidentally spilled some of the bright pink, and got splashes of the blue paint on it as well. It actually looks cool even for an oopsie! Risi really enjoyed the chalk stamper set, which involves powdered chalk like the chalk paint set, but a little stamper tool that really does a good job of letter you make awesome little designs.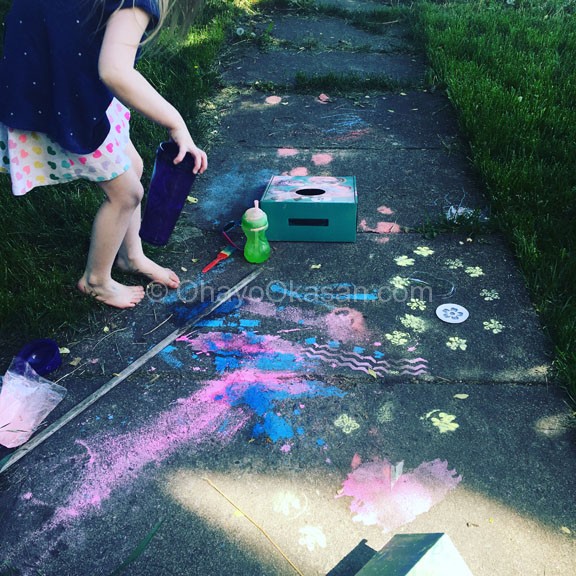 The only real downside to these kits is that the chalk powder for the stamp sets don't come in resealable bags when you are to use only about half a bag in the stamp in one go. I think with kids that makes it just too easily to have an accidental half bag spill and possible tears happen unless they're super careful. We just grabbed sandwich baggies from the kitchen to take care of it, so it wasn't a huge deal.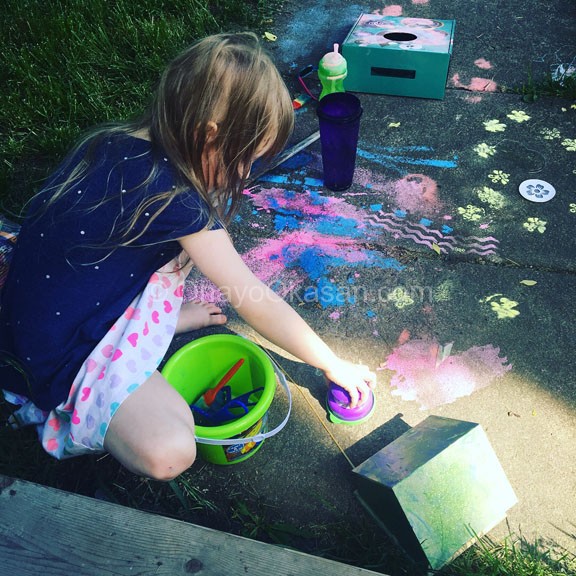 Risi had a lot of fun getting to work with the RoseArt chalk stamper set the most, after throwing the chalk bags at the 5-in-1 game set for a bit, she got a little tired of the cornhole game, because she wasn't really able to get the bag into the hole yet. Var enjoyed just throwing the chalk bags around and seeing the chalk powder make random plops in various places.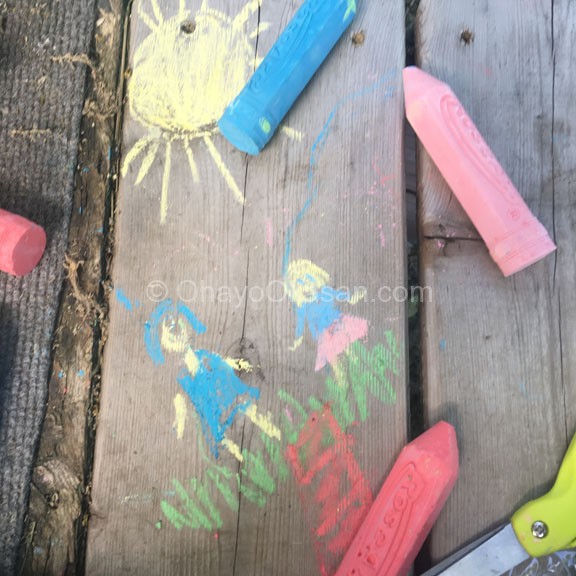 I just decided to doodle for a little, Risi asked me to draw our sidewalk and the two of us. That's not too easy with the colors of chalk we had, as I was wearing a black dress and Risi's skort is actually white with colorful hearts but I ended up making it pink. Eh, it was fun anyway.
I can't wait to spend more time outside making our sidewalk colorful. I really like using the chalk paint, and want to get more of RoseArts chalk paint colors and see if I can paint anything cool.
I don't play with chalk too often, and I have to say I really enjoyed the amount of pigment all of the products had. Even if the chalk paint was a little less vibrant than the other products, I enjoyed them just the same. Risi had a lot of fun, and even Kat and Var got in on the play.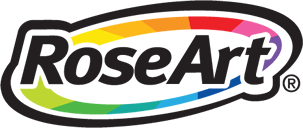 WEBSITE ♥ AMAZON ♥ FACEBOOK ♥ TWITTER ♥ YOUTUBE ♥ INSTAGRAM ♥ PINTEREST
What are you kids favorite chalk toys, have they tried any of the RoseArt chalk toys?
1