I know that it's not exactly flip flop weather or season just yet, but I love flip flops and wear them whenever it's decent enough for me to wear them. Yes, that means even an unusually warm day in the winter will get me into flip flops!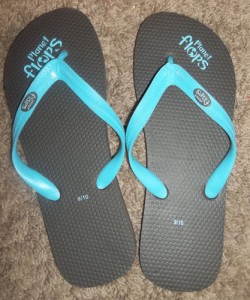 So I'd like to introduce to you Planet Flops! And show off my new Flip Flops, Which are Chocolate Blueberry in size 9/10. Just my size!
Planet FLOPS is based in Beverly Hills and they're dedicated to making environmentally friendly, stylish and comfortable flip flops. These flip flops are made with natural rubber in Brazil, instead of being made of synthetic rubber which is made of petroleum and chemicals. Natural rubber doesn't require cutting down of the rubber tree (which are in the Brazilian rain forest), and it's extraction is much like getting maple syrup from a tree. 
Natural rubber is more comfortable and provides great cushion and flexibility. 
Podiatrist Dr. Sylvie created Planet FLOPS once she realized there was a demand for eco-chic and comfortable flip flops. And she's right! I'm tired of uncomfortable flip flops giving me foot pain during my warm weather days.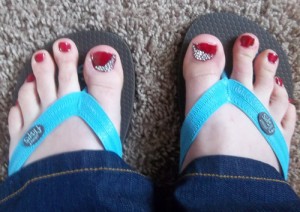 Thankfully we had some decent weather for a couple of days so I was able to go ahead and wear my flip flops. Of course since I was going to be showing off my toes I decided it was time to go ahead and decorate my nails. Cid calls these my "armor nails" because of all the gems on the big toes.

Anyway, I have to say that these are the most comfortable flip flops I've EVER entrusted with my feet! You really can tell the difference between the way the natural rubber feels over synthetic rubber and I cannot see myself EVER buying cheap flip-flops again. My feet didn't hurt after wearing these for a few hours and I had no issues in the spaces between my big toe and pointer (really?) toe where the strap goes in between.
All around perfectly comfortable flip flops that I am so glad I get to wear this summer! You can tell these are high quality and going to last me the entire season instead of being a cheap pair that will last maybe a month before they break and need replaced. Perfection!
Planet FLOPS are available in Mens, Womens, and Kids sizes with all sorts of different colors! Even better? One lucky Ohayo Okasan reader is going to win their own pair of Planet FLOPS flip flops just by using the below rafflecopter! Yay! Just in time for it get to close to spring right? Flip flop your way into spring and summer with a lovely pair!
Minna-san, ganbatte ne!
Disclaimer: I received a pair of these flip flops in order to help me write my review, the italicized text above is text from the company and the rest is in my own words. I highly recommend Planet FLOPS as a source of high quality, awesome flip flops, however your opinion may vary. No other compensation was received for this post.