Today's Learn Japanese post is about items in your kitchen!
Not food things, just general items you will find in your kitchen. I will move on to more foods later! Also, soon I will do a video series for each post as well!
I did do one video to help with simple Japanese and the pronunciation, which you are able to find here.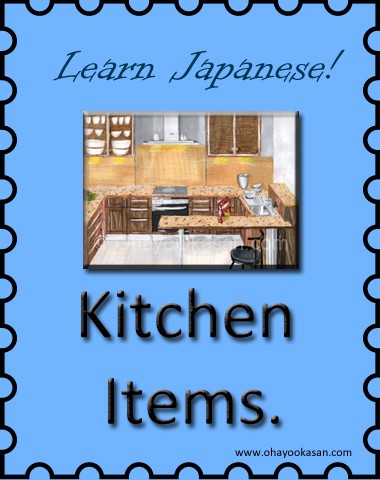 | English | Japanese |
| --- | --- |
| Dishes | Sara |
| Telephone | Denwa |
| Oven | Oobun |
| Cupboard | Shokkidana |
| Microwave Oven | Denshi-renji |
| Pot | Nabe |
| Frying Pan | Furai-pan |
| Toaster | Toosutaa |
| Measuring Cup | Keiryoo-kappu |
| Bowl | Booru |
| Stove | Konro |
| Refrigerator | Reizooko |
| Freezer | Furiizaa |
Did you find any of them easy? A few are pretty English sounding. Furiizaa, Toosutaa, and Oobun at the very least. Did you know any of these before today?
Do you have any words or sayings you'd like me to cover in an upcoming lesson? Let me know in the comments below! I'd love to be able to provide whatever you are thinking about in one of my next Learn Japanese posts 😀
Blogger, Illustrator, Reviewer, Voice Actress, Mom of 5 humans, and 8 kitties! I do a little bit of many things. Crafting, singing, sewing, baking, cooking, on top of blogging, taking care of kids, and doing freelance work here and there.
Latest posts by Kisa Johnson (see all)