I know, talking about Halloween costumes in DECEMBER?!
Yep.. I've been meaning to write this post since the day after Halloween. That.. clearly didn't happen!
This year I was lucky that three of the kids opted for bought costumes. Original I was going to make Risiel's costume, but I got her to agree to an easier costume. I just.. haven't been doing well this year at all. This fall/winter particularly have been difficult for me, and I don't know how to get out of this dark hole.
Anyway… for something non-review related I wanted to share the kids' costumes!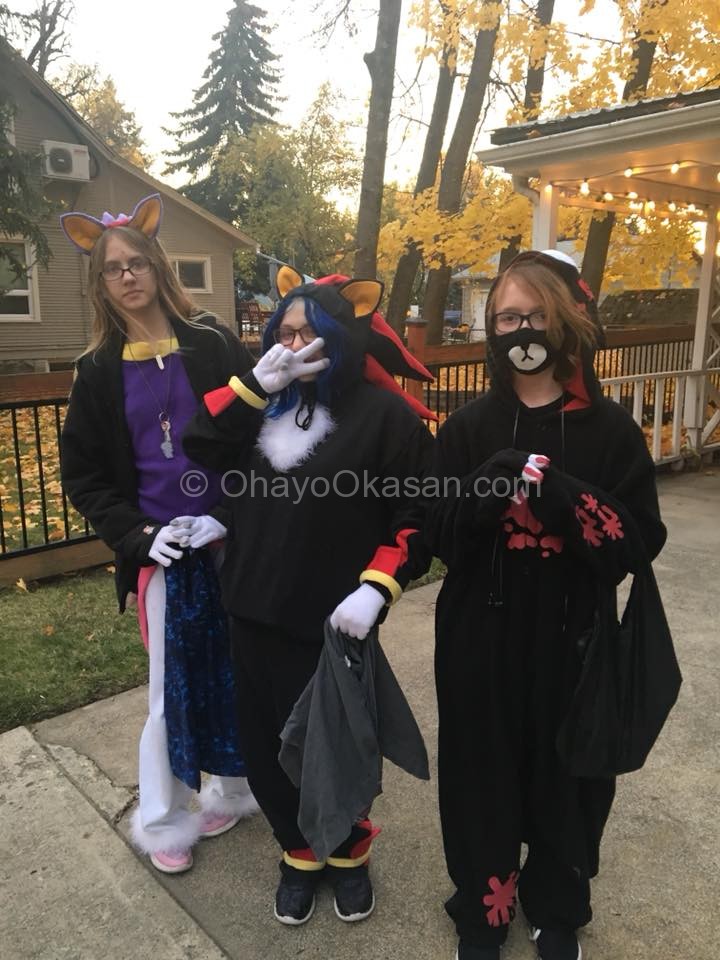 Again this year we had a friend come with it. Sisi's friend M came with us this year, but only M. She's dressed as.. Gloomy Bear? I didn't make her costume of course.
Kat – This year Kat and Sisi did a costume set. Kat is Blaze the Cat from the Sonic the Hedgehog series. I didn't make the pants, I just added the fluff to the bottom. I did make the jacket/shirt thing, ears and hair I made and attached to a headband. You can't really see them well. This character has really crazy hair and Kat didn't want a hood like Sisi did. So I toned down the hair enough to have something to represent it, but not be all out like the character.
Sisi – Is Shadow the Hedgehog from the Sonic the  Hedgehog series. I bought pants and a hoodie to edit as you can tell. I did make the ears and hair-spike things as well as the arm and leg cuffs? The hair spikes made the hood heavy and so the ties had to be used to secure it around her head otherwise it would just fall off. I even had to edit them because they were too heavy with fluff. @_@;;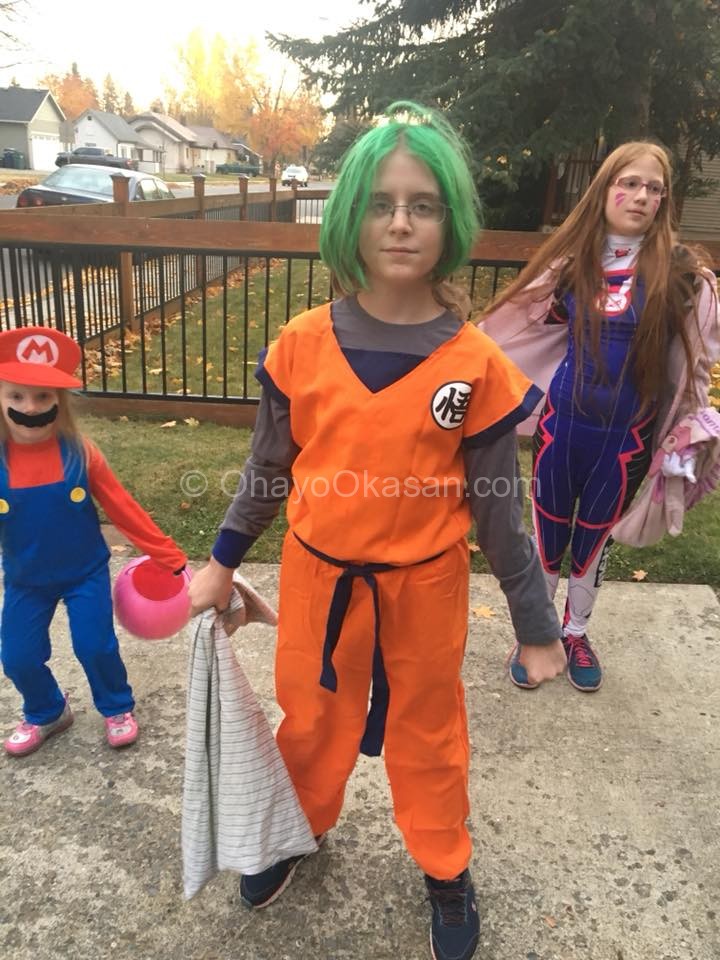 Var – Var went as kid Goku from the Dragonball series. He has a tail too. This costume didn't cost much, and the thin fabric pretty much showed why. So I had him wear extra clothing with it because it's very cold up here. We could have done a wig but… >.> I couldn't really afford that right that second.
Lis – Although her favorite character from the game Overwatch is Sombra, that costume is more expensive/detailed to make. Soo.. her second favorite character D.Va came to the rescue!  We know that Hana's real hair is brown, but.. again.. didn't have a wig or the funds for a wig. Or props.. Someday though. Kat did Lis's makeup for me. ♥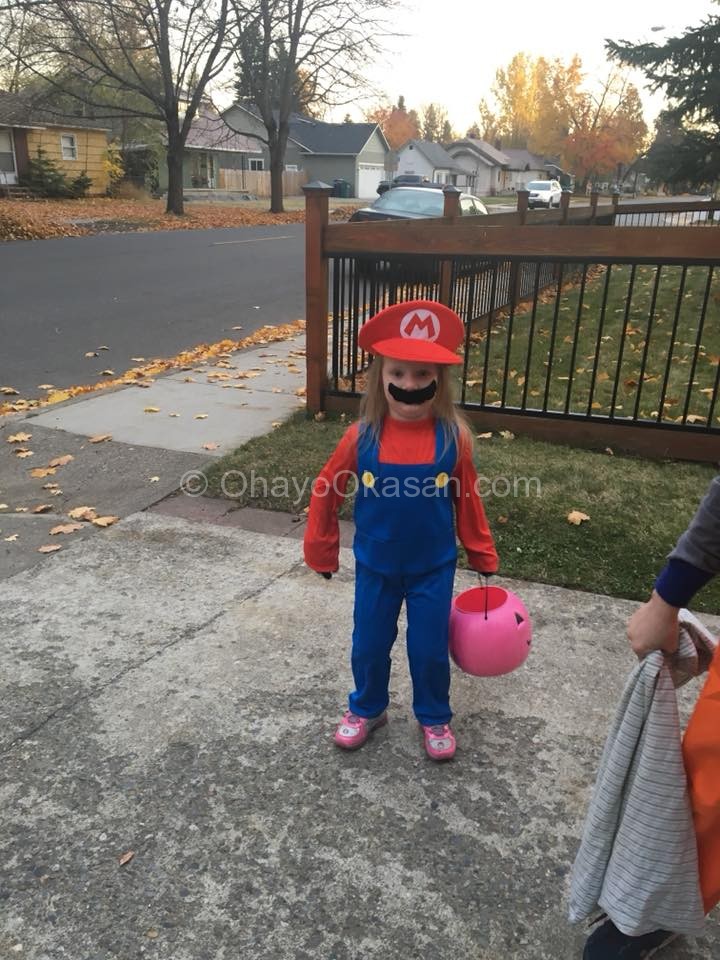 Risiel – Mario! Most people know Mario from the Mario Bros. Risiel fell in love with the old 90's Mario cartoon. She originally wanted to be Tracer from Overwatch, but… that didn't end up happening and I got her to agree to this Mario costume. Thank you amazon for fast shipping and coming to my rescue.
Sadly.. Risi decided all of a sudden she was scared of everything and I ended up taking her home and dropping her off with Aussie. I was pretty annoyed because she started throwing a massive tantrum and she's gone Trick or Treating without issue the past two years. Kat picked up the slack for her and got candy for her. So that was nice.
This was the first year ever that the kids got told by anyone they were too old. Oddly enough it was by some lady who lived in this GIANT house down by the lake. She started yelling about kids people too old and she wasn't "down for that" and yelled at other groups too. She ended up turning off her porch and some kids were talking about toilet papering her house. Geez lady.. if you don't want to give out candy to anyone over a certain age, or age all and want to throw a fit just turn the light off and don't do it at all. Seriously, she was handing out small cheap hard candy anyway. So it wasn't like she spent all this money in the world on it.
Most people were happy to see kids their age doing something other than anything naughty. Man.. why not just let people enjoy dressing up? They're not out smoking, drinking, throwing eggs at your miserable self's car.