You might be wondering what I mean by the title. I don't mean I force my kids to all learn the same music…
…or even to take on the same kind of musical endeavors. I just think that music is an important part of life, and as someone who loves music… as well as music education, I heavily pushed all of my school aged children into learning music someway or another.
I was in choir most of my schooling days, took violin for 2 years (my oldest sibling kept threatening to break my loaner instrument, so I stopped playing), guitar for a year, and piano for a year. I still sing often, and listen to music daily.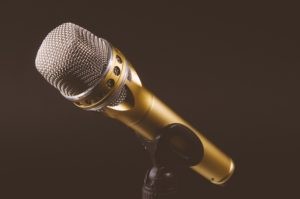 For the oldest two girls, they've decided that choir is enough for them. Though Kat did take a quarter of piano lessons in middle school. She enjoyed it a lot and has her own keyboard piano, she says she plays at times but since she has headphones that go in it, I don't really hear it to know if that's true anymore.
For Sis, she's been in choir since 6th grade, and she's in 9th grade now.
Var didn't really want to do anything music wise until 6th grade either. Well, unless you count singing and dancing along to Michael Jackson. He ended up picking the Flute as well as joining choir. I was nervous about the flute choice, but to my surprise picked it up pretty well. I tried playing the flute for a short time when I was younger, but couldn't manage to do it. I pushed him into staying in band this year as well choir even though he originally wanted to quit because one of his friends was?
Lisi started Violin last year (5th grade) and… even though I didn't know if she'd stick with it, her dad actually bought her one instead of going the renting route. She's still taking violin and doing pretty well, and plans to continue it even into college as she wants to be a concert violinist… who is also a barista because she's been wanting to be a barista since she was little. Because I like coffee. XD So darn sweet!
Enjoying music can lead to a career doing music in movies, for video games, or just giving people a creative outlet to help improve their lives. John Jesenky is a composer and musician who is a staunch advocate for music education.
There are many benefits of music education. Aside from the usual choir and recorder that elementary kids do (I also did recorder and marimba's in middle school), I think it's important for music to be a part of our every day lives.
Did you know that a study in 2007 revealed that students in elementary schools with superior music education programs scored roughly 22% higher in English and 20% higher in math scores on standardized tests compared to schools with low-quality music programs? That was regardless of socioeconimic disparities too. The link above talks more about it, and I really think it's worth a read if you're interested in the topic of music education and why it benefits people.
I really want to get back into playing violin, piano and guitar. I just… actually need an instrument to play. It's easier to search for suitable violins for sale now than it was before so that's a good option to start with. John Ross Jesensky, who I mentioned above, specializes in the grand piano. His scores have been in countless feature films and that's impressive for sure. I got to play on a baby grand piano once in high school, and it was a wonderful experience and I wish I could have done it more.
I don't think I'd ever become famous for music, though I really did want to be a music artist/solo-artist when I was younger. Some days, I still really want to be.. but.. I'm getting kind of old and I'm not sure that will allow me to have the chance to break into that market.
What is your favorite kind of music? I'm a little all over the place with my tastes, but that's alright. The only music I don't tend to listen to are country and metal, at least off the type of my head anyway.
Do you play an instrument? Sing? Go to Karaoke?
I know, so full of questions!