Disclaimer: This post is sponsored by Alaska Seafood and I received product in order to facilitate this post. Still, my thoughts and opinions are my own. 🙂
Though you'd think Monday nights wouldn't be as busy as they are, my Monday's are pretty nuts. The kids start school late on Mondays, Var has therapy from 5-6pm (dinner cooking time) and I always seem to lag on just about every thing that is… Monday. So, having something that I can cook quickly, but still have it be delicious is pretty much a must when it comes to this day of the week.
Fish is an important part of a diet, and I've been trying to incorporate more into our lives. Sometimes though, I just don't have the time it takes to deal with thawing it out forever and then cooking it. That is… until I learned you don't even have to thaw Seafood out before cooking it!
Alaska Seafood has various cooking methods to go from Frozen To Fork!® Making my life easier on those extra busy Mondays… or heck, any other time of the week I want to get seafood into our lives.
In this recipe, I use some frozen Alaska cod to make a simple cooked from frozen Sesame Teriyaki Cod! Teriyaki is one of our favorite flavors, and the kids like white varieties of fish, so cod was an easy choice to go with. Plus I find white fish pleasant, so it's perfect for when I need to make something up quick. This was what I went with. In the end, Sisi liked it so much she ate extra fish, and even I really enjoyed it! I'm pretty much the pickiest eater here, not counting Risi.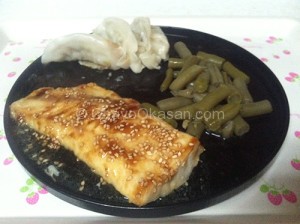 You'll start with your wild Alaska cod fillets 2-4oz each , teriyaki sauce of choice, sesame oil, sesame seeds and (not pictured) oil of your choice to start out your fish. Alaska Seafood recommends olive, canola, peanut, grapeseed, soy or safflower. But avoid butter, sunflower or corn oil as they burn at high heat.

*Preheat your oven to 450ºF and rinse your seafood under COLD water to remove the ice glaze. Yes, the entire ice glaze. But this wont take long at all!
*Pat dry with a paper towel, and then brush both sides of the fish with the oil mentioned above. I just sprayed mine with some olive oil spray real quick on both sides.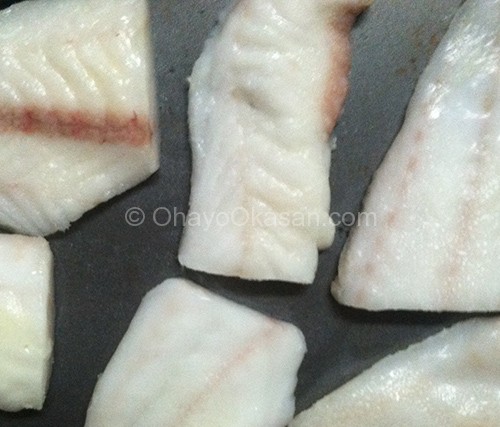 *Place the cod in the oven for four minutes.
*Remove from the oven and drizzle with a small bit of sesame oil. Sesame oil is rather strong, so you only need a little bit. Brush on teriyaki sauce and sprinkle with sesame seeds to your liking. 🙂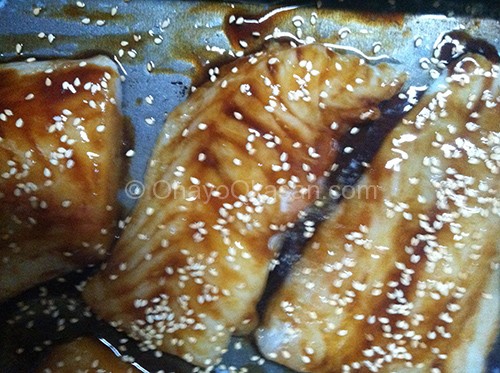 *Return your fish to the oven for another 10-12 minutes to cook fully, which means they're opaque throughout.
*Pair with your favorite sides, in our case green beans and gyoza and enjoy!
I now know I can avoid all the extra time I was previously spending on thawing seafood, and have fish more often included on the kids plates. This is great, as it gives me a wider variety of things I can serve everyone. Including myself, I am trying to make sure I eat better as well, and adding fish to my diet is one of the ways I can do that.
Did you know that most of the U.S. harvested seafood comes from Alaska? It's true! 60% of all seafood harvested here in the states is Alaska Seafood!
Known for its wild salmon, crab and various whitefish varieties, Alaska reserves most of the fresh catch right after it leaves the cold waters by rapidly chilling, and then commercially flash freezing it all at well below zero! This ensures that Alaska Seafood is kept at peak freshness and locks in the best quality and flavor.
The cold Alaskan water produces seafood with lean flesh, firm texture, and superior flavor that is full of high quality protein, vitamins, minerals and oils essential to good health. On top of this, Alaska seafood is high in protein, low in saturated fat, low in sodium and one of the best sources of heart-healthy omega-3 fatty acids! Most American's don't get nearly enough of those omega-3's and eating fish is a delicious and great way to get them.
Also! I am excited to mention that there are more than 600 Alaska Seafood cooking demos being hosted at grocery stores nationwide throughout October you can check out if there is one by clicking Right Here!