Disclaimer: I received the following Crayola items in exchange for my review/feature All opinions are my own unless otherwise stated.
Though there are many brands of coloring products on the market, we tend to gravitate towards Crayola here for school, the kids, or just plain why not? From window markers that crystalize when you use them on your windows, to dry erase crayons and pencils (really!) there's something for everyone it seems.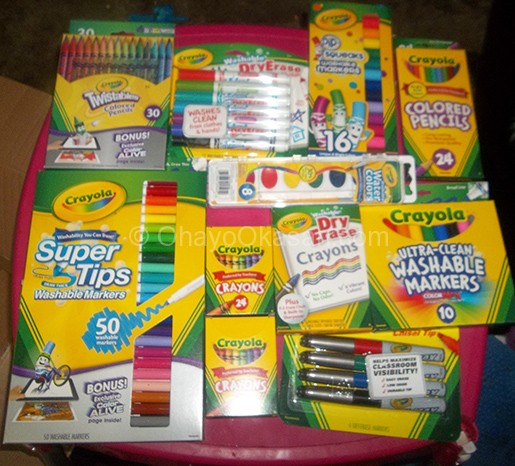 Our care package from Crayola was divied up depending on who wanted what.
Kat wanted regular colroed pencils. I took the Super Tips markers and regular white board markers. Var the Twistable colored pencils. Lisi the dry erase washable markers and a box of crayons. Sis took the water colors and the other box of crayons. The Pip Squeaks markers are currently put away for when Ris is just a little older to be able to color with me and markers. Without attacking the walls!
Also, as you can see on a couple of packages, we got bonus color alive paper! I still haven't tried them yet, but I look forward to seeing how cool they very well may be.
Of course you all know Crayola has the best crayons for back to school time. Different colors, shapes, sizes, you name it you can probably find it. Actually, I stock up on 24 count boxes of crayons every back to school season, so that we never run out of them! What I didn't know what how many other amazing products Crayola has!
Colored pencils? I knew that. But twistable colored pencils? Really? Finally a colored pencil that works for my heavy handed Var!! Yep, twistable colored pencils work WAY better for him than the typical colored pencil. The thicker pigment sticks are fantastic!
Dry erase pencils? I knew that, but I didn't know they have dry erase… Crayons!
Say what?? Lisi knew that Crayola made these but I had no idea. Of course I enjoyed getting to play with them. I am fascinated that there are crayons I can let Risi use on the dry erase side of the easel we have without worry that it'll be a PITA to clean up!
Never mind the fact that our easel could use a good meeting with a good magical type eraser to get off all the rest of the mess!
Crayola always seems to have great things! I have certain sets of crayons that came in little boxes of 8 or 16 (depending on the year) that all matched a theme. I've never used them, because they're pretty and awesome and I just want to collect them!
Their new product line up offers even a 2lb MEGA Crayon available in twelve different colors. How cool is that?
Do you have a favorite Crayola product? Let me know in the comments below. :3