Subscription boxes are awesome, you know that, I know that! So I'd love to introduce you to a newer one, Geek Fuel!
 Disclaimer: I was sent the following product in order to facilitate my review, no further compensation was gained in my writing this post. Thanks for understanding!
Geek Fuel offers different subscription options for their box. If you go monthly, the box is $17.90 + $6 shipping. A three month plan is $16.90 + $6 shipping a month. Six months is $15.90 + $6 shipping a month. With the best value being the yearly plan at $13.90 + $6 shipping a month.
Now.. I'm not sure why they don't just put the prices as $24, 23, 22 and 20? Just a nice even flat fee so people don't have to think. >.> Come on… you know people don't like thinking. I mean.. Giggle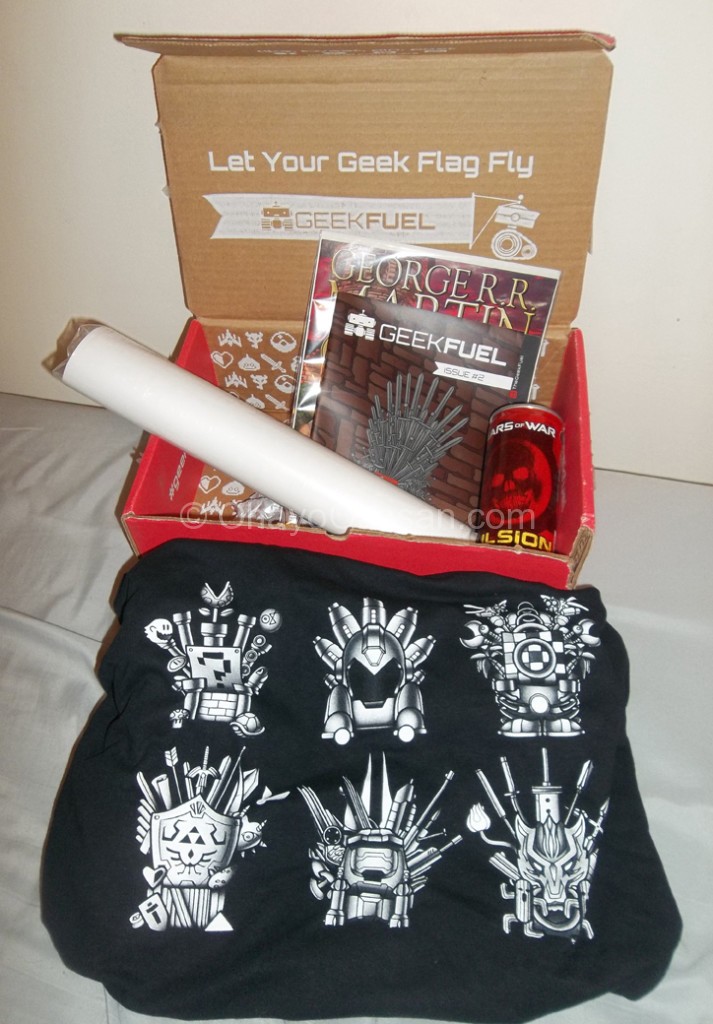 Here is my lovely Geek Fuel box! March 2015 here is totally Game of Thrones inspired, which I don't know much about.. but hey, I still got cool things that I enjoyed. I knew every last throne on the shirt aside from the Halo one. Ugh, it was totally at the tip of my tongue but I couldn't remember. I mean, tip of my brain? Who knows. 😉
Not shown in this picture is the black GoT inspired arrow head that I totally gave to Kat before snapping the pic. Ooops… But you can see about it on the unboxing video! An energy drink (going in my collection, because I like funky looking energy drinks), T-shirt, poster, GoT comic, and the arrow head all came with the Geek Fuel mini magazine included in the box.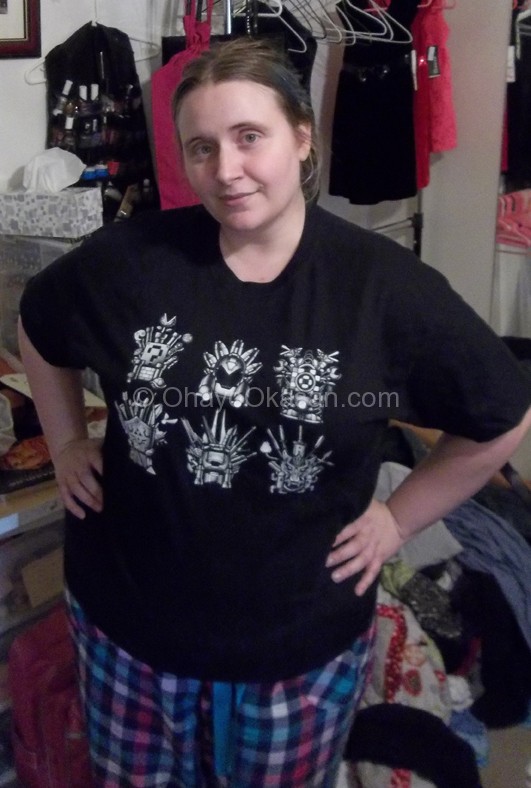 I rarely wear shirts with stuff on them like this, but I actually like this one so I have no issues wearing it. Yay Zelda!! FF7!! Mario!! Sonic!! woo!! 🙂
Every Geek Fuel box comes with a T-shirt inside, and I'm pretty happy that the XL (I think it's likely a mens shirt.. who cares… XD) fit me the way it did.
So I did manage to unbox my Geek Fuel box and get it up on YouTube sooner than I managed to remember I didn't actually write my post about it like I'd totally meant to. Yaay brains. @_@;; I am tired of all the spring sicknesses my kids keep  having. It hits one or two at a time and goes through them all. Or skips one but then something else gets them.
So, here it is! My unboxing!!
Do you or anyone you know subscribe to a subscription box? What is your favorite? I have too many favorites but I've got to say that I'm loving Geek Fuel so much!