You know what sucks? Being on the go and not having a way to charge your phone. I had a couple portable chargers I got for free with purchase from one thing or another, but none of them have been very good. Or they've worked okay but then no longer wanted to hold a charge and then work after a few uses. What junk! Plus the annoyance of only being able to charge a single device at a time is a downside for me. More so if Cid and I need to charge our phones at the same time.
Disclaimer: I received the following product in order to facilitate this review, no other compensation was gained in writing this post.
I used my Maxway Portable PowerBank the first time on Black Friday. Well not really, it was actually thanksgiving day. Which I never understood as much of a Holiday, so you make a meal, eat, get stuffed, have fights with people you don't want to be around anyway?? That is, if my indications of the holiday are correct based of everything I've seen over the years on the Internet. Really, for me? I can have the holiday any day of the week and it's not a big deal to me. More so because with my ex-husband schedule with the kids we often have a holiday a little late or a little early anyway. I'm pretty fluid on things like that. Aside from Halloween, because no one is going to hand out candy early or late for the kids. Thankfully, I always have them on Halloween!
Anyway! We went to stand in line for a special deal that Thursday night, one hour guarantee for this product we wanted (a TV) but we were smart and decided to get there about 1 1/2 hours before the time. Thank goodness we did, because the line ended up getting huge and snaking outside the store! My phone was dying as I'd forgotten to charge it while I was cooking our Thanksgiving lunch, and yes btw the oldest three did go with ex-h at about 3pm that day, so we had a t-day lunch.. and I needed to have it just in case. The MaxWay Portable PowerBank came in handy as I had charged it the day before, as I'd just gotten it then.
I was amazed that it charged my phone pretty quickly, the drive to the store is only 10 minutes, but it was charged a good 20% on the way there. I continued to allow it to charge while I used it during my boredom in line.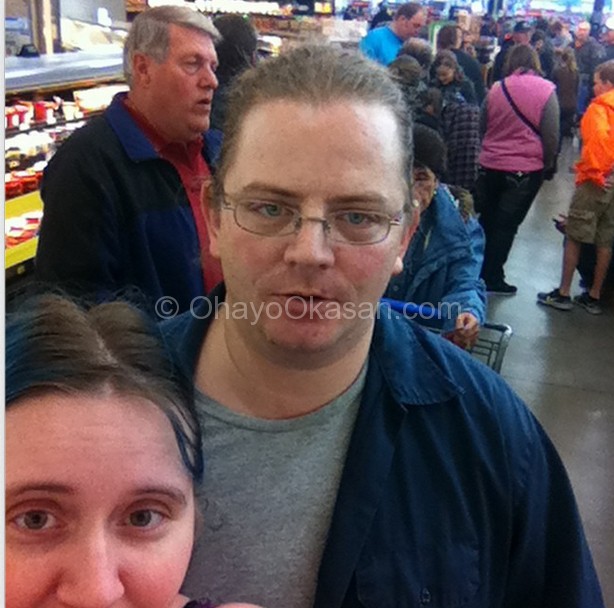 I decided to snap a pic of the scene behind us, see, I was bored! I was glad that I had my phone able to charge while we stood there. I was able to get more than one full charge of my phone on the MaxWay Portable PowerBank before I had to charge it again. It charges using a USB cable and can connect to a wall plug that is made for a USB at one end, or just by plugging it into your computer. I've done both, though plugging it into a wall port seems to charge it faster than my computer does.
I decided to write on gold sharpie "If Found Call: (my phone number)" since it's a slick surface though, I had to cover it with packing tape as the sharpie was wearing off. Why does that seem to happen? They're permanent markers but they can be frustrating on things I want them to stay on?
Know someone that is always on the go? This is an awesome portable option for charging their devices as they go go go! No needing to be stuck in any place so their phone and tablet can charge. Just throw this in your bag with your item (well not literally throw it, that's not a good idea!) after you plug it in and turn on the Maxway Portable PowerBank, and you're good to go!