Disclaimer: I received the following flowers in order to facilitate this review, on top of that, all links are referral links, meaning any purchases you make does send some money our way. As my blog is my source of income, I greatly appreciate you using my affiliate links if you are so inclined. Thanks!


I sadly don't get flowers very often. It's kind of a bummer, as I do rather like them! Carnations are my favorite, but I do like roses from time to time. To be honest, I love 'little gifts' just because. Even if I rarely get them. >.> I love when the kids will randomly make me something, draw a picture, anything. It's nice to be thought about. You know?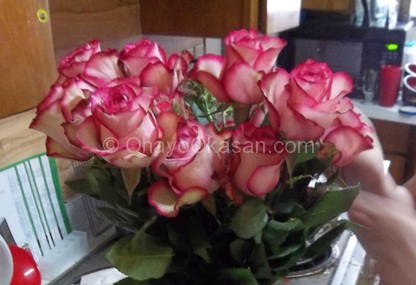 I picked the Desperado arrangement from The Bouqs after a long debate with myself of which one I could narrow my desire down to. >.> Hah, it wasn't that easy!! The Bouqs offers beautiful flowers, many of them from a Volcano! The Volcano stems are from the equator, 10,000 above sea level. The flowers get lots of sun, and they're fed by pure volcanic snow melt, as well as the mineral rich soil.
Any of their California flowers are, of course, from the coast of California, and they source straight from eco-friendly farms.

Once I finally picked my Bouq, the ordering process was easy, even with a little glitch, customer service got back to me fast and everything was set up and done in no time!
My Desparado Bouq came lovingly and well packaged, and… I didn't have a vase. I should have at least two vases, but they're all missing! How annoying is that?!
I had the quick idea of using newsprint paper, some scotch tape and a ribbon to quickly make an old large pickle jar into a home for my poor Bouq flowers!
My Bouq is the Desperado (as mentioned) and I picked the Original size. It's consider "classic-sized" with 12 roses and accents. I love the roses, but… I only really got a little bit of an accent. Not really enough to arrange the Bouq in my make-shift vase in a way that it worked or didn't seem off balance.
Kat didn't mind this as much as I did, and really wanted the flowers for her room. Hmmm, well… it was better than having them someplace around me for the cats to attempt to eat or knock over. >.>
So upstairs they went to make Kat a very happy girl. I didn't remember how much she liked roses, but I am glad she liked these. Aside from only having a little bit of the accent, I really did love my Bouq selection.
In this last picture above, you can see the little bit of the accent that came with them. The roses are beautiful, I love their rich pink edges and the gentle gradient they have. They managed to live a better amount of time than most flowers I've ever received and I am thankful for that.
It doesn't matter what time of year it is, holiday or no, I think flowers from The Bouqs are amazing and a great way to bring some natural beauty into your home or surprise a loved one or friend.
What do you think?? Do you like getting flowers? Giving flowers?
What is your favorite kind of flower?