This recipe is quick and easy, throw everything together in your crock pot and have delicious Teriyaki chicken!!
Seriously… my chrome spell check knows "Sukiyaki" but not "Teriyaki"? Yep, added that to it's dictionary!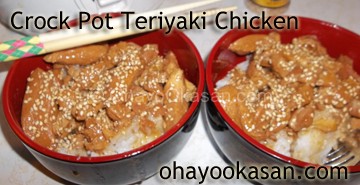 This recipe makes enough for feed four, but only if they only have a single serving. Double the recipe if you want leftovers! I have to triple the left overs for the eight of us. @_@
1 pound boneless skinless chicken – Sliced or cubed, I prefer sliced.
1 cup chicken stock/broth.
1/2 cup teriyaki sauce, the more liquid sauce works better than the 'baste and glaze' style. I just buy the large Kikkoman bottle of this.
1/2 cup brown sugar.
3 minced garlic cloves, or a teaspoon of garlic powder (not garlic salt, this doesn't need that added salt!)
1/4 teaspoon ground ginger.
A quick sprinkle (didn't measure) of onion powder.
White rice or noodles.
Toasted sesame seeds to sprinkle on top (optional)
Mix the broth/stock, teriyaki sauce, brown sugar, garlic, ginger and onion powder together.
Place your sliced or cubed chicken in your crock pot and cover with the sauce, stirring to coat your chicken well.
Let cook on low heat for 6 hours.
To make your sauce thicker you can remove everything from your crock pot, and heat it up to a boiling. Add in 1/4 cup of water mixed with 2 tablespoons of cornstarch and stir well.
Let the sauce boil for a minute, but don't forget to stir so it doesn't stick to the bottom of your pan.
Turn off the heat and let the chicken sit there another minute to settle down slowly.
Remove from the burner and set aside to stand for about 6 minutes to thicken.
There you have it! An easy way to make teriyaki chicken! You just have to throw everything into the crock pot and leave it, the thickening part is optional. This is a favorite around here, but then again no one here dislikes chicken. It's Lisi's favorite meat!