Random things of happiness from this past week. This is something new I'll be doing as I saw it on another blog and agree that it's a good idea! So, here are my five!
1.) Kat has her 6 week post operation check up at Shriners. Her x-ray looks awesome and she gets cleared for swimming, and doing chores. Woo! She's doing fantastic, and is pain free most of the time. 😀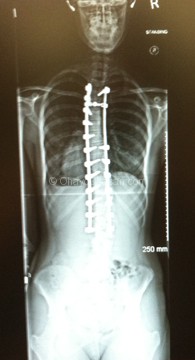 2.) Krispy Kreme offers mini-donuts, so we get two of them while getting donuts on the drive home from Shriners. Risi's super thrilled, but ends up mostly just ripping it to pieces and falling asleep. Ah well, her cuteness here made all the cleaning up worth it.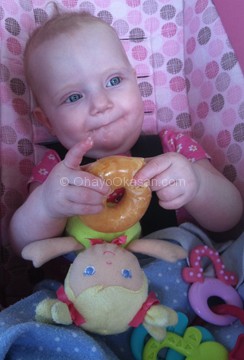 3.) Beautiful rainbow cloud on the drive home after the Shriners appt and getting donuts. How pretty right? This really made Kat so happy to see, and I have to admit getting to see the pictures (I didn't take them, I was driving!) I wish I could have been sitting in the car and able to see this instead of drive!!

4.) Kat wears her dress and looks happy. I love seeing her smile! Plus she's a vision in white, even if my iPhone isn't so great at taking pictures. 

5.) Nacho time!! I managed to make dinner, lol. Sometimes lately… I just am not doing well. So Nacho time and Family Feud!! 
Risi ended up eating so much of my avocado I ended up needing more! 2lbs of pork in the crock pot with 3/4 cup of water and taco seasoning on low for about 6 hrs. Yummy! So happy to have a crock pot and then a toaster oven. 😀