As you all know I am a sucker for Japanese candy.
Disclaimer: We were sent a package from Candy Japan in order to facilitate this review. No other compensation was obtained for writing this post. All thoughts and opinions are those of myself and those in my household. As always our opinions, likes and dislikes may very well vary wildly from your own.
So of course I jumped upon hearing about Candy Japan and just couldn't imagine NOT giving them a shot! An assortment of Japanese Candy, straight from Japan?  Things that would be hard or nearly impossible to get where I am in Northern Idaho? No brainer!

Candy Japan is a twice monthly subscription service that sends you along a package of 2-6 different types of Japanese candy each mailing. For $25 dollars a month you'll get two special deliveries straight from Japan of a random assortment of candies. Some of which you would never have expected to even be a candy! We were sent three candies, and it just so happens I haven't tried two of the three.

An Pan Man Sucker:
Now, it's hard to have six people review one sucker, but I've tried this sucker before (a penpal I had a few years back actually send me one!)
Overall I would give this candy a 3/5. Here are our thoughts! Overall the kids really loved the sucker, while Cid and I were so/so about it.
Kisa – It's okay, not my favorite but not terrible.
Cid – Weird..
Kat – Tastes like the chocolate that use on pocky, so it's good.
Sisi – Hmm, it's good, and the design is cute. I ate his eyebrows off!
Var – It's better than any other one, so far.
Lisi – I want to eat more!
This Japanese candy is a Sakura Mochi (that's what the writing says btw) with a chocolate bottom. It's a mochi center in a Sakura flavored pink candy with a thin chocolate bottom.
Overall I would give this a 4/5 for myself. Lisi and Kat didn't really like it at all, but that's okay. 🙂
Sakura Mochi:
Kisa – It's interesting, I like Mochi icecream but I agree this is like a vanilla gummy bear.
Cid – Odd flavor combination but really good.
Kat – It's okay, it's a bit too chewy.
Sisi – It tastes like a vanilla gummy bear
Var – It's delicious.
Lisi – 🙁 It doesn't taste as good as I thought.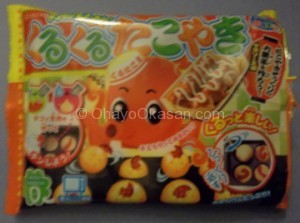 Now this is one interesting candy! It's actually a DIY "candy" making his. This one makes a candy version of the Japanese food Takoyaki. Yes… octopus balls. No, not THAT kind! It's a dough ball with squid pieces inside. I've never had the chance to do one of these awesome Japanese DIY treat kits!
This one in particular is actually interesting, as it is meant to taste like the food instead of just being sweet like a candy! Why??
Because. Japan! That's why.
Thus why I have said "candy" above. Yes, this little thing here is meant to taste like your eating a real Takoyaki, and yes.. I have to admit I was a little nervous.

Now then, the kit comes with the above materials. The black stray is cut into 5 total pieces. You have four packets of things you need, a toothpick and the cute little scoopy shovel! The red pack is the octopus 'gummy' pieces, the orange is the batter, brown is sauce, and blue is tangy mayo. Yes… I'm serious.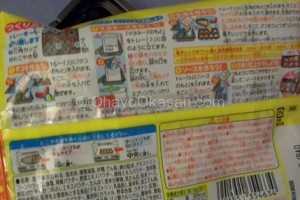 Now, because this comes directly from Japan, meant for the Japanese the instructions are fully in Japanese. Thankfully though between what Japanese I can read, as well as the pictures as simplicity of the instructions I had no problem making these. You can still VERY easily make this if you cannot read Japanese as youtube is LOADED with videos on how to do so. 🙂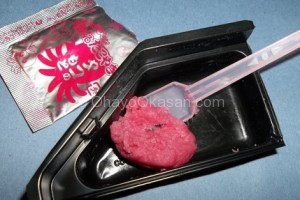 Here is what the Octopus meat looks like when it is all mixed up. It smelled super tangy/spicy! So I was getting a little worried. I forgot to take pictures of the rest of the steps but really this was the most interesting part. Then pushing some of the above pink stuff into the little octopus leg molds (two different shapes) to make the pieces.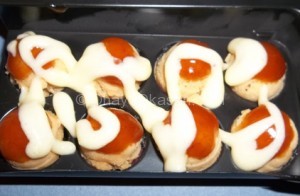 After microwaving these at 40% power for 40 seconds (Japanese Microwaves aren't as strong as my american one!) you flip them over, cover with sauce and squeeze on the mayo.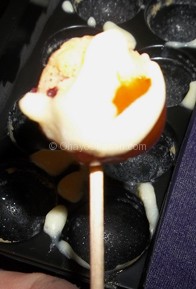 Then you… you… try them out! Hahaha, I love real Takoyaki! But I was scared of a little microwave 'candy' kit of Takoyaki. I don't know why!
I would give this one a 5/5 for me and probably a 10/5 for Kat. She loved these the absolute most out of all of us!!
Popin' Cookin' Takoyaki DIY Kit:
Kisa – I was surprised this tastes good!! I like real Takoyaki, and wasn't sure a little kit would be any good, everything smelled so strange and spicy! But so delicious! 😀
Cid – I've never tasted the real thing, but this is good.
Kat – Oh my god! These are delicious, I'm gonna steal another one, can I steal another one? Please? (Note: Out of 8, Kat ate 5!)
Sisi – These are good!
Lisi and Var were too afraid to try this, and then Lisi regretted it considering how much the rest of us (especcially Kat as you can tell above!) loved these. I will have to get another kit (or two, because I am sure Kat wants one all for her!) just so we can try next time.
Over all such an awesome experience to try some new things from Japan that I am not sure I would have tried otherwise. If you want to try something new and explore some of what Japan is about, I would highly suggest at least trying one month of Candy Japan!
Would you try any of the candies above? Which do you think sounds the best?