Today was the official Start of my NutriSystem journey.
For reference, I am doing Nutrisystem for the next three months in order to kick start my eating healthier and losing weight. This week I am using their Fast5 plan to really kick myself into gear on my goal.
NutriSystem is allowing me to use their plan for free during that time.
I'm not going to lie, I was nervous when I woke up and today.. day 1 was a complete and total struggle. Grocery shopping for things today was absolute torture. I swear the store had baked goods and yummy things all over the place begging me to eat them.
Above is a representation from model my diet on what I 'currently look like' and what I could potentially look like when I get to my goal of 150lbs. Now… I'd made it there before, but certain factors caused me to gain a ton of weight, and… well… I haven't lost it. Even 5 months after having Risi I haven't lost it. I'm at two pounds below my pre-pregnancy weight, but that's not great at all.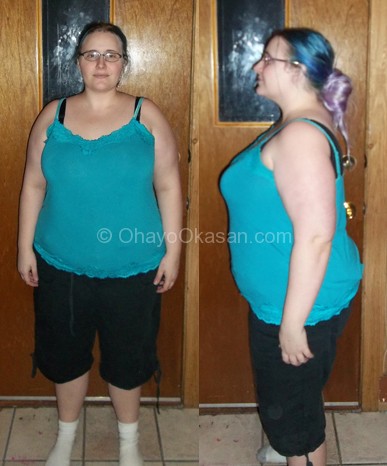 This above is… sadly what I actually look like. 5'4″ and 222lbs. Yikes. I look and feel awful. I'm not the heaviest I've ever been (I was 224 when I got pregnant and 235 the day I delivered Ris) but I'm too heavy and I hate the way I look and feel. I will get back to my size 10/12!
My arms, stomach, and thighs are what I absolutely hate about my appearance right now. I can't stand to look at myself in the mirror and there just so happens to be a full length one in our room. Right near Risi's crib. Which means I have to force myself not to look. I don't like seeing myself this way.
Upper Arms: 15.0
Chest: 41.0
Waist: 40.0
Hips: 53.0
Thighs: 27.0
Well, wish me luck! I will give you more thoughts on my NutriSystem Fast5 week on Sunday!