Disclaimer: We received this AmeriSleep Liberty mattress in order to facilitate our review, no other compensation was gained and all opinions are our own.
A good night sleep is something I was only getting on occasion. Not because of the kids or anything like that! Actually all of the kids (even Ris) sleep through the night. But my comfort needs haven't been met in awhile and I had to wonder if it was my mattress or just all in my head.
I began to search for mattresses that would fit my needs. I wanted a larger sized softer mattress, and I didn't want a traditional spring mattress. So I started looking at my options for memory foam mattresses. It needed to be thick, soft, and big enough for Cid and I to have room to sleep next to each other better. We both like to hog space on the bed after all. 😉
Looking at my options for king sized mattresses, I was pretty shocked at the price point on lots of them. There had to be an option that wasn't going to break the bank, but was still going to be what I was looking for.
Thankfully I came across the AmeriSleep website, the prices for their mattresses were a lot better than I was seeing with the giant brand names that advertise all over the place and you have to wonder how much of their appeal is just hypey fluff talk. You can pull out a commercial voice and make lots of things sound good you know?
After reading over the various types of mattresses AmeriSleep has, I was quickly sold on the Liberty mattress. A 12″ (yes really!) mattress on the softer side, that still would provide great support and compared excellently up against other mattresses I'd looked at. Score!
AmeriSleep Liberty mattresses are made in the USA and are made of a natural bamboo blended cover.
When our mattress arrived I was excited, and a bit shocked. I forget how HUGE mattresses are when they are wrapped all up for shipping, and memory foam mattresses come rolled as a mattress burrito.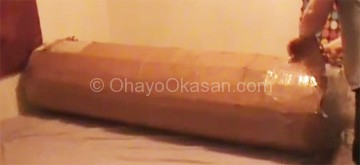 I had to have Cid carry it into the house because it was just too heavy, UPS and things doesn't typically care to carry in packages even just to inside the door for me, so I am lucky we have a covered porch to protect the package from crummy weather.
We made a video of the unpacking process of the mattress, and yes I know we're dorky. But you can view it below! Weee 😀
I was shocked at the overall size of the mattress too, of course 12″ is a foot yadda yadda, but you don't exactly think of how that is going to look on a mattress until it springs to life before your eyes!
Our first few nights of sleep left us a little stiff and sore, which is common of memory foam mattresses at first. There was also the typical smell you'll experience from a memory foam mattress as the packing process sort of traps in some funkiness. But both of these go away very quickly, both the adjustment soreness and stiffness and the funky smell.
Kat decided she had to test out the mattress before we were even able to get bedding on, she was so comfortable she plopped down and didn't want to move…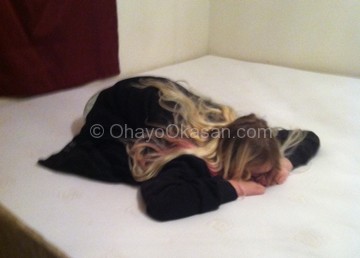 See why I call her Kat? 😉 I let her nap in my bed from time to time just because I know how comfortable it is and I know the comfort of the mattress can help at least somewhat with her back pains.
You can see my follow up video below, and yea, I know I look awful. >.>

The customer service experience I had with AmeriSleep as been great! The product arrived quickly, all my questioned were answered promptly, and I am really happy to have been able to get this mattress!
Cid has a few words of his own about the mattress too:
At first the mattress looked a little strange, it took a day to settle and grow into its shape after shipping. The package said it would, so that was okay. It was still nice and soft to lay on but it felt even better after that first day of settling.

A few years ago, I had appendix surgery (I needed it removed after it ruptured), and haven't been able to fall asleep on my back ever since; this mattress actually let me do that after only three nights, which was a surprise to me. The relief of pressure was something I've needed for awhile. I did immediately notice some of the back and hip tension I have had for almost twenty years start to subside after moving over to the new mattress. Then again, most other mattresses I've used over the years have been traditional inner-spring mattresses with box spring and not really great quality ones..

I really like how this one lets me sink in and the foam provides increasing support, just enough for my weight, instead of a generic 'Will support this range well enough' one-size-fits-most approach. At my height and weight, having this soft support is nice.
All AmeriSleep mattresses have a 90 night return policy, as well as a 20 year warranty / 10 year full replacement. Though of course there are certain terms of service for this, but you can read about them on their website!
Have you ever tried a memory foam mattress before? Why or why not? Would you prefer a mattress that is firm or soft?
Thank you for reading! 😀