Disclaimer: We received the below mentioned product in order to facilitate this review. No other compensation was gained for writing this post. All opinions are our own.
Konnichiwa Minna-san!! I'd like to introduce you to the IQAir HealthPro Plus air purifier.
While Coeur D'Alene doesn't have terrible air quality overall, we actually live in an area that puts us close to both Highway 95 and I-90 Freeway, meaning that our house is particularly close to pollutants all the time. Studies have shown that air pollution from freeways can extend up to 1.5 miles downwind (yikes!) and we're less than half a mile downwind from the freeway. So you can imagine the level of pollution right around our house.
Still, people in bigger cities like LA, Houston, New York, Atlanta, etc experience greater levels of air pollution than we would experience up here. Even with us living so close to the freeway. Having an air purifier in these places is important for your health for sure.
Still our location is part of why I decided, after dealing with allergy issues and illnesses with myself, Cid and the kids… that we needed some solution. Not just any air purifier was going to do, I wanted to know we were getting something that was going to work and work well.  This is where IQAir came in.
IQAir's HyperHEPA filtration is tested and proven to filter 99.5% of all particles down to 0.003 microns in diameter (the smallest particles that exist!). Particles smallerthan 0.1 microns in diameter are called "ultrafine" particles. They cause heart attacks, strokes and even cancer. IQAir is the leader in filtering ultrafine particles.

Some of the indoor sources of pollution include oil, gas, kerosene, coal, wood, tobacco, cleaning products and even pesticides. The HealthPro Plus helps protect against all of these pollutants.
Having a high quality air purifier can make a big difference in the air you are breathing at home. Consider this: The air inside your house can be up to 10 times more polluted indoor than out. Imagine the level of pollution that builds up in your house during the cold winter months, where you can't open your windows and let the fresher air in. Everything builds up in your house for months, and even in the summer when it's too hot to have the windows open things continue to build up. Yuck!
With young children at home, more so with two that suffer from allergies (Sis and Var), pollutants in the air are something I worry about fairly often.  Living up here in North Idaho means we need to worry about wood-burning fireplaces as well, wood-burning fireplaces cause some pretty nasty smoke and while I'm glad we don't have one personally there are a few around here that are being used regularly and causing it to  just stink outside, and the smell follows us inside sometimes as well.
I have noticed a great difference in the way we are breathing and the overall smell of the air in the house when we have our IQAir up and running. At night when people are sleeping I generally keep it on at a one or two, but usually have it on at a three or four during the day.
The HealthPro Plus air purifier we have now uses a HyperHEPA filtration system to stop even the smallest most harmful particles in the air. Even pet dander, dust mites and viruses! I've notice a dramatic reduction of allergy symptoms and illnesses in all of us since receiving and setting up our air purifier.
Considering we have seven cats and ten mice, we have a lot of pet dander to worry about and I've notice even Risi is breathing better and has less trouble with her sinuses. She had problems with her left sinus (pressure and eye leaking/goobies) since she was born, no doubt part of it was due to where we live and the number of pets we have!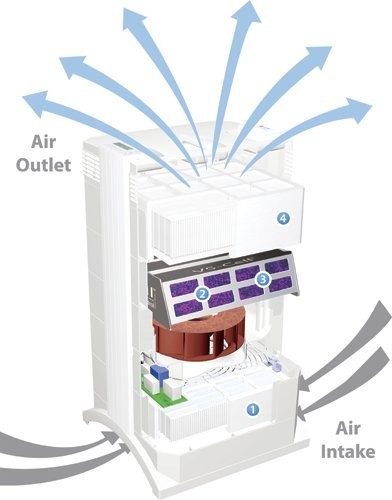 Each IQAir Healthpro Plus purifier has 4-stage filtration, easy to replace filters, is energy efficient, factory tested and certified (each comes with a certificate of it's factory performance!) and a five year warranty.
Oh and did I mention it comes with a remote? It means that I can change the speed of the fan and turn the system on or off from clear over across the room at my computer desk here. I'm in my own little 'officey area' off of the living room and I keep the remote on my desk since I am the picky one when it comes to the sounds (this purifier is quieter than others I have been around in other peoples homes) and the air we breathe. Or at least the most vocal about it.
On top of that the purifier has color coded lights to let you know when to change each filter. You can also use a day/night timer to tell the purifier when you want it to work at certain levels. Plus it's on wheels, meaning it's very easy to move. The unit isn't even that heavy, despite the size, and for me it's worth the space it 'takes up' in order to have cleaner air here!
If you are interested in buying an IQAir HealthPro Plus air purifier you can do so easily at the IQAir website! Of course they have more than just the HealthPro Plus, IQAir even has household wide air purifiers and different options for room to room purifiers.
Stay tuned! Because soon enough we'll be giving away one IQAir HealthPro Plus purifier to one lucky Ohayo Okasan reader!! You wont want to miss out!
Disclaimer: We received the above mentioned product in order to facilitate this review. No other compensation was gained for writing this post.
One of
IQAir's
most popular models is the
IQAir
HealthPro
Plus
(
HealthPro
250 outside North America), which uses three separate filter
…