Disclaimer: We received the below costume in order to facilitate this review, no other compensation was gained in writing this post. The opinions provided are our own unless otherwise stated.
I haven't reviewed a costume in a fairly long time now (well over a year actually!) so I figured it was about time that I got back on board doing that. Of course dress up is fun not only Lisi that enjoys doing so.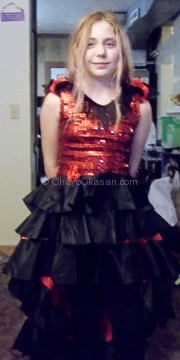 Though I will admit that originally I was looking for a costume to have Lisi wear, I decided instead on getting this Spanish Dancer costume in Sisi's size from Wholesale Halloween Costumes. You can't really tell in the first picture just how much she loves the costume but she insisted on wearing it out to dinner after trying it on!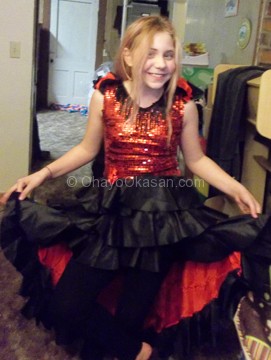 There you go! A happy Sisi in her girls dancewear costume in size large. She doesn't really know anything about Flamenco dancing, not that I do really either, but I think we should pull up some YouTube videos about that. She's worn the costume many times since then, which means a lot when you're a somewhat moody 10 1/2 year old. Lemme tell ya, Sisi is picky when it comes to what she will and wont wear. She has her own little sense of style and I'm glad I didn't miss the mark with this costume.

She wore it recently to a joint birthday party for me and my sister S (I don't share names online unless given permission) and everyone loved her in it! She felt good having so many compliments and I just love seeing her happy in something so simple as a fun costume you know?
This isn't one of those overly cheap itchy costumes as far as I can tell. It's held up to Sisi (who is a bit of a tom boy) playing in it like crazy and wearing it more than just a single time for Halloween or anything like that (well of course, it is February not October!)
Do any of your kids have a favorite costume? I love when the kids dress up no matter what time of year it is, it makes all those costumes I make or buy seem worth it!