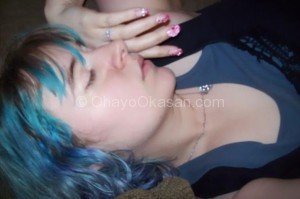 Hi there! I'm Kisa!
Welcome to my cluttered little corner of the web! I'm a youngish mom of four, artist, graphic design student, fixer of many things, lover of baking, and owner of the Etsy shop BOLD & Delicious!
I'm the blue haired girl with an interest in Japan that spans clear back to when I was 12. Whew!
I like to bake! Cookies, cakes, brownies and baklava mainly. I sew too! Sometimes making the kids dress up clothes or costumes (sometimes I'll buy them though!), sew play food, make tutu's, repair tv's, do some car repairs, and fix broken DS lites when the kids run to me "Mooooom it's broken!!
I'll introduce the kids in more detail later. Though I will mention that I have three girls and one boy. They were born in the following order Oldest daughter Sept 2000, Second daughter Aug 2003, Only son June 2005, Third daughter May 2006, and last but not least my Fourth daughter and 5th child was born November 2013!
We currently reside in northern Idaho, where I go part time to the local college, work from home as a freelance artist as well as Etsy seller and just try to survive each and every day with the majority of my 'sanity'. I suffer from Major Depressive Disorder and am currently using medication and self management to work through it.
One more note? I absolutely LOVE giveaways/sweepstakes! I love to share them, join them, and hope to win them even if I've only actually ever won one of the many I've attempted! I don't gamble, and I don't generally play the lotto. Although maybe I should? But if I find a giveaway/sweepstakes that sounds exciting be prepared to have me try and win and share it! So I'm even adding a page here and will post to them as I hear about them. Though I often share them on twitter as well!
About the kiddos: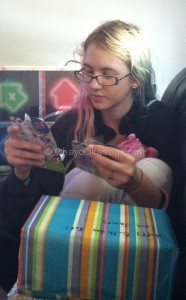 DD1 aka Kat: 12 years old and the oldest of the bunch. She's also almost as tall as me the little stinker! Well not so little! Her birthday is September 14th and she's in the 8th grade. She loves stuffed animals, fantasy, cats, reading, drawing, singing, chocolate, lego's and littlest petshop pets! She takes after me in a lot of ways. She's the tallest blonde you see in the logo for the website, and I love her sweet dimple cheeks that she has when she smiles.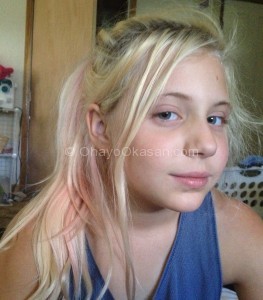 DD2 aka Bear aka Sisi: 10 years old and the oldest middle child. She's my short chubby little spider-bear who's smile could light up a room! Her birthday is August 25th and this year she's in the 5th grade! She loves Spider-man (thus the spider-bear nickname, which she gave herself), angry birds, running around, drawing, green tea, helping me cook and being a smart-ass. Around here was just call it "Sisi-isms" though.

She's got the cutest little mole on her forehead, and one right next to one of her eyes.
DS aka Ishi aka Var: 8 years old and the middle child. He's also the only boy! His Birthday is June 7th and he's in the 3rd grade! He's got the biggest eyelashes and the cutest little cheeks and smile that will melt your heart. Ishi loves Running around, riding his bike, playing on his scooter, doing DDR,  anything sweet, orange juice, waffles, cats, angry birds, and having all the blankets in the world on his bed at one time. Ii has ADHD and ODD which has has therapy and PSR for weekly.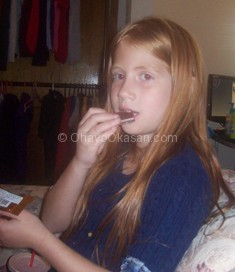 DD3 aka Bunny aka Lisi: 7 years old, standing at about 1/2 inch taller than her big brother, she is the youngest. Her birthday is May 19th and she's in 2nd grade. She's my sweet little red-head who is sweet and bubbly and wants to love everyone ever. She loves the color pink, anything dress-upish and princess, watching anime on netflix with me, drawing, singing, our kitties, her stuffed bunnies, and ponies jewelry. Anything pretty and girly and bunny loves it!
DD4 aka Mouse aka Risi: 11 weeks and 3 days old as of this writing. Her birthday is November 5th and she's obviously not currently in school! She currently loves songs "ong!", sticking out her tongue "gung??" and can tell you when she's hungry "ungry." Of course she can also say "Mooommmyyyy!" In the most heart broken voice ever if things aren't done fast enough, will on occasion respond to a question with "yea!"
Tummy time is probably her least favorite time of the day right now. But she's getting bigger and stronger. She prefers to sit up if you'll let her, and often attempts to sit up from laying on her back. Go baby!
The pets:
Currently we have seven cats and ten mice. Yep, you read that right!
Seltoria aka Tori: Tori was born sometime in August 2009 and found on a dirt road after having been abandoned. She's black with white tipped paws, and a white patch on her neck. She's the oldest, and grouchy unless she WANTS your attention. She adopted 'Ruuny shortly after he came home with us. She'll wait to eat until he's done, and will often force him to lay still so she can give him a bath! Tori knows what "Ahs Nom?" (food) "Ahs Night-night" (lets go to bed)  and "up-up" (stand up, often with a treat attached) means on top of "I need you to move".
Aruun aka 'Ruun:  (Ruuny, Ruuners, and Puun as well!) 'Ruun was born sometime in August 2011 and we picked him up after he was listed on CL as a kitten. He's pure black and a fluffier short hair than Tori. He's energetic, and has gained the nicknames Kippy/Kippers/Kippen for his puppy like tendencies. He's in love with rice socks (previously used as heating packs) and is currently learning to 'fetch' his favorite one by Sisi. Knows "Ahs Nom?" means that it's time to rush to the food bowl!
Cookie aka Moogie: The last remaining kitten at a box over at the local Safeway. Moogie enjoys playing with his 'big brother' Puuny and suckling at my neck at night for comfort. When he's not being a turd he will lay down when told to "be a good boy."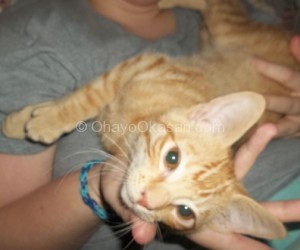 Squeakers aka Skeeks: Used to be our "fat kid" of the kittens we fostered who then got left in our care. He's an adorable orange tabby that will kiss you like crazy!
Creamy aka Kimi: Our other orange tabby, now the chubbiest of the tabbies! Sweet and cuddly, also a sweet lover who gives tons of kisses!
Shadow aka Mister Shadow aka Whiny Kitten of Doom: The black male cat from our foster kittens. He's also our 'snobby boy' based on the look of his face. He's adorable, and used to be the whiniest of babies when he was small and drinking from bottles that we fed him. He's sweet despite being quiet and not as 'in your face' as Kimi and Skeeks.
Midnight aka Floppy Kitten of Happiness: The little black female of our four foster turned fill time kittens. She's sweet, and needy. Also the smallest of the bunch. She has the same little quirk as Cookie and likes to suckle for comfort.
Pika: (Pikapi, Pipi, Miss Pika, Miss Chu, Baby Chu) this is the mouse we got to be Squee's friend. She's white, smallish, sweet, and currently appears to have allergies to the weeds around here like I do. D: Poor Pikapi! Loves to nest and nap. From a PetCo with far too many mice in one tank.

Kisa: (Yes I was convinced to name a mouse after myself…) a sweet little silver mouse who now lives with Pika after the passing of Suki-pi
Kiki: (Aka Kikers, and Skitter-mouse) Originally she was to be a cage mate to Xiki (since passed) but she was aggressive to anyone we put in the cage with her.

So she lives alone and needs lots of love as she's rather skittish.
Moka: (Sip, Sippies, Moka Face, Face!, Little sip, Dada-face) Our 'baby' brown and black mixed mouse. Sweet, adorable little face which he often has just peaking out of the house in the cage as he sleeps. Thus the 'Face!' nickname. From NW Seed and Pet, where the worker wanted to 'save them from becoming feeders' Sadly, Moka died of cancer the day Risi was born. Nov 5th 2013.
Koko: (Koko Puff, Chunk, Chunkers, Puffin, Mama-face) Sweet but more skittish around people than Moka and Suki currently are. Loves to run on the wheel in the cage. From NW Seed and Pet, where the worker wanted to 'save them from becoming feeders'
Kofi: (Sips, Kwafi-cups) The runt of Koko and Moka's babies, sadly she passed on.
Squen: (The twin of Squee II) This is one of Moka and Koko's babies, sadly he is passed on.
Luna: (Wuwu) A beautiful almost glowy-white mouse, daughter of Koko and Moka. Sadly passed on.
Squee II: Daughter of Koko and Moka, a sweet little runt mouse.
Beautiful: The smallest living child of Koko and Moka.
Latte: Son of Koko and Moka, my "grande vanilla latte"
Max: (the mouse Max!) Originally thought to be a girl, and named Lily. Max once got out of his cage and we thought him dead after finding blood in the kitchen and in a box. We thought Puun had eaten him! A couple days later he was found hiding out in the playroom, missing about 1″ of his tail, but still alive and thriving! Max continues to do well, he's the runt of the boys.
Shadow: Koko and Moka's son, he's a bit of a bully to his brother Max. So he lives just with his Dada and brother Latte.
Artemis: (Arte-mister, or just Mister) Son of Koko and Moka he lives with and protects his little brother Max. The only pure what 'child' between Moka and Koko. (Not counting Wuwu who was glowy-white, Arte is matte white)
Squee: She was the one that started it all. The found wild mouse on the parking lot ground as a fuzzy with closed ears and eyes. Hand raised, very loved. A tragic accident marked her end, but also reminded us we had so much love to give.