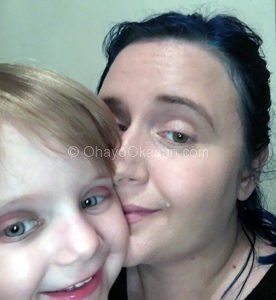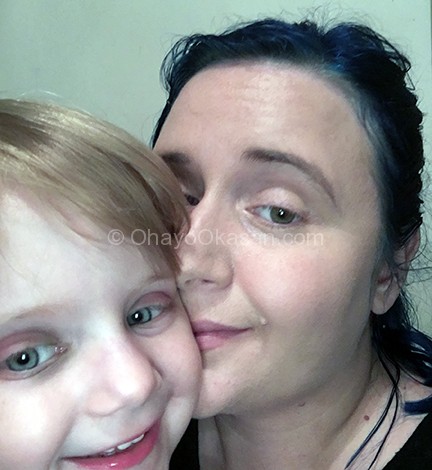 Hi there! I'm Kisa!
Welcome to our cluttered little corner of the web! I'm a mom of five human kiddos, cat mom, artist, crafter, fixer of many things, lover of baking, and owner of this blog.
I'm the blue haired mom with an interest in Japan that spans clear back to when I was 12 when we had to pick a foreign country to learn about in 7th grade social studies. XD
We live in Coeur D Alene, Idaho. Which is close to Spokane, WA. We live in the Inland Northwest and are in the PST time zone.
I like to bake! Cookies, cakes, brownies and baklava mainly. I sew too! Sometimes making the kids dress up clothes or costumes (sometimes I'll buy them though!) Occasionally I sew play food, make tutu's, repair broken stuff around the house, do some car repairs, and fix broken game consoles when the kids run to me "Mooooom it's broken!!"
Interested in working with me? You can email me at kisa@ohayookasan.com!
I'll introduce the kids in more detail later. Though I will mention that I have four girls and one boy. They were born in the following order Oldest daughter Sept 2000, Second daughter Aug 2003, Only son June 2005, Third daughter May 2006, and last but not least my Fourth daughter (5th child) was born November 2013!
We currently reside in northern Idaho, where I go part time to the local college, work from home as a blogger, freelance artist, and voice actor. On top of taking care of the kids, the cats, and life in general. I suffer from Major Depressive Disorder, anxiety, and fibromyalgia and am currently supplements, a CBT workbook, meditation and self management to work through it.
One more note? I absolutely LOVE giveaways/sweepstakes! I love to share them, join them, and hope to win them even if I've only actually ever won one of the many I've attempted! I don't gamble, and I don't generally play the lotto. Although maybe I should? But if I find a giveaway/sweepstakes that sounds exciting be prepared to have me try and win and share it! So I'm even adding a page here and will post to them as I hear about them. Though I often share them on twitter as well!
About the kiddos:
DD1 aka Kat: 16 years old and the oldest of the bunch. Taller than me by 3 inches!
Her birthday is September 14th and she's in the 11th grade. She loves stuffed animals, fantasy, cats, reading, drawing, singing, chocolate, calico critters, kpop, jpop, and video games.
She's really into Manga, Anime, Cosplay, Lolita Fashion, Cute Accessories, and pastel colors.  She takes after me in a lot of ways. I love her sweet dimple cheeks that she has when she smiles, and she's really the best oldest children I could ever imagine having!
Kat underwent spinal fusion surgery for her scoliosis on April 31st 2014. She's almost 3 years post-op (as of this update) and doing amazing! She continues to surprise me every day, and I'm so lucky to have her as my kiddo.
She's also an aspiring amateur voice actress! Recently cast in her first fan-dub ever! Way to go kitten!
Kat plans to go to college to be a veternarian and plans to work at an after hours/emergency vet clinic or even open her own. As she prefers evening and late night hours and knows people need care for their animals regardless of the time of day.
On the side she'd like to write and make independent video games.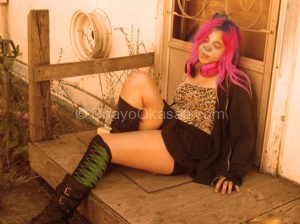 DD2 aka Bear aka Sisi: 13 years old and the oldest middle child. She's my short chubby little spider-bear who's smile could light up a room! Her birthday is August 25th and this year she's in the 8th grade! She loves Spider-man (thus the spider-bear nickname, which she gave herself), angry birds, running around, drawing, green tea, helping me cook and being a smart-ass. Around here was just call it "Sisi-isms" though. 🙂 She takes after me in personality, anxiety (sorry baby,) shortness, chubbiness, and in favorite color. Awwww. <3 Although she's a lot more witty and tough than I am!
Sisi was recently discovered to have not only scoliosis, but kyphoscoliosis as well. Which we found out got better from one X-ray to another. Not sure how, but the curves were smaller… whaaa?
She plans to go to college to be a veterinarian assistant and work along side her big sister Kat.
Sisi does the mascot art for the subscription box The CuteBox.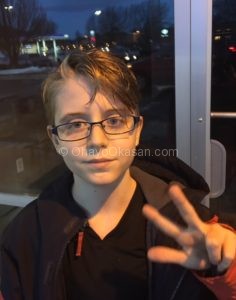 DS aka Ishi aka Var: 11 years old and the middle child. He's also the only boy! His Birthday is June 7th and he's in the 6th grade! He's got the biggest eyelashes and the cutest little cheeks and smile that will melt your heart.
Ishi loves Running around, riding his bike, playing on his scooter, doing DDR,  anything sweet, orange juice, flaming hot cheetos, green apples, waffles, cats, angry birds, and having all the blankets in the world on his bed at one time.Var ODD and ADHD, which can make school life and home life a challenge, but we're trying out best with it all.
When he grows up he wants to play video games, I assume he wants to be a game tester. But right now video games are seriously his favorite thing. Ever. He'd love to grow up to be as awesome as the guys who play video games and post on YouTube. He'd love to meet PewDiePie.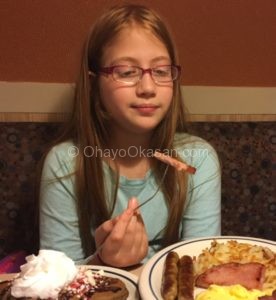 DD3 aka Bunny aka Lisi: 10 years old, standing at about 1/2 inch taller than her big brother, she used to the youngest. It's been a struggle to not be the youngest at times for her.. Her birthday is May 19th and she's in 5th grade. She's my sweet little red-head who is sweet and bubbly and wants to love everyone ever.
She loves the color pink, anything dress-upish and princess, watching anime on netflix with me, drawing, singing, our kitties, her stuffed bunnies, ponies and jewelry. Anything pretty and girly and bunny loves it! Lego's, Drawing, K-drama, Play Dough and Kitty Collectors Club
She also loves playing video games with her brother, and is a fantastic big sister to Risiel. <3
Risiel says "My Lisari! I love my Lisari! Please can I see my Lisari??" any time she sees a picture of her big sister. ♥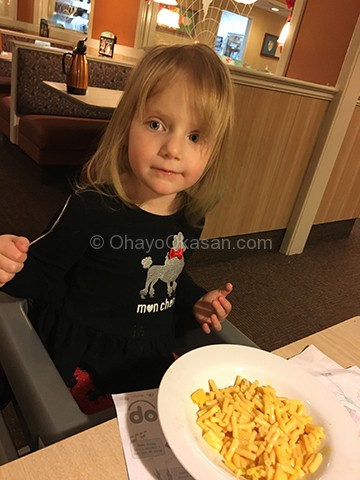 DD4 aka Ninja aka Unicorn aka Risi: Is 3 years old as of this writing. Her birthday is November 5th and she's obviously not currently in school! Her favorite things are listening to the south Korean boy bang BIGBANG, who she simply calls her "boys." Dora and Friends, Blaze and the Monster Machines, and Paw Patrol are her favorite shows.
Cheese, french toast, nutella sandwiches, Mac and Cheese,  and apples are her favorite foods.
The pets:
Currently we have nine cats. Yes, nine!
Seltoria aka Tori: Tori was born sometime in August 2009 and found on a dirt road after having been abandoned. She's black with white tipped paws, and a white patch on her neck. She's the oldest, and grouchy unless she WANTS your attention. She adopted 'Ruuny shortly after he came home with us. She'll wait to eat until he's done, and will often force him to lay still so she can give him a bath! Tori knows what "Ahs Nom?" (food) "Ahs Night-night" (lets go to bed)  and "up-up" (stand up, often with a treat attached) means on top of "I need you to move".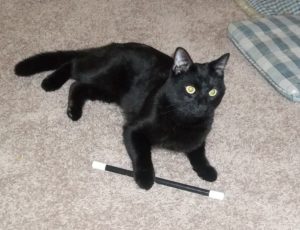 Aruun aka 'Ruun:  (Ruuny, Ruuners, and Puun as well!) 'Ruun was born sometime in August 2011 and we picked him up after he was listed on CL as a kitten. He's pure black and a fluffier short hair than Tori.
He's energetic, and has gained the nicknames Kippy/Kippers/Kippen for his puppy like tendencies. He's in love with rice socks (previously used as heating packs) and used to 'fetch' his favorite one with Sisi. Knows "Ahs Nom?" means that it's time to rush to the food bowl!
Puuny is a bit shy lately, but still in love with his Toria. He really enjoys tall places.
Cookie aka Moogie: The last remaining kitten at a box over at the local Safeway. Moogie enjoys playing with his 'big brother' Puuny and suckling at my neck at night for comfort. When he's not being a turd he will lay down when told to "be a good boy."
He's the biggest cat in the house but still plays like he's a tiny baby. Even at almost 4, you'd think he was just a kitten. He'll always be a baby to me. <3
Cookie weighs about 13 pounds, and they told us as a kitten "ohh he's going to be a big boy!" based on his paws? No idea how they knew, but yeah. He's a big giant baby that's for sure!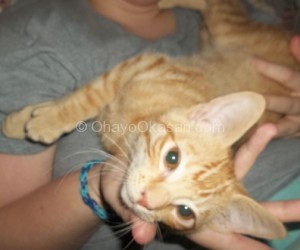 Squeakers aka Skeeks: Used to be our "fat kid" of the kittens we fostered who then got left in our care. He's an adorable orange tabby that will kiss you like crazy!
Skeeks sleeps with me at night, spending about 15-20 minutes giving me kisses, bliss drool and getting pet, before walking off to snuggle up curled up at my stomach on top of my body pillow. He's my ultimate snuggle boy.
He's another one that will forever be a mommy's baby boy.
Skeek's favorite toys are cat nip sprayed scratching boards, and hair ties, which he'll play fetch with.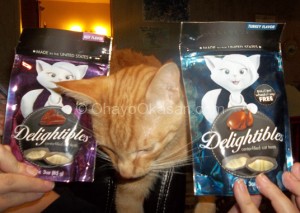 Creamy aka Kimi: Our other orange tabby, now the chubbiest of the tabbies! Sweet and cuddly, also a sweet lover who gives tons of kisses!
Kimi often has a 'glare' face going on, but don't let it fool you, he loves people!
Also cat treats. Very much treats. You need to hide the treats from Kimi, or he'll bite open the bag and eat allllll of them. He'll also beg you for chicken, AND eat right out of your hand.
Kiim's favorite 'toy' is actually baby bottle nipples, standard sized ones. He'll play fetch with them, as long as you call out "KIIIMIIII!" I will often wake up to a baby bottle nipple laying next to me in bed as he wants to play.
Shadow aka Mister Shadow aka Whiny Kitten of Doom:
 The black male cat from our foster kittens. He's also our 'snobby boy' based on the look of his face. He's adorable, and used to be the whiniest of babies when he was small and drinking from bottles that we fed him. He's sweet despite being quiet and not as 'in your face' as Kimi and Skeeks.
He's got a heck of a meow, as it's loud and whiny. He's also our "monster purr" as he purrs the loudest and most often of all the cats.
Shadow has a love for thread that is dangerous. He needed surgery and his intestines cut into in multiple places after one Halloween where he got into a lot of thread. I now have to be extremely careful when sewing.
Midnight aka Floppy Kitten of Happiness: The little black female of our four foster turned fill time kittens. She's sweet, and needy. Also the smallest of the bunch. She loves to snuggle and is rather floppy and relaxed when she does so.
She has a bit of a pouty look to her face but is a total sweetie. She loves to lay in your lap, or steal your chair the second you walk away. She does not really get along with her brother Shadow, but does snuggle with Skeeks.
Of all the cats, she's the lightest weight one.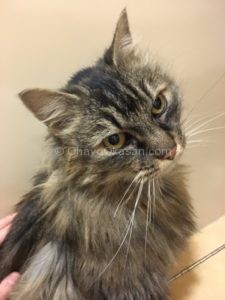 Freyja aka Beyja: 
Freyja is a great big long haired girl that we think is a Maine Coon. We're not 100% sure.
After Cupcake went missing and we were unable to find leads, Kat was very sad at the lack of a snuggle kitten who was good for her anxiety's sake. So, off to the animal control/pound to rescue someone who needed a home and would fit with Kat's personality.
Enter Freyja. Who's grouchy face hides how sweet and snuggly she really is. Though they told us she gets along with other cats… that's not exactly the case. But she loves to snuggle with cat upstairs and so they are great friends.
Freyja was severely matted at the time we got her, and it's a weekly hair brushing session to keep her long fur from getting that bad again. The vet estimates that she's 3 years old, making her younger than Kimi, Skeeks, Shadow and Missy, though bigger than all the cats. She's outweighed only by cookie. As Freyja is a giant fluff girl and weighs about 9 3/4 lbs.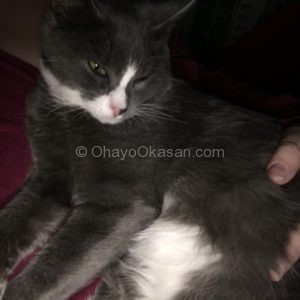 Smoky Quartz AKA Moki, Mokuba, Smokuba:
Smoky Quartz is what happens when you take your 10 year old to the pound to look for a cat that went missing but instead she cries at all the poor kitties in cages and you're a total sucker and barely able to avoid wanting to adopt/save them alllll…
Seriously, a Cat Sanctuary might be a goal for us someday?
Anyway, originally Lisi wanted a kitten. But we didn't make it out to the pound in time in the morning, arrived 5 minutes late to get the kitten we got and someone else got it. So she had her eyes on another kitten… someone already had adopted it while we were petting it in a socialization room. Distraught, she kept looking, and a pointed out the sweet little grey and white guy who'd been in a cage for a month. Poor baby.
So we took this sweet boy into a socialization room and it was instant love!
Smoky's favorite toys are mice toys! He has also proved to be a great hunter and actually killed a wild mouse that came in this winter.
Smoky will play fetch with toy mice, and when he brings them over to you, will sit there all proud of himself waiting for you to throw it cross the room again.
Beloved past pets… 
All of our mice family have passed on. So much love, such short lives. 🙁 RIP miceies! (not a real word, but work with me here!)
Pika: (Pikapi, Pipi, Miss Pika, Miss Chu, Baby Chu) this is the mouse we got to be Squee's friend. She's white, smallish, sweet, and currently appears to have allergies to the weeds around here like I do. D: Poor Pikapi! Loves to nest and nap. From a PetCo with far too many mice in one tank. 🙁 Passed on due to old age…
Kisa: (Yes I was convinced to name a mouse after myself…) a sweet little silver mouse who now lives with Pika after the passing of Suki-pi. Passed on now.. 🙁
Kiki: (Aka Kikers, and Skitter-mouse) Originally she was to be a cage mate to Xiki (since passed) but she was aggressive to anyone we put in the cage with her. 🙁 So she lives alone and needs lots of love as she's rather skittish. Sadly passed on…
Moka: (Sip, Sippies, Moka Face, Face!, Little sip, Dada-face) Our 'baby' brown and black mixed mouse. Sweet, adorable little face which he often has just peaking out of the house in the cage as he sleeps. Thus the 'Face!' nickname. From NW Seed and Pet, where the worker wanted to 'save them from becoming feeders' Sadly, Moka died of cancer the day Risi was born. Nov 5th 2013.
Koko: (Koko Puff, Chunk, Chunkers, Puffin, Mama-face) Sweet but more skittish around people than Moka and Suki currently are. Loves to run on the wheel in the cage. From NW Seed and Pet, where the worker wanted to 'save them from becoming feeders'
Kofi: (Sips, Kwafi-cups) The runt of Koko and Moka's babies, sadly she passed on.
Squen: (The twin of Squee II) This is one of Moka and Koko's babies, sadly he is passed on.
Luna: (Wuwu) A beautiful almost glowy-white mouse, daughter of Koko and Moka. Sadly passed on.
Squee II: Daughter of Koko and Moka, a sweet little runt mouse. Sadly passed on.
Beautiful: The smallest living child of Koko and Moka. Sadly passed on…
Latte: Son of Koko and Moka, my "grande vanilla latte." Sadly passed away.
Max: (the mouse Max!) Originally thought to be a girl, and named Lily. Max once got out of his cage and we thought him dead after finding blood in the kitchen and in a box. We thought Puun had eaten him! A couple days later he was found hiding out in the playroom, missing about 1″ of his tail, but still alive and thriving! Max continues to do well, he's the runt of the boys.
Shadow: Koko and Moka's son, he's a bit of a bully to his brother Max. So he lives just with his Dada and brother Latte.
Artemis: (Arte-mister, or just Mister) Son of Koko and Moka he lives with and protects his little brother Max. The only pure what 'child' between Moka and Koko. (Not counting Wuwu who was glowy-white, Arte is matte white)
Squee: She was the one that started it all. The found wild mouse on the parking lot ground as a fuzzy with closed ears and eyes. Hand raised, very loved. A tragic accident marked her end, but also reminded us we had so much love to give.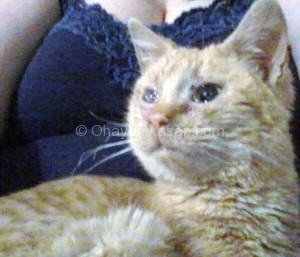 Cupcake:
Sadly Cupcake got spooked in the car back in November 2016 while out of town and ran off… We searched for over a month trying to locate her, but had no luck at all. We were unable to find her despite offering a reward. 
We hope that someone found her, fell in love with the sweet girl, and has given her a wonderful home.