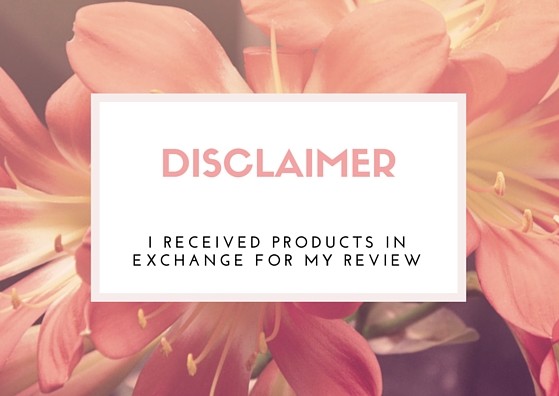 With a wide variety of fun little toys and accessories, Bulls i Toy offers some great options for the kids in your life! Whether you're celebrating a birthday, Valentines Day, Easter, Christmas or any other holiday or even just because, little blind bag toys make a fun little gift that are still a huge hit!
We were sent an awesome selection of stuff that I gave to the kids for Valentines Day. Yep, I know, I'm a little behind. The site crashed and I had to mad scramble to fix some stuff, and a couple of awful sicknesses have come through the house. Plus with all the ice and snow, my depression is at an all-time high while my energy is at an all time low.
I should say that for these Bulls i Toy products, there are some that I'll be doing a giveaway for on my YouTube Channel soon enough here! So please subscribe to my channel and keep an eye out for that. I plan to have it up this week, along with an unboxing video featuring some of these products!
Gudetama
With a cute assortment of Gudetama mini-plush inside, these adorable little carrying cases for mini plush are great for small presents. Though it's past Valentine's Day at the time I'm writing this, I highly recommend these as a cute non-candy basket filler for this upcoming Easter!
Surprise the lazy-egg lover in your life!
There are a couple of super cute versions of these plush, but sadly we only got kind of plain looking versions compared to some of the amazing ones I really hoped we'd get. That's part of the little downside of blind bag type toys, you might not always get the one you are hoping to get.
They're still fun to open anyway. 🙂
MSRP: $5.99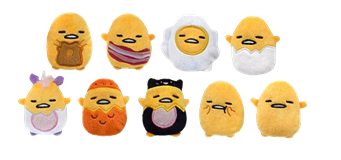 Hello Kitty and Friends
Hello Kitty is one of those classic characters that just about everyone knows, if not everyone, just by seeing her. Hello Kitty has so many friends and it's great to see them make it into a line-up of cute little plushies!
Once again great for all sorts of little gifts, baskets, unboxing videos and more, Cutie Beans are sure to delight with their super soft fabric that is just so pleasing to run your hands over.
MSRP: $5.99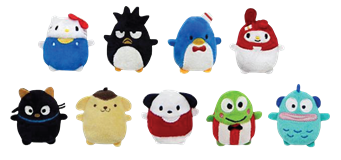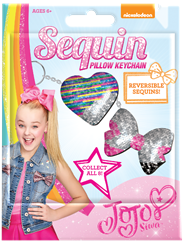 Not a character anyone in our house really pays attention to. JoJo Siwa is very full of energy and loves giant hair bows. Great if your into that sort of vibe and her very girly and colorful aesthetic!
These little pillow keychains are the fun reversible sequin variety that are just so much fun to play with!
Another perfect small item for a stocking, Valentine's day Gift, or Easter basket filler, what's not to love about little blind bags and all the excitement they tend to bring?
We did not open any of these in our unboxing video or for any reason, but they will be part of my YouTube giveaway.
MSRP: $5.99
LOL MINI BOWS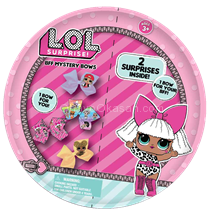 To be honest I suspect the only real reason Risiel is in love with LOL, or at least the idea of them, is that her cousin is obsessed with them and gets them all the time. My brother goes crazy out of his way to buy LOL dolls, even if they're very expensive!
These are another great thing for those upcoming Easter baskets for your very own LOL obsessed kiddo.
Either way, these LOL SURPRISE mini bows sure are cute, and Risiel actually did wear two of them in her hair when I gave her a pack to check out.
Technically this pack is two boys, one for you and one for your BFF. Though I just let Risiel have both bows in the pack I gave her, and the pack I opened on camera.
MSRP: $4.99
SQUISH'UMS POO PETS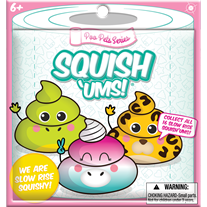 I LOVE squishies! These adorable little animal themed poo squishies from Bulls i Toy are no exception! Though I unboxed a few on video, I did end up giving them to Lisi who really fell in love with all of them. It's okay, I can always get more. Plus it's not like she wont let me squish them once in awhile.
There are some absolutely adorable unicorn themed poo squishies, of which I did not get a single one of. If I had, I wouldn't have let anyone take them. >.> What? I'm still a kid at heart for sure!
These would be fun and silly for Valentines Day, Easter, Christmas, Birthdays, and more!
MSRP: $4.99
The folks at Bulls i Toy really do have a wide variety of fun little surprise bag/blind box toys to make all sorts of holidays just so much more fun. I love watching to see what the kids get when they open little presents like this.
What are your kids' favorite blind bag style toys?