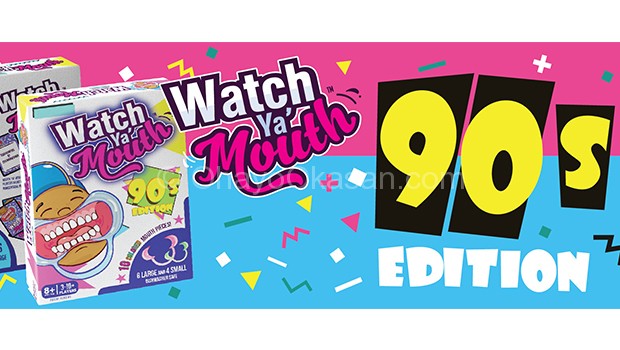 Watch Ya' Mouth 90's version exists because of YOU! Check it out today.
Disclaimer: We were sent this game to try out and review.
From the company that made Watch Ya' Mouth, the top selling, original, award-winning party card game
Watch Ya' Mouth: 90's Edition combines the game play you've come to know and love with the nostalgia of all things 90's
Bangin' phrases such as "Billy Ray's Mullet" and "Gameboy" will bring it all back for a night of dope fun!
3-10 players wear cheek retractors and speak out 90's phrases while teammates guess what they are saying
Includes 300+ Family-Safe phrases. Great for all ages including kids who are 8+
Watch Ya' Mouth 90s Bundle – Save 30% off Watch Ya' Mouth 90s Edition bundle pack (voted by fans!) by using the code "Flannel" at wym90s.com.
This game is a little bit weird for me, the mouth pieces were slightly uncomfortable at first, but I got used to it. The game allows use for 3-10+ players, and is recommended for ages 8+ which means it's one we play once Risi goes to bed, as she's only five.
In this version, you wear the included FDA and CE certified mouthpieces, they're dental-grade and dishwasher safe. Or you can sterilize them in boiling water. There are 6 medium and 4 small mouth pieces. It's nice to have a game meant for more than 2-4 players, with a family of 7 that's needed! The whole point of the game is to say 90's phrases while teammates guess what you are saying.
One problem is is that all my kids are born in 2000+ so they don't get some of the included things. This would be best used with people who lived in the 90's, though Aussie isn't from the US so he doesn't get some of the references either. I need some friends to play with or to take it to my moms to play with people there.
The included game cards are well made, thick and sturdy, so they won't be a giant mess like more flimsy cardstock only cards anytime soon. They're like nicer end playing cards really.
There are other editions of this game too, the original version, WWE edition, as well as family expansion 1 and the not safe for work expansion 1. Which obviously wouldn't be recommended to be playing around younger children.
Overall I really want to try the original game now! As the 90s edition is fun, but I want to see if the original has more things the kids could guess easier.
You can buy Watch Ya Mouth 90s edition and the other editions/expansions mentioned here on Amazon!