Disclaimer: We received the following yummy Temptations treats for review from chewy. All thoughts our those of myself or out cats.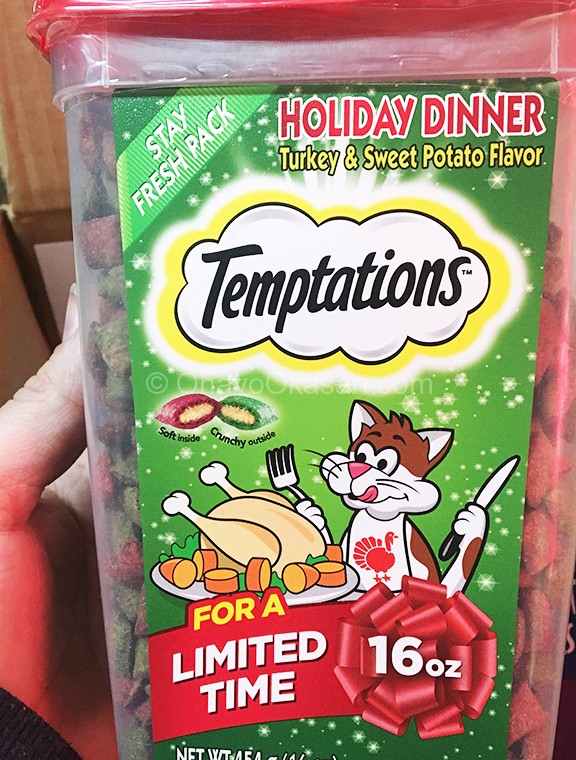 Chewy.com has a wide variety of food, treats and other things for pets. Including certain limited edition products like these awesome Holiday Dinner treats from Temptations. 
You might remember that the cats actually got these from Chewy before, and I was so excited to see these limited edition tidbits back, that I went for them again!
These are Turkey & Sweet potato flavored treats, with a crunchy outside and soft inside. They're even in festive holiday red and green!
Of course, with lots of cats, buying treats requires buying a fairly large size of package. You can find various flavors of Temptations treats on Chewy that are in this 16oz size. Not just these treats.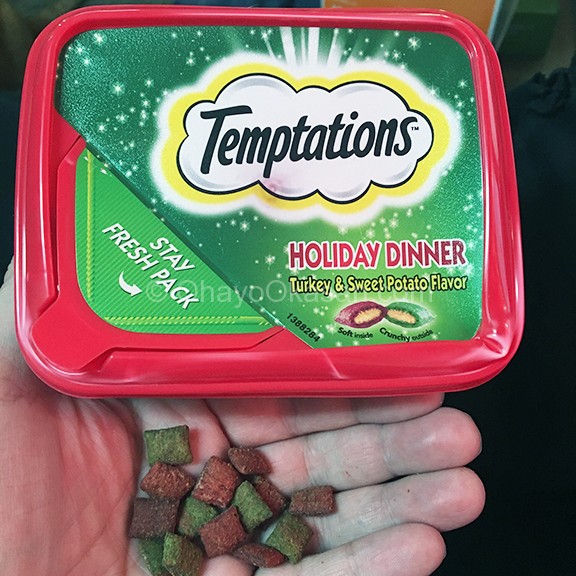 These treats had cats surrounding me the moment I opened the container. Before I even got the inner plastic seal off the cats just knew I had something they wanted. Even a couple of my treat picky kitties were interested in these yummy delights.
In the first round of giving out these Temptations Holiday Dinner treats I had: Kimi, Squee, Tori, Shadow, Cookie and Midnight around me begging for yum.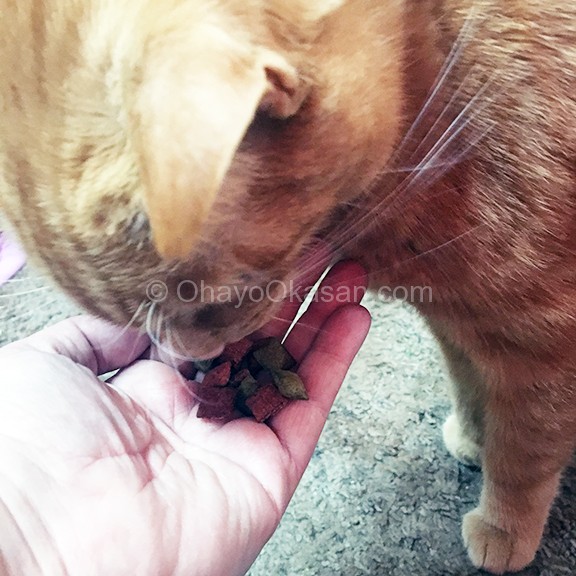 Kiim in particular likes to eat treats directly from your hand. Granted you'll end up with a somewhat drooly hand in the process. Which is alright if you don't mind needing to wash your hand. I love the kitties, drooly hand fed treat times or no, actually I still love it. I love that he'll just eat directly from my hand. In the end the cats like these treats so much I have to hide them. Or they'll get the container open, eat too many, and then.. throw up. :/ Kitties.. I swear!
I didn't detect a particularly strong scent about these treats,and they offered the same quality and happiness in the cats that usually comes when I buy Temptations treats. Shadow is picky about treats in general, and Temptations now has two flavors he'll actually eat a couple of!
Do you have cats that only eat certain treats? What do you usually feed your kitties as a special something?