As you all know, Aussie is Australian. Well, I hope that people would know that from his nickname. That might not be fully clear I suppose.
Anyway, I've never gotten to go to Australia, and he hasn't been since he moved here 6 years ago. So, someday I'd love to be able to go there with him and take all five kids. Of course, I'd want to visit a lot of places and not just family. So here's some places from my research that I'd love to take all 7 of us!
Of course, since we're a large family I don't expect that we'd crash with any of his family, nor would I want to be tied down to a hotel, so what I'd want to do is to rent a camper van so we can travel and enjoy our time both with his family, and ours just getting to take in the wonders of Australia.
So, I checked out Gumtree, which is a site that lets you buy used things from others, like Craigslist and other pages like that. I've found that you can actually buy some pretty good looking campers and trailers at a reasonable price too. Which would probably be much better than hotel costs, and would make it easier to travel.
Anyway, since Aussie's Grandma and Dad live in Sydney, of course that'll be one of our places to go! Of course, going to Sydney means that I want to see, at least from a close distance anyway, the Sydney Opera House! I absolutely love the design of the building, granted I'd probably only really want to go see it for that.
From there, I also want to see Blue Mountains National Park, which is only 50 miles outside Sydney! That's really not a long drive at all for some place absolutely beautiful!
We'd probably camp there a night or two, take in all the sights and stuff before moving on anyplace else. I'd love to let the kids just wander and explore something this pretty. Right now it's actually winter time in Australia, so if I go during our winter up here then it'd be summer there roughly, so the perfect time to enjoy all this. I really want to see the beautiful and different plant and animal life there is in Australia, and I think that Blue Mountains National Park is a great place to do that.
While also in the Sydney area I'd take the kids to the Taronga Zoo as well.

Okay, I haven't gone to a zoo in a long time, do you bet I'd really love it too. The zoo has over 400 hours and over 20 keeper talks and shows a day. I think we'd end up having to dedicate pretty much an entire day to just the zoo! They offer chances to get close to certain animals too, Koala, Penguin, Owl, and Tortoise encounter's are something you can do. Which I don't think I've ever got to experience something like that. Plus, they've got this Tiger Trek experience that you don't have to pay extra to get in to. Kat would absolutely love this, she loves large cats and can't wait until she gets to be a vet in the future. I wonder if she'll ever work at a zoo with large cats? Huh..
I love water, so this next one is really a no brainer as far as I am concerned!! The Great Barrier Reef!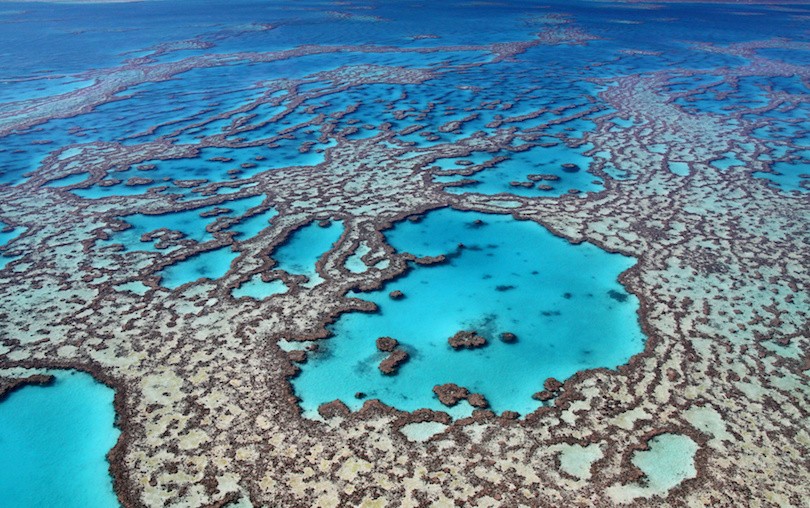 It's located in Queensland, Australia and is one of the absolutely most beautiful places I've seen pictures of. It's one of the seven wonders of the natural world, and it's just stunning. I want the kids to really get to see something like this, plus learn what they can to do help protect the planet from further damage, as I know that the reef needs help. Of course I want to take everyone on a glass bottom boat tour, which lets you look down into the water without going into the water. Letting you see some of the different types or coral and marine life in the reef.
I don't want to only look at natural sights in Australia, while yes they are beautiful there are so many other things to do as well! We tend to like theme parks and what'd be cooler than saying you've been to a theme park clear in another country? Okay, it's probably cooler to kids than adults, but I still think it sound awesome!
So while up in Queensland after enjoying the Great Barrier Reef, we'd stay in our rented camper from someone on Gumtree and then spend a couple of days exploring Dreamworld!
Dreamworld has a Wiggles World, ABC Kids World, and a DreamWorks Experience! You can go to the Kung Fu Panda: Land of Awesomeness and I love Panda's and the first couple of Kung Fu Panda movies, so you know I'd have a blast there! Or at least, try to contain myself as I enjoy the heck out of it. I want to ride the Skadoosh Bumper Cars for sure.
This theme park even has a TIGER ISLAND! Where you can feed tigers and hang out with a couple of tiger cubs all while helping raise funds for tigers in the wild.
I think our first time in Australia we'd probably stick to the Eastern half of the country. Mainly because that's where Aussie's family is and because I am not sure we'd really have enough time in one visit to do too much on both sides of the country. Know what I mean? So far, those are the places I can think of that I'd really want to do with the kids in Australia. Even still, that's at least a week of adventure time not even counting time spent with Aussie's family.
Have you ever been to Australia? I'd love to hear some places you've gone or would want to go!