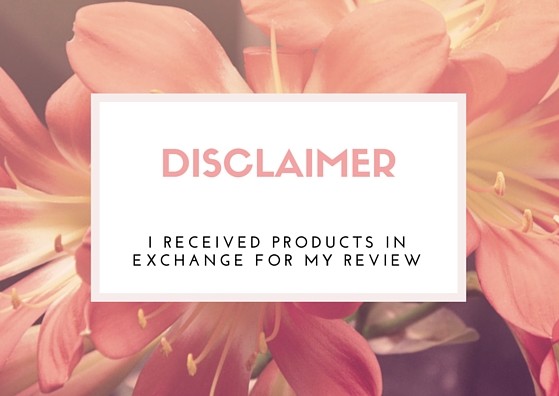 It's almost Halloween!! AHHH!! How are your costumes going? Do you have decorations up?
What about candy treats? Have you seen all the awesome stuff Hershey's has out right now?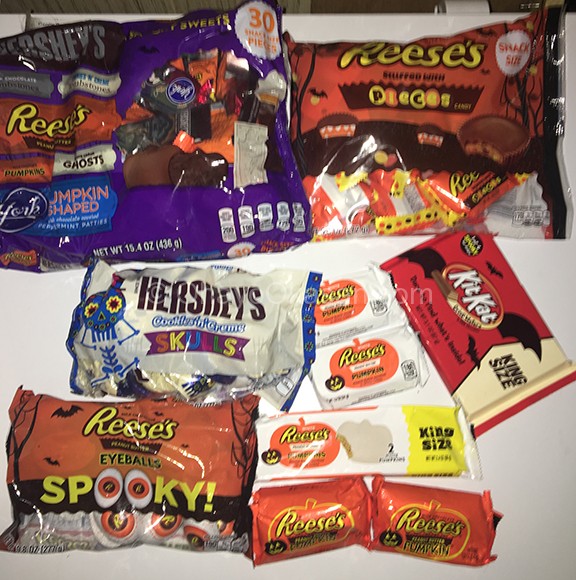 I'm talking Reese's bats and pumpkins, those cups with the pieces inside them. Which by the way I totally didn't think would taste good at all when I first heard about them but woah. Seriously they're so good I bought more after we ate the entire bag we got sent for review. You'll have to forgive the somewhat blurriness to the picture. I didn't realize that both shots I got of all we were sent were somewhat wonky until it was too late and the candy was being joyously enjoyed by all of us.
Fun shaped candy is some of the best candy in the entire world. I don't think I can be convinced otherwise. I only really love Reese's cups when they're fun shaped. Pumpkins? Bats? Christmas Trees? Whatever it is, fun shapes just makes it all better.
Also, OMG YES PUMPKIN SHAPED YORKS AHHHHHHHHH. Thank you Hershey folks! Risi and I pretty much destroyed all the York's! By destroyed I mean ate way too many for our own good probably. Doesn't matter. They were so good.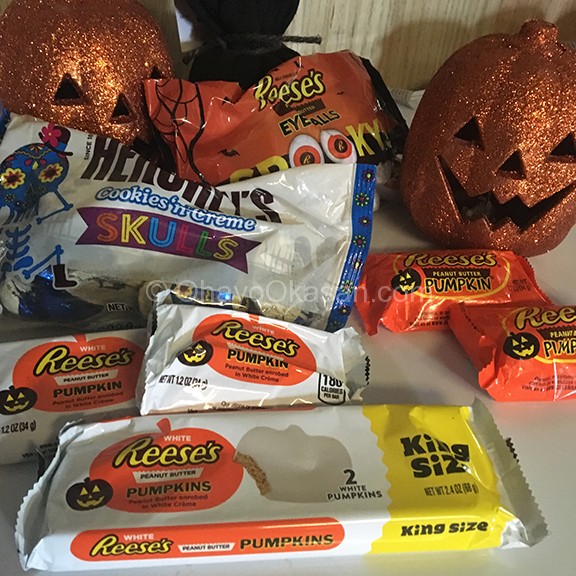 The King Size packs were nice, I had enough to give each of the kids their own bigger candy aside from the little ones. The Skulls (which I know Sugar skulls are 100% not Halloween at all but Day of the Dead which is not a Halloween celebration..) were actually the last candy finished. By finished I mean that Risi decided to unwrap all of them and wanted them melted down so she could put them into one of my candy molds since the eyeballs and skulls were just egg shaped with pretty wrapping. She enjoyed getting to make her own cookies and cream suckers with the candy. Just be careful as white chocolate burns way quick.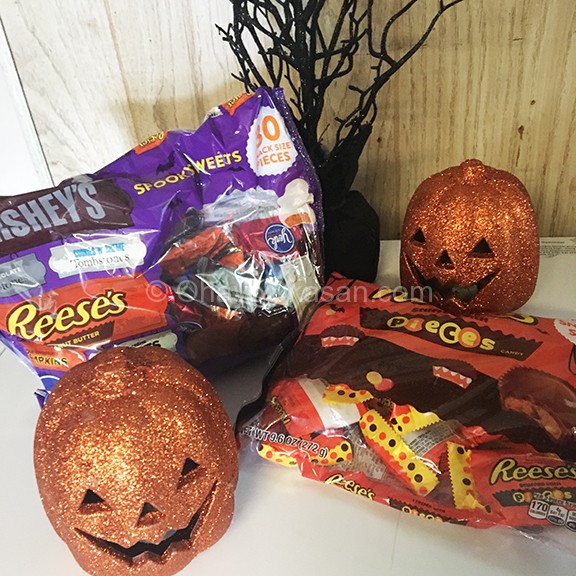 Seriously I thought these Reese's cups with pieces would not be good, sorry to say Hershey's, I just wasn't convinced. The entire concept just didn't sound appealing to me at all when I first saw them and then saw a commercial. I LOVE me some Pieces! More so around Easter when you can get the carrot shaped bag with just the orange ones? Awww yes! So, these are amazing, but not if they're a cup with like one and a half of the Pieces in them. That's not enough darn crunch. When there is enough of the Pieces though? Heck yes, they're amazing and I bought an extra bag of them after we polished these off.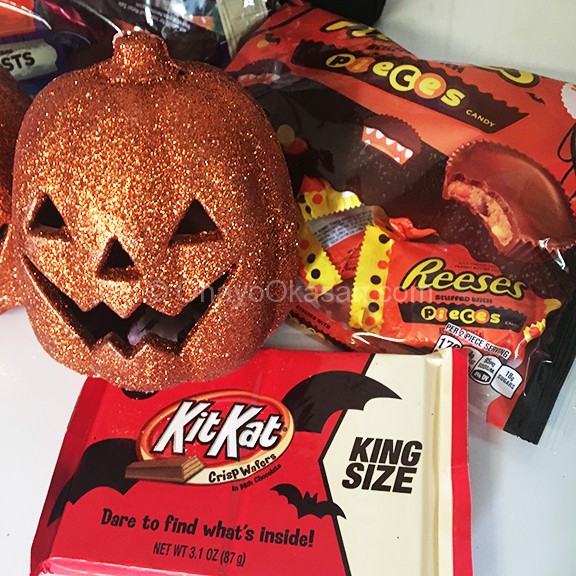 I think the USA needs to pick up their packaging game when it comes to cute candy. Japan has the absolute cutest Halloween candy packaging I've seen to date. Still, I like the fun Halloween motif on the wrappers. Just want more.. more more more cuteness! 😉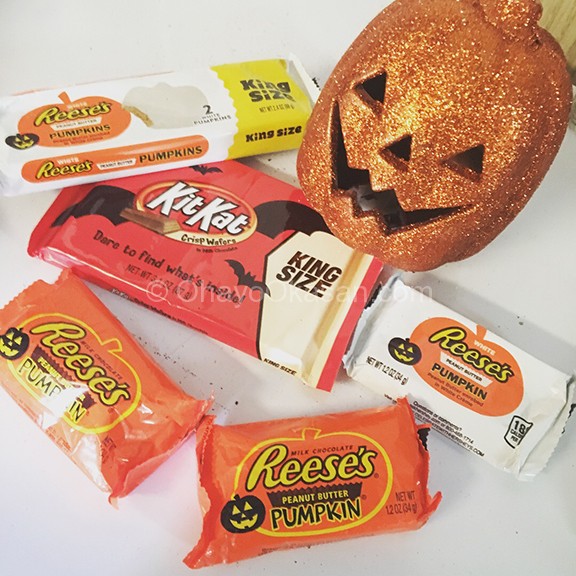 I swear this isn't a bunch of filth on my background, it's glitter from the tree you see in previous pics. I tried to have these things here in the last photo in the branches of the tree but the tree was too flimsy. I also bought more Reese's pumpkins and found bats, which I didn't get to review. They're yummy, and totally not lasting until Halloween.
I know this isn't a "typical review" more of me just professing my love for that which is seasonal candy, particularly Halloween seasonal. I need more cute shapes. All the cute shapes, all the cute packaging. Reese's cups (without the Pieces in them) are just hands down better as pumpkins and bats. 😛 I have to say I wish the "tombstone" chocolate had rounded edges instead of just being decorated/designed rectangles. Though they weren't bad, I just thought they were.. hmm.. I want to see Hershey's with Almonds getting some representation, because I freaking love almonds with chocolate. Please make this happen? I'm thinking..hmm.. ghost shaped with almonds? Please? :3
What is your favorite Halloween candy? Technically mine is not any of the ones pictured, but I am loving what we got anyway and obviously love the cups with pieces. I will probably sneak some out of kiddo's Halloween buckets if they get any. >.> Just sayin..