Disclaimer: I was sent product from Hershey's for consideration for this post. All opinions are my own unless otherwise stated.
Oh my.. goodness! I can't believe we're 4 days from Valentines Day already?!
How did we get this far in the month and have it escape me? I guess being busy with having a new job, getting Risi adjusted to daycare and the bigger kids adjusting to boys and girls club and just being out of the house more than usual has just really gotten me all mixed up.
Risi's daycare is having a Valentines Day party, and I found the perfect way to use some of the great little treats that Hershey's sent us for the holiday.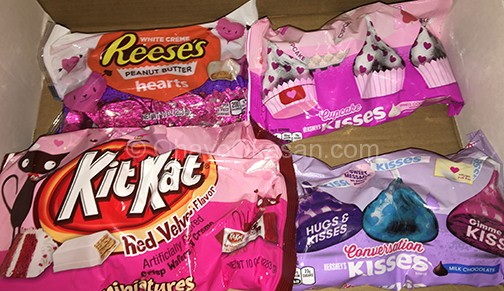 The oldest four kids are all in high enough grades that they don't do class parties. Yep, even Lisi's 5th grade class doesn't do the traditional party thing. She wants to bring treats, but she wants her usual fruity candy route over chocolate. I'm okay with that.
We were sent the following Valentines themed noms from Hershey's:  white chocolate Reese's Hearts (I plan to use them for something for Lisi's dad), Cupcake Kisses, Red Velvet KitKat mini's, and classic chocolate Kisses that have little sayings on the bottom. They're called Conversation Kisses.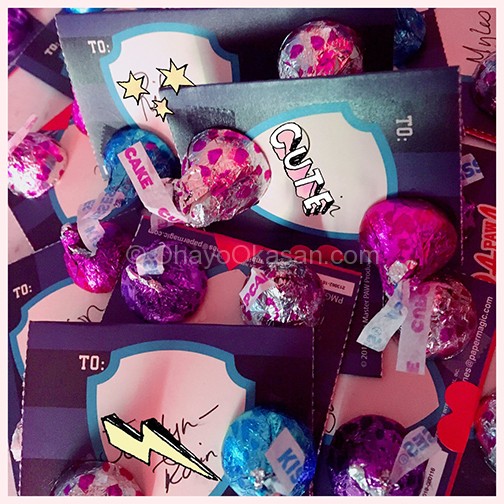 Since Risi's class is made up of 2-5 year old kiddos, I didn't much worry about the sayings on the Conversation Kisses. I went and got her some cute Paw Patrol Valentines Day cares, some double sided tape and knew I was in business. Lisi folded the cards and put on the stickers to keep them folded as I wrote names. I added double sided tape on to the cards and Lisi added one of each Conversation and Cupcake Kisses.
I tried one of the Red Velvet KitKat's and… well… just like other Red Velvet flavored things I wasn't a fan. Risi doesn't like them too much either. I am not sure what to do with them honestly. I'm sure they're loved by many though!
I wish I had had a little more ability to think through all my business lately, so I could have maybe come up with something a bit more creative. I thought about it, but I work the next few days in a row and am already a bit worn out. Next year though, I really need to remember to start plotting things well enough in advance. Geez!
What do you do to spread the love on Valentines Day? Do you have special treats you give teachers and friends? I hope next year to make enough time to make something super cute for Risi's daycare class using fantastic themed candies.