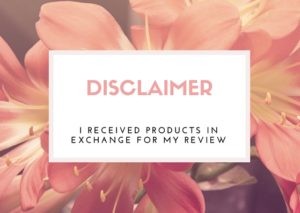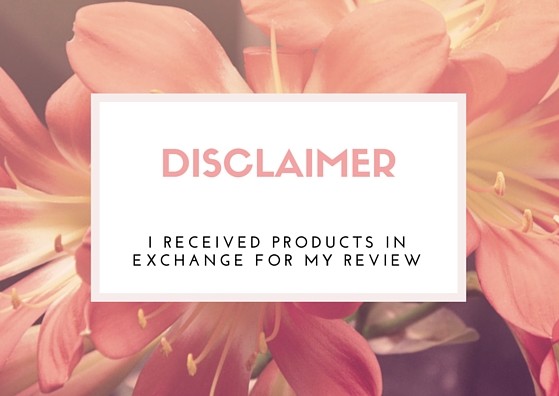 I got the wonderful chance to try out some awesome Rimmel London makeup!
With the holidays coming up makeup like this makes the perfect stocking stuffer or they're great to combine into a great little pampering gift basket!
Now… I don't wear makeup often, I do every now and again… but when I used to in the past two of my exes were pretty shitty with their comments. They ranged from "who are you trying to impress" in an accusing tone and general disdain for my interest in trying to look better. Even just for myself. So for the most part… I just look like this…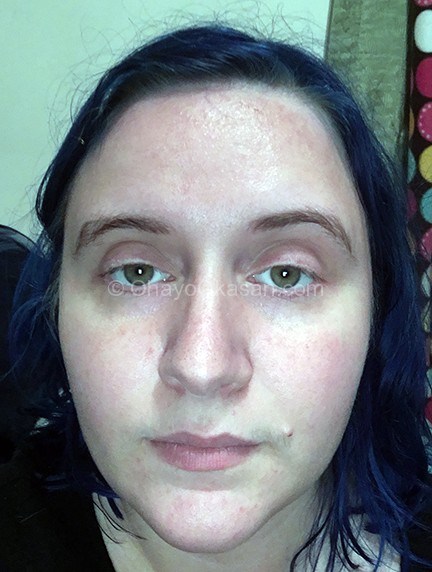 Not too bad, but some areas of pinkness that at times I think really could use some help. Oh and.. one of them made fun of my slight mustache, and then complained when I shaved it off because it made my face "prickly." Basically, I can't really please anyone and it was a real hit in what little self esteem I ever had. Aussie (my husband) doesn't even notice when I wear makeup, cut or dye my hair. So… there's nothing really to say there.
Anyway, every now and again I try using makeup and try not to let those opinions get to me. I decided that at my age I just need to stop giving as much of a care to other peoples crummy opinions of me, and Rimmel London is here to help with that!
I started first with the BB Cream they have, it's a 9-IN-1 cream, and in the "light" color. I figured it was the palest they had, and it would hopefully work for me. I have a beauty blender…. somewhere. I bought it awhile ago but lost it. So I ended up having to just use my fingers.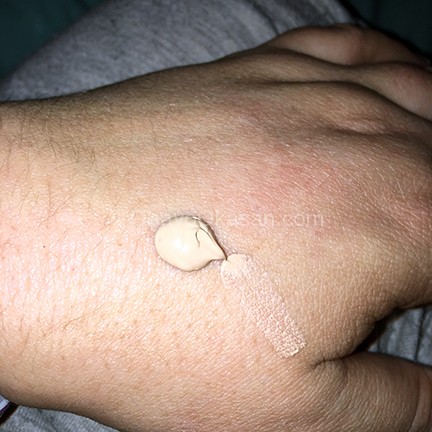 This is what it looks like compared to my hand, ermm… I'm not sure if this was good or bad. I have no frame of reference. I have no female connections IRL to even try and figure out how to do this makeup stuff with them.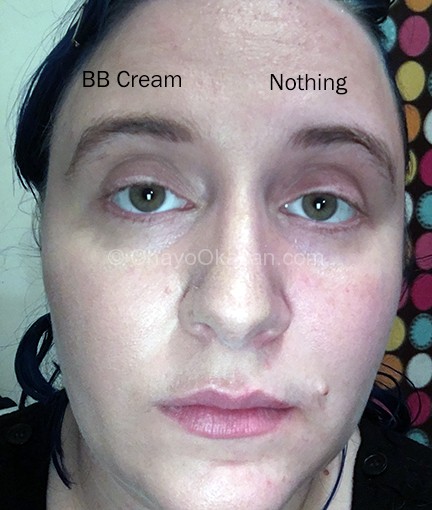 As you can see… I wasn't so sure of myself when I took the half done face picture here. I don't know why I did it, but I've seen people who do makeup tutorials do it so I figured. Ehhh… why not?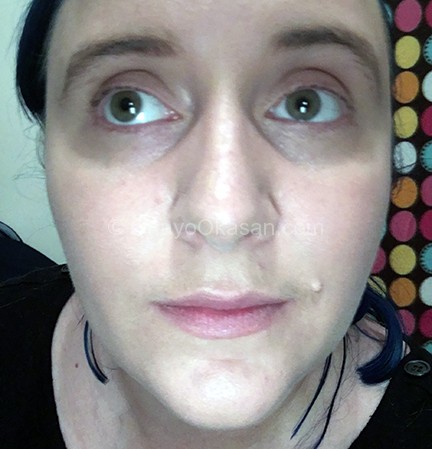 The camera angle doesn't help here, but I could use a little extra on my under eyes anyway. But the circles are really THAT dark… just… crummy angle and lighting! Also got some on my lips. Shoot.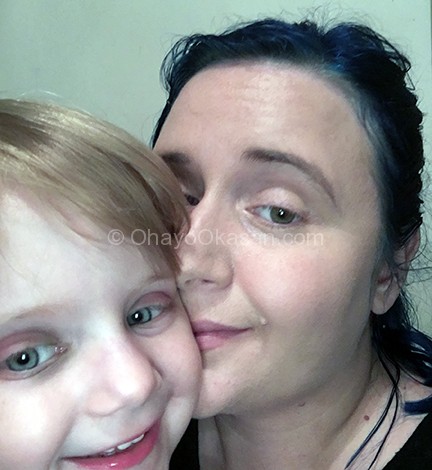 Of course, Risiel wanted to be in the pictures too. This shows a little better lighting on my face with just the Rimmel London BB cream. Applied… with… fingers and severely minimal skills. I did Risi's eyes with makeup from previous stuff I tried, and her lips too. It's a different brand but that I thought she'd like the colors of.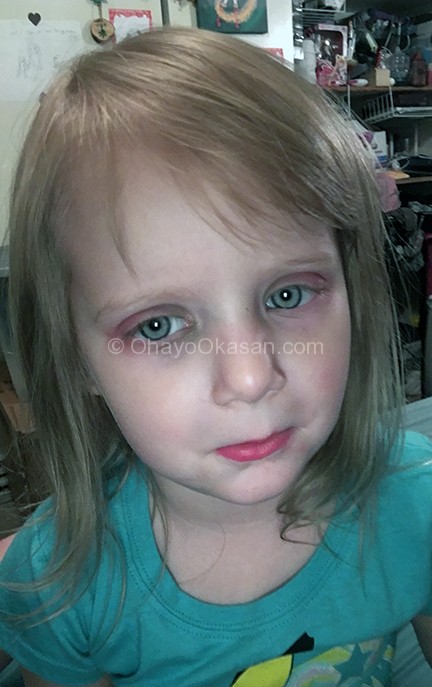 I'm not sure what her face is about here, but it's the best I could get her to sit still for the camera on her own! 😛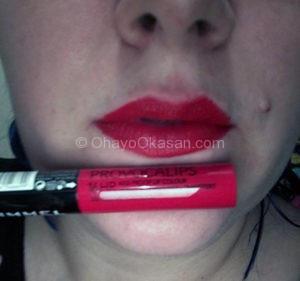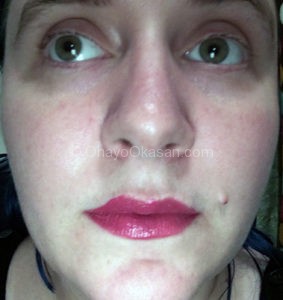 Oh shoot!
I forgot that before I put the BB Cream on I had tried a couple of the Rimmel London PROVOCALIPS colors I had!
The left is Kiss Me You Fool.
The Right is I'll Call You.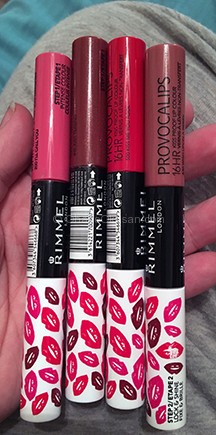 My four PROVOCALIPS colors!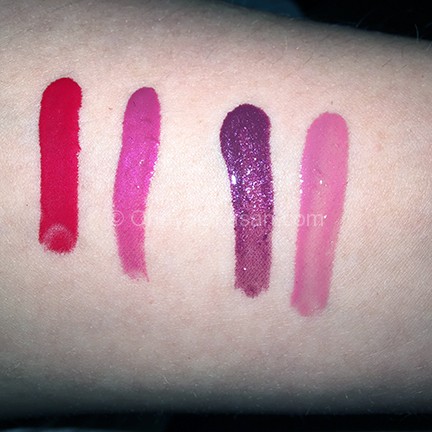 This is: Kiss ME You Fool, Just Teasing, Wish Upon A Berry, and I'll Call You. I guess swatch tested, I've never tried it before so they're a little wonky. Sorry!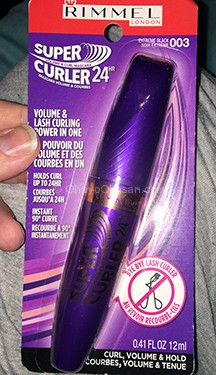 One things I've never had before is great eye lashes. I feel like you can hardly see them and I tried falsies a few times but only got them to actually go on once. I need more practice, for sure, but I hardly have time to practice with a toddler who climbs all over me when I am attempting to put on makeup. So my hope was that the Rimmel London Super Curler 24hr Mascara would give me the boost I needed!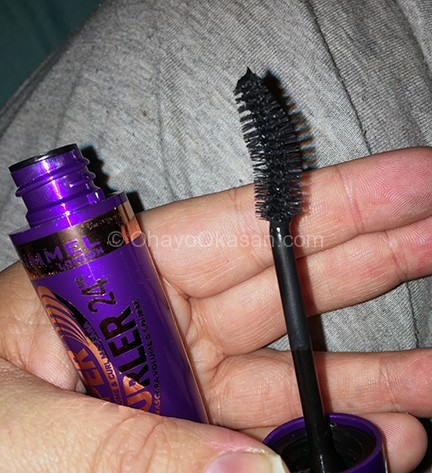 The wand looked pretty cool, slightly curved to make it easier to apply. Which is great, because I tend to catch my eye when I try straight brushes! That doesn't feel good, trust me. @_@;;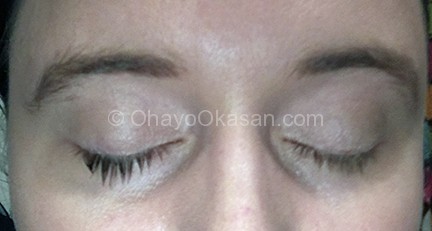 This is one eye with the mascara and one without. The left obviously has it, as my eyelashes look lovely and long! The right looks so.. wimpy! I think because they're kind of pale? I don't know. Var has the most amazing eyelashes! His dad does too. *Sigh* One of those ways boys are totally lucky!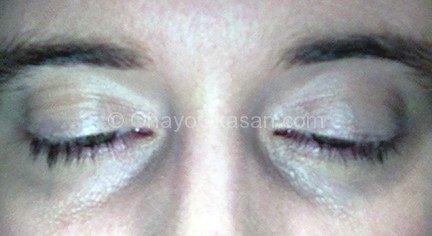 The flash made my eyelids look crazy weird here, I didn't even realize it until after I uploaded the pictures to my computer. Poo. Here are both eyes with mascara.

Okay, this is a little better. I had decided to put back on the Kiss Me You Fool, as it's the first red that I felt didn't look really awful on me. I think I've finally found a good red for me! Thank you Rimmel London!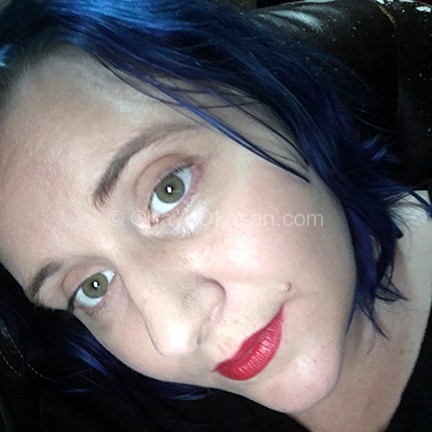 I like the lighting at my desk better than I like the lighting in my bedroom. I used to have a lighted makeup mirror, but it fell off the base, the batteries disappeared, and I don't even know where the mirror is right now. *sigh* So, I did my best by using my iPhone's forward facing camera! XD
Overall, I've got to say I've found some new favorites with Rimmel London! I have an eyeliner that I have sadly yet to have the time to use fully. Each time I try Risi tries to climb on me and I end up messing up badly. So I clean off my face and give up. I can't wait to get to use it and get good at it!
If you or someone you know loves makeup, Rimmel London has likely got more than a few fantastic products I know they'd love this holiday season.
Do you have a favorite makeup product? What is something you just can't live without having in your makeup bag?