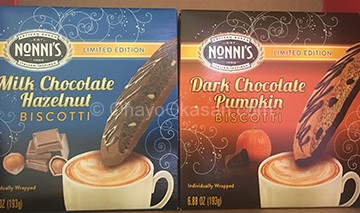 Ah the changing of the seasons. Cold weather, falling leaves, hot cocoa, and hot coffee if you go for that. But for me, one of the best things about seasonal changes for fall and winter would have to be seasonal foods! There are some things I only really like to eat during certain times of year. Pumpkin bread and pumpkin pie for me will forever be fall treats, and I'm so excited that Nonni's Biscotti has a Dark Chocolate Pumpkin flavored Biscotti available right now! Nonni's is my favorite brand of biscotti, I use them dipped in iced coffee, and my usual flavor is their Dark Chocolate Almond. Still, seasonal flavors are where it's at this time of year!
I liked the taste of the Dark Chocolate Pumpkin, but Risi preferred the Milk Chocolate Hazelnut. We were sent both to try out!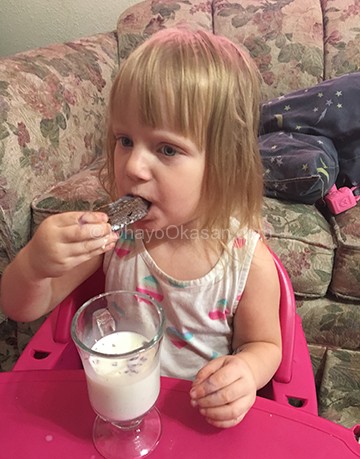 Risi got to enjoy the Milk Chocolate Hazelnut in a cup of milk. After watching me have my usual flavor so many time sand having a nibble here and there, she was already a pro at dunking and enjoying this wonderful treat. The Milk Chocolate Hazelnut ran out quickly, and I ended up buying another one. I now have a new season changing treat! I just hope that these flavors will come out next year for me as well. I'd be a little sad to fall in love with a product and have it go. Which has happened before with seasonal treats, not having it come back the following year.
Nonni's also has a Gingerbread and Pumpkin Spice biscotti available! I've yet to see them in a store here, but to be honest I've actually only remembered to look at two different ones, but I am sure I'll find them soon!
Do you like biscotti? What do you dip yours in? An iced drink, a hot drink? Do you just eat them as they are in their crunchy glory?