HE NAMED ME MALALA
is an intimate portrait of Nobel Peace Prize Laureate Malala Yousafzai. She was attacked by the Taliban, who targeted her for advocating for girls' education. She was wounded by a gunshot to the head when returning home on the school bus in Pakistan's Swat Valley. She was just 15 years old when she was singled out, along with her father. The attack sparked an outcry from supporters around the globe. Miraculously, Malala survived the attack and is now a leading campaigner for girls' education globally, and is the co-founder of the
Malala Fund
.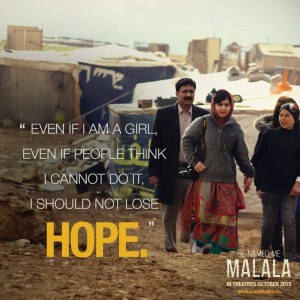 Acclaimed documentary filmmaker Davis Guggenheim (An Inconvenient Truth, Waiting for Superman) shows us how Malala, her father Zia and her family are committed to fighting for education for all girls worldwide. The film gives an inside look into this extraordinary girl's life – from her close relationship with her father who inspired her love for education, to her impassioned speeches at the UN, to her everyday life with her family.
The Global Broadcast of He Named Me Malala is on Monday, February 29th at 8 pm est/7 pm cst!
Malala Yousafzai became the youngest-ever Nobel Peace Prize recipient in December 2014, as well as having her story published in the book, "HE NAMED ME MALALA."  The book details the story of the then 15-year-old teenager, who had been shot in the head by the Taliban for speaking out on behalf of girls' education in her home region of Swat Valley in Pakistan.  Unfortunately, Malala Yousafzai's story is not unique.  All around the world women are suppressed and prevented from learning to read or receiving a basic education.  Internationally, there's an estimated 60 million girls currently out of school. This is suppression of girls' educational rights is what Malala was standing up against when she was targeted.
---
The National Geographic Channel and 21st Century Fox, in partnership with the Malala Fund, have launched a social initiative to raise awareness for girls' right to education and safe schools for every child worldwide.  The National Geographic Channel encourages families to Stand
#withMalala
and show their support for girls' education.  For every person who participates through March 10, 21st Century Fox will donate $1 to the Malala Fund. A $1 donation will also be made for every tweet using the hashtag #withMalala during this time period, for a total donation of up to $50,000. You can find more information at
www.supportmalala.com
.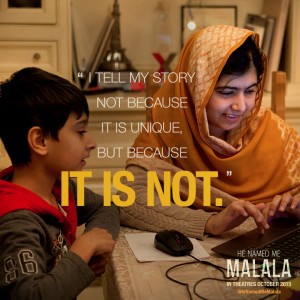 As a mom of four girls, I couldn't imagine them being hurt for their desire to an education. So I stand with Malala on her fight for quality education for women and girls, and everyone really, around the globe. Everyone deserves an that education, not just boys, not just the wealthy. Malala's bravery is encouraging and empowering! Stay tuned for the global boardcast of He Named Me Malala, and help the campaign with the hashtags #HeNamedMeMalala and #WithMalala in social media to help the campaign. :3 Thanks guys!
This is a sponsored post on behalf of
Review Wire Media
for 20th Century Fox. I received information to facilitate my review as well as a promotional item to thank me for my participation