We got sent a Skoshbox and Dekabox to experience and review!
I will keep this brief as really the video talks about everything better than I can write out. It's a Looong video, bit it was even longer before I edited it. >.> Yes….
The Skoshbox and Dekabox allow you to try some great Japanese yumminess sent to you every month!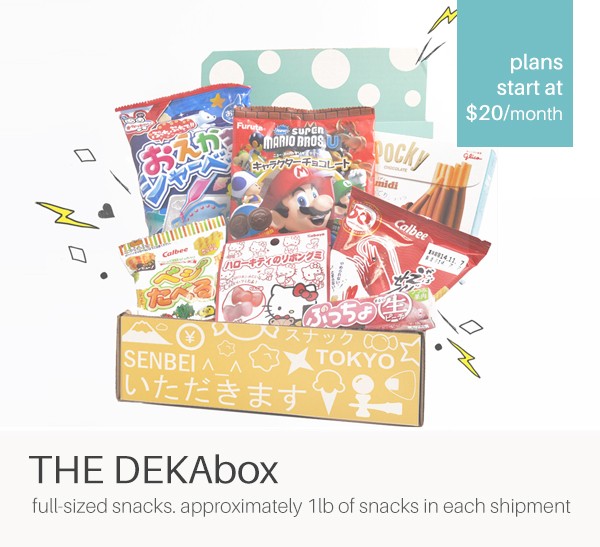 For the regular Skoshbox you can pay $12 a month to month subscription, $35 for 3 months ($11.67/box), $66 for 6 months ($11 a box) or $120 for 12 months (just $10 a box!)
The Dekabox, which is around 1lb of goodies ranges as follows: $24 for monthly, $70 for 3 months ($23.33/box), $132 for 6 months ($22/box), or $240 for 12 months (just $20 a box!)
Okay, $20-24 a month might sound like "a lot" but I can seriously spend $200+ on Japanese snacks when I'm in a store that actually has a decent offering. So, to be honest. It's really nothin! 😉
Below you can watch Sisi and I unbox a regular Skoshbox and a Dekabox so you can experience them a little bit before you decide if they're for you.
There are SO many great Japanese treat boxes available, and while I can't really say I'd prefer one over the other. I'd suggest if you're interested to give a month go a try on any of the ones I've ever reviewed.
I can't say which box I liked better, I mean obviously the Deka had more, but I love subscription boxes and any number of new snacks to try is great by me!