Tomorrow is National Ice Cream Day!!
But we're a bit lucky and spoiled, because Unileaver Brands sent us some ice cream coupons so we could get our ice cream on today and tomorrow! Lucky kiddos!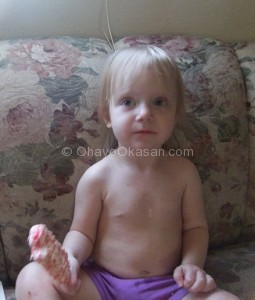 Risi here has a Good Humor Strawberry Shortcake bar. Which I figured she'd love since her dad loves them as well as strawberry cheesecake and things. She seemed okay with it, but only ate about a quarter of it. Hmm.
I know Sisi will love it, and I get to pick her, Kat and Var up tomorrow! So they get some yummy ice cream too!
I would LOVE to try some of the other dessert bars Good Humor has, but alas… Albertsons near us doesn't have an of them other than this one. Boo… 🙁
 Lisi got to try her very first Choco Taco, and while she said it was a little hard to bite into at first (they are when they're fresh from the freezer!) she ended up loving it!
How can you not love a Choco Taco? Well, I mean I guess if you don't like chocolate or something I can see that. But my treat for National Ice Cream Day is totally Choco Taco's!
Oh yeah guys, I love them too!
Actually, a Choco Taco was what I was eating in the car right before the horrible roll over accident we had when I was pregnant with Lisi. It was the LAST ice cream I had before she was born.
So it's no real surprise that she loves them too, I guess! Of course it's ice cream, and we all like it a fair bit.
Have you ever tried a Choco Taco? If not, try it!
The first time I ever got to try one was actually in elementary school. I'm not 100% sure WHY we had them AT school, but we had them regardless and I fell in love.
I used to do kitchen duty when I was in elementary school as it allowed me to get extra food. >.> and it meant I didn't have to go outside in the winter and deal with the cold weather.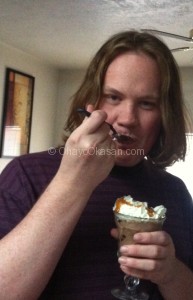 Breyers is also part of the Unilever brand of ice creams, and today we picked Chocolate Reese's ice cream. They have a vanilla one too. But… hello chocolate?
So know we have that for tomorrow too. You can see that Aussie is enjoying his ice cream, complete with whipped cream and caramel drizzle, very much!
He decided to have this today for the sake of me getting pictures of other products. 🙂 How sweet!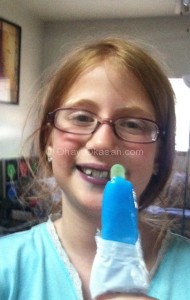 Popsicle brand is responsible for these awesome Popscile Airheads pops that Lisi got to try out today. Risi too, but she was too busy enjoying herself to allow me to take a picture.
This is the Blue Raspberry flavor, as you can probably tell, and yes Lisi enjoyed it very much!
With the wide variety of ice cream products Unilever brands offers, we're going to have the most awesome National Ice Cream Day tomorrow!
Are you going to celebrate along with us tomorrow? What is your favorite ice cream?