One thing I hate having to do on a daily basis is vacuum. Yes sure, I love my big upright vacuum for when I need to do a big huge clean up… but darn if I am not too busy day to day to try and keep up. With five kids, and carpet in all but the kitchen, bathrooms and laundry room.. there is a LOT of vacuuming to be done!!
Disclaimer: We were sent the bObi robotic vacuum in order to facilitate this review, no other compensation was gained and all opinions are our own unless otherwise stated.
So I'd like to introduce the coolest vacuum I've ever experienced!! bObi!!
bObi came to us very quickly, and I was thrilled when upon taking her out of her shipping box, to see this!!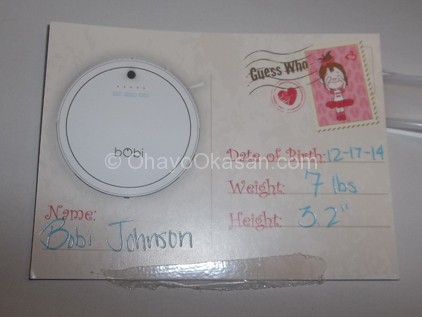 Yes, it's a little more or less crib card about her! Bobi Johnson, 7lbs and 3.2″ in height! Of course I had to get a picture. XD Yes, we do refer to her as bObi, and so far the kids are pretty thrilled with her. The cats… well… they're still not sure what to think! They're very interested, but at the same time a little timid around her.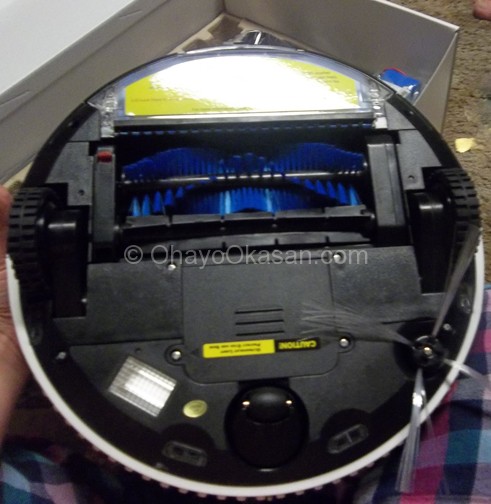 This is the underside of a bObi robotic vacuum, you can see her blue brush, below that a rubber brush, and then the long edge brush! I was kind of surprised at how long the edge brush was, but it does a great job of helping bObi get things out of corners and edges.
I currently have bObi set to run at night, 9 PM and for the living room and my office area. At other times I will take her to whatever room I need done and let her take care of it. It's nice to just be able to set her down and let the floor get taken care of on its own. More so with the kitchen, it's cold in the kitchen right now, more so the floor. So having bObi take care of sweeping for me makes a world of difference.
In this video you can see our bObi robotic vacuum on the go as she cleans up the living room!
I am so happy to have bObi here helping me keep the place cleaner! I don't know why I didn't get a robot vacuum sooner, but I am glad to have bObi now, so that doesn't matter too much anymore. 🙂
bObi is run easily and wirelessly via her remote, and the buttons on her back if you want to use it that way. You can easily adjust her settings on the remote, as well as see the codes for whatever might be wrong with her.
You can learn more about the remote and how to program bObi by checking out the great videos they have.
If you haven't vacuumed your floor in awhile, you'll want to give them a full run first with a big vacuum. Otherwise you'll need to keep a close eye on bObi to clean her out when something gets stuck. Trust me, I learned that the hard way! So much hair considering all of us have long hair, plus the fur from seven cats. Yeah… >.> I hadn't vacuumed in about two weeks (shameful!) and I had to keep cleaning out the brushes for poor bObi. >.>
Now though? She does just fine!
Have you ever of the bObi robotic vacuum? Would you ever try a robotic vacuum? Why or why not?