Do you know someone who could use some zen? Could you use some?
Disclaimer: I received the following product in order to facilitate this review, no other compensation was gained in writing this post.
I wanted to try out the Yuzen box myself before I introduced it to anyone else. The Yuzen box is a box of products to add a little zen into your life. Basically, these are products that are eco-concious and meant to nourish your body and soul.
As a mom of 5, I needed some zen in my life, so this box was perfect.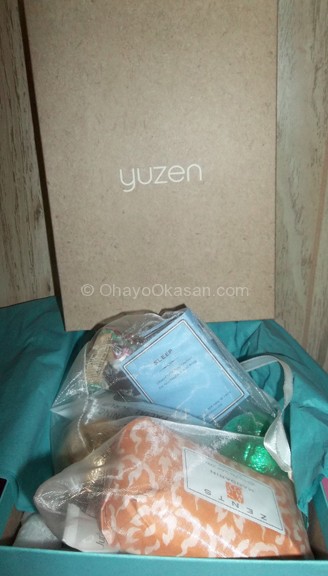 The box came packed with a lovely assortment of things that I couldn't wait to try. All wrapped in a pretty tulle gift bag, in a simple box. I didn't know what to expect really, but I am so happy that I got a Yuzen box!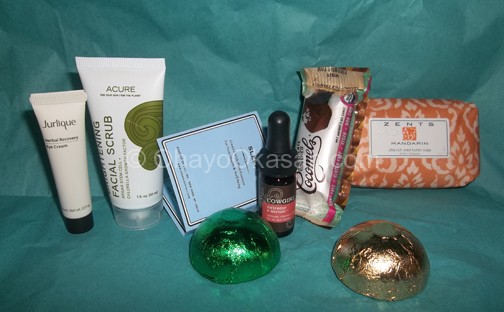 I received a Winter Yuzen box, one of four Yuzen boxes sent out yearly. Yep, one each season! Yuzen boxes are $33 each, and you can subscribe or use a gift option to decide if you want just one box, or three boxes. But still be aware that the three box would mean you get them shipped at different times.
Products in the Winter box (which is available until Jan 31st or until sold out…) are:
Acure Organics: Brightening Facial Scrub.
I've actually used Acure Organics products before, I wrote up a review of them. So I was happy to get something of theirs I hadn't tried before. This facial scrub is made of organic sea kelp and lemon peel to gently exfoliate. As well as French green glay, organic chorella growth factor and Argan steam cells. Overall one of the best facial scrubs I've ever used!
All-natural, organic ingredients, cruelty free, vegan, paraben, petroleum, sulfate, formaldehyde, GMO and artificial ingredient free!
COWGIRL Extreme C Serum.
I actually have a C serum that I love already, but I figured I would give this one a try. While it's free of gluten, parabens, petroleum, sulfates, artificial coloring and synthetic fragrance… I just couldn't get into the way it smelled. It was a deeper kind of musky smell, and I wasn't in love with the way it felt either. I've decided to just stick with the one I was using..
ESSENCE OF VALI Sleep, A Bedtime Ritual.
This is a little file of essential oils that you put a small drop on your pillow and it's supposed to help you relax and fall asleep. I will say that I fall asleep a little sooner when I remember to put a drop on my pillow, and that's a great start! Perhaps I am not using a big enough drop? Or I need more than one as my ADHD causes my brain to bounce all over the place when I am attempting to fall asleep, no matter how tired I am.
JJ's SWEETS Chocolate-Covered Cocomels with Sea Salt.
Mother freaking SEA SALT CARAMELS!!!! I LOVE THESE! Yes I needed to write in caps just so the world knows I LOVE CHOCOLATE COVERED SEA SALT CARAMELS and they excite me to no end!  I've never tried a COCONUT-Milk caramel before, so… it was a little strange for me. I was nervous I mean..Was it going to taste strange? I've tried coconut-water from a young coconut and hated it….
The verdict? OMG YUM! These are Gluten free, organic, certified kosher, GMO, artificial color, and artificial flavor free. Oh… and they're vegan, gluten free, and dairy free!
Jurlique Herbal Recovery Eye Cream.
It would likely behoove me to actually remember to use eye creams more often… As someone with dark circles under their eyes… I could likely use it more often. I do like how this one feels and saw some improvement the couple of times I used it. This is free of gluten, parabens, petroleum, sulfates, formaldehyde, GMOs, and synthetic fragrance.
SALUS Shower Bombs.
Now this is a good way to actually enjoy aromatherapy in a shower. You put one on the floow in the shower, let a little water stream over it and enjoy the scent to relax you as you shower. I liked the eucalyptus more than the lemongrass personally, but both had their own perks. 🙂 I want to see if there are other scents on their website! These are also free of gluten, parabens, petroleum, sulfates, formaldehyde, and synthetic fragrance.
ZENTS Mandarin Soap.
I love the way this smells, but it's noted to work with a host of skin concerns. So what I am going to do is have Sisi use this to see if it helps at all with her Keratosis Pilaris… if so, that'd be great! It's getting worse as she hits puberty.
I love how soft and wonderful this soap feels and smells, so I'll probably use it from time to time. But I don't really have many skin concerns, and she does.. This soap is free from palm oil and sulfates, and made with sustainably hand-harvested shea butter from women's co-ops. 🙂
The Winter Yuzen box helped me to have a nice enjoyable relaxing shower experience to help me cope with the stress of winter and all the holidays. Everything's so hectic when you have to manage three kids in public school, one in online public school, a toddler, your own work products (blogging and other) on top of a house and seven pets. It's crucial to get relaxation time in.. .and Yuzen helped me with that!
Sure we're close to Christmas already, but this would make a great gift for any occasion. Who DOESN'T need to take a moment out of the business of their lives and just relax?