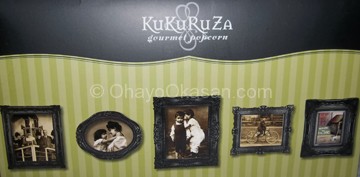 Disclaimer: We received the products mentioned below in order to facilitate this review. No other compensation was gained in writing this post, thank you for understanding!
In my quest to find yummy things this season to share with you on for my Holiday Gift Guide (2014! Bigger and better than EVER before!) I came across KuKuRuZa a gourmet popcorn company in Seattle. Wait.. what? Seattle?! But I was just there and I didn't even notice them. D: It turned out I actually walked RIGHT PAST their Pikes Street store and didn't even notice. Ohhh darn it. Someday I'll get to Seattle sans kiddos and I can do shopping at my own pace.
*ahem…*
They're owned and operated by a local Seattle family, and offer amazingly different popcorn flavor combinations!
Oh, and get this? They have TWO STORES IN JAPAN!!! One in Tokyo and the other is Kisarazu!
What isn't there to like about that? Delicious popcorn, local(ish) to me, and they have Japanese stores. It's like the company called out to me in my dreams or something. 😉
We were sent a flight carton popcorn sampler, which came with 7 flavors with each packet containing about two cups.
I picked the following flavors for our little taste test here: White Cheddar, Hawaiian Salted Caramel, Maple Bacon, Seattle Style, Tuxedo, Coconut Macaroon and Dark Chocolate Kettle!
Both the Seattle Style and Hawaiian Salted Caramel are signature flavors to KuKuRuZa, so I picked them to get the word out there… and.. .well I do like a good Caramel corn! Hawaiian Salted just sounded amazing.
---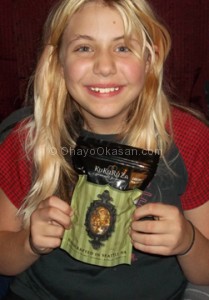 I picked the Coconut Macaroon as Sisi loves Coconut. So why not? It sounded like a good flavor to have her try out and experience.
Needless to say she stole the bag and didn't want to really let anyone else try it. I did get a piece or two, but she quickly decided that this was the flavor for her and there was NOTHING anyone was going to say about that!
I liked the flavor, it had a good coconut flavor without being too strong for me. Still, I was happy to allow Sisi to run off happily with it and enjoy.
---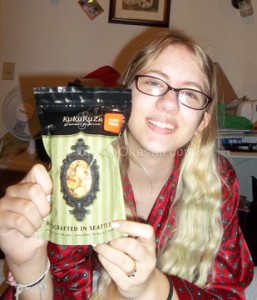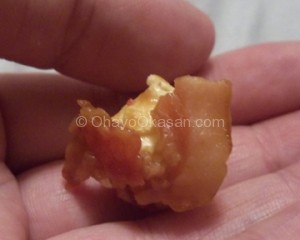 Next up came Maple Bacon! Yes… maple bacon popcorn. Go figure huh?
I know Kat really loves Maple Bacon donuts.. I'm not particularly a fan of maple bars, but a place here does them with a good full slice of bacon on them. So I thought upon seeing this flavor that yes… oh yes… I would be getting this one exclusively for Kat!
I did get to try a piece, and was shocked to see actual bacon. Full out pieces of bacon!! I was surprised it wasn't just bacon bits. But actually real bacon . As you can see to the picture on the right, some of them were almost completely wrapped with the bacon. Kat of course, absolutely loved it and I can't really blame her!
---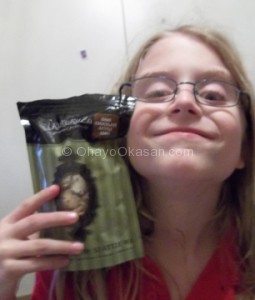 I like Kettle corn, I can't lie a good Kettle corn can draw me in and make me eat far too much of it in no time flat. But a dark chocolate drizzled kettle corn? Ohh yes please!!
The kettle corn had the perfect sweet/salty mixture, seemed freshly popped as if I'd just gotten it from a stand, and the dark chocolate was delicious. I wish there would have been a little more of the dark chocolate, and perhaps a sprinkling of seasalt… but.. maybe that wouldn't mix with the kettle corn?
Hey KuKuRuza folks, can we do a dark chocolate sea salt caramel corn? That'd be awesome!!
Var ended up loving this and wanted the rest of the bag after we all tasted it. Ah well.. at least it was enjoyed *whimper* even if I wanted more…
---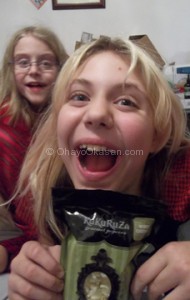 White Cheddar popcorn is one of Sisi's favorites. Sadly after eating her Coconut Macaroon she couldn't taste much of the white cheddar flavoring on this one. So I had her try it again later and then she did indeed like it. Of course when you eat something as powerful as a Coconut Macaroon caramel corn, you're going to have a hard time picking up a subtle flavor like white cheddar.
I managed to get a small handful of this, and found it just about perfect as far as white cheddar flavor goes. It didn't taste at all artificial or off like some White Cheddar popcorns I've had before.
I was glad I added this to the line up, but I should have had us taste it first!
---
Hawaiian Salted Caramel ended up being Cid's favorite! So I let him have the rest of the bag after everyone else had their taste test.
The salt was pretty subtle, and honestly I would have preferred a bit more of it in there. But Cid loved it the way it was which is good, because he doesn't really have the same love for sea salt caramel as I do. So I wasn't sure what he'd think.!
---
I ended up loving the Seattle Style, which is a caramel corn with espresso grounds in it. I know it sounds rather strange, but the caramel sweetness really helped it not be too bitter due to the espresso. What do you expect from the city of coffee? This is the perfect popcorn to be considered one of KuKuRuZa's signature flavors! Var loved it too, and… well he gave me cute face and I ended up giving the rest of the bag to him as well.
Risi in the above picture is actually eating some of the Tuxedo caramel corn. Which is caramel corn drizzled with chocolate and white chocolate! She wanted more, so she had more… but I did end up actually getting my own bag of popcorn when I took it off my desk later and ate the rest of it when she wasn't looking. >.> Sorry baby Ris… XD
The final verdict?
Next time I'm in Seattle I'm stopping by and getting more KuKuRuZa popcorn. I mean… if I an go that long without any…Who am I kidding? I'll probably be buying more of it very soon!
Buy it in tins or boxes and KuKuRuZa would be perfect as a gift for the popcorn lover in your life. Get them something different this year by surprising them some of the funky and fun flavors KuKuRuZa offers!