Disclaimer: I received the following lamp in order to facilitate this review, no other compensation was gained in writing this post. 
When I am crafting, particularly by hand, I often have a hard time seeing when I am doing little details. Even worse, is when I am working on a small electronic item and need to see tiny details. No lamp or overhead light is just enough to help me with these awful…ly difficult little tasks. It takes something more than what I've been using, more so since I've had issues with eye strain and headaches during craft/fixing up time.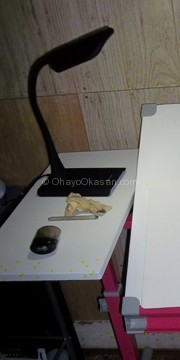 I now have a TaoTronics 7 level LED lamp to help me at these times. Little details are much easier to see now that I have this lamp, the easy to adjust lighting involves just touching or sliding along the base. No switches, no fuss. I can easily tap to a higher or lower lighting level with the back of a finger so no matter how messy my hands get while doing work.
Graphite, charcoal, and dry pastel can be insanely messy to use, and it's frustrating to need extra lighting with filthy hands!
This lamp is available in both black (like I have) or pink! Yay! It's also purchasable over on Amazon with Prime shipping! (Super bonus, I love having prime!!)
You can turn the lamp off and when you turn it back on it will remember your last setting, which is nice. I can turn off the lamp to walk away from a project, and go right back to work with one touch instead of having to fiddle with the lamp. Hey, every second counts sometimes, don't judge! 😉
TaoTronics has all sorts of products, not just LED lamps to help with crafty times. They even offer back up cameras for your cars, handheld scanners, and more!
Still, I wouldn't trade my new lamp for the world. Since I'm in the middle of making Halloween costumes (yes, STILL!) I need all the help I can with seeing the finer details that I need to sew by hand. Plus… I never know when I'll need to be taking apart a small appliance next. Trust me.. with five kids, and me being accident prone.. you just… never know.
Do you do crafting and need a good lamp? If so, I would highly recommend TaoTronics 7 setting LED lamp!
Though it's also great for having on at night if you want to read in bed, the lowest setting is still great for reading in the dark without eye strain, but isn't as harsh as having your overhead light one.