Disclaimer: the following products were provided to me by Carmex in order to facilitate this review. No other compensation was gained unless otherwise noted and all opinions are my own unless otherwise stated or placed within quotations and attributed to another source. Thanks for your understanding.
Winter time can be an awfully hard time on our lips around here, it gets cold, lips get chapped and… well… the kids go through lip palms like there is no tomorrow. Particularly Kat, I'm not kidding, the girl uses about 3x more lip balm and chap stick in a year than I do!
Carmex Moisture Plus has come out with some new designs just in time for this holiday season. The lip balm offers SPF 15 protection, what? You didn't know you need protection from the sun even in the summer when it's all gloomy? Well you do, and your lips need it just as much as the rest of you does!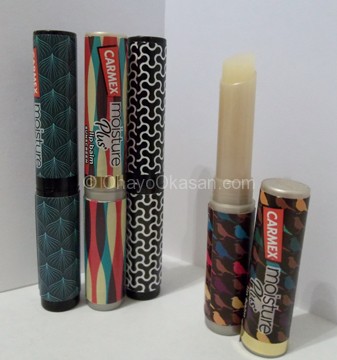 I also notice, in addition to these newest prints that they have a leopard print. How awesome is that? Kat would love it!!
The Carmex Moisture Plus has a suggested price of $2.99 so you can buy a few for stocking stuffers or even a pampering gift basket without breaking the bank. Cute, affordable and they work really well. I carry the bird printed stick that you see above (the open one) in my purse and use it as I need it. The other three are getting the stocking stuffer treatment!
Carmex Moisture Plus lip balm is non-tinted, non-addictive and is thankfully not tested on animals! They do have a bit of a tingle to them, unlike what I used to use, it's the usual Carmex tingle that I've always experienced when I've used this brand. Not a bad thing per say, just a thing I've noticed.
You can buy the limited-edition slim stick Carmex Moisture Plus lip balms at many places such as Walmart, CVS, Target, Walgreens, Shopko, Rite Aid and many others.
Do you put things like lip balm and makeup into stockings for anyone you know? What about into a beauty type gift basket for a friend or teacher? I think I know exactly what to give Lisi and Var's teachers this year! Health/beauty gift baskets and I can't wait to get to pick the perfect Carmex Moisture Plus lip balm for them!