Disclaimer: We received the following Kawaii Box in order to facilitate this review. No other compensation was gained in writing this post and all opinions are our own unless otherwise stated.
We were awesomely sent a Kawaii Box to try out their service and see what we thought.
All around this box has been the most loved by all the kids at one time! Every one wanted something from the box and it was kind of sad because in the end? I really did want all of it. >.>
Var wanted and now has the cute little watermelon pouch. Lisi has the candy making kit and pencils. Sisi took the Rilakkuma sticky notes and one other thing… oh… the giraffe yes! Kat ended up taking the nail art stickers, cupcake ring, and macaron phone charmy!
Though the ring is made of nickle, so I keep having to coat the actual ring part so Kat doesn't have a reaction.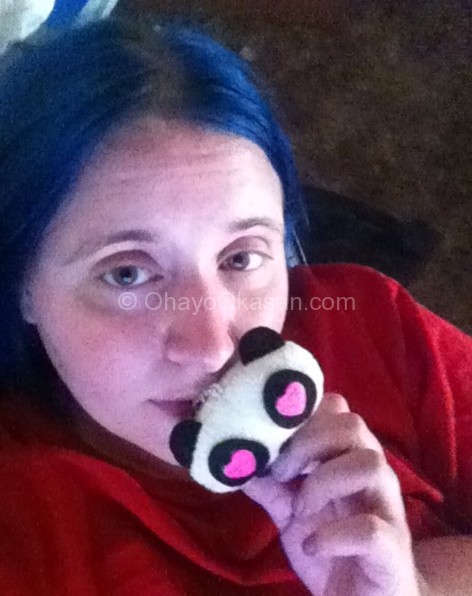 Of course you know I kept the panda!! How could I not? With his adorable hearts for eyes I'm absolutely in love with his cuteness. I kept my stationary too, because it has panda's and… no.. I already gave up the stationary I'd bought myself at Daiso. So this one was mine!! 😉
Kawaii Box is a monthly subscription box filled with Kawaii (cute) things from Japan and Korea! For $18.90 a month you can get all kinds of adorably unique and kawaii items sent to you. With free shipping world wide!!
Sadly at this time they do not appear to offer any sort of discount if you purchase more than a month at a time, and your box will come registered mail which could be annoying if your mail man pulls what mine did and didn't knock on the door. sigh So I had to have some fun trying to get my box, but I did get it!
Over all? Very cute box! If there was any sort of discount for multi-month purchases, I would be subscribing for a full year for Kat! 🙂 I'm considering ordering at least one more anyway though!
Do you have a favorite subscription box? If so, what is it? Do you have someone in your life that would love a Kawaii Box?