Disclaimer: We received this costume in order to facilitate this review from Wholesale Costume Club. No other compensation was obtained for writing this post. All opinions are those of myself or family members unless otherwise stated.
I was originally pretty surprised when Lisi told me that she liked Monster High. None of the girls had ever really been too into most shows of this type, so it was a little bit of a shock. Still the show isn't too annoying and the characters aren't too badly dressed. Even if the dolls have the giant heads and look pretty close to the style of 'Bratz' dolls.

When I had the option of reviewing a Girls Monster High Costume I went ahead and jumped for it! After all, Lisi LOVES dressing up, and it's a fun thing to be able to dress like a character from a show you like. >.> Plus, this option allowed me not to have to try and make something. Yes, I can make costumes, but sometimes… I hate that I can make them. You know? That feeling of "now that people know I can, I'm expected to do it when they want someone to?" >.> I hate that feeling more often than I'd like to admit!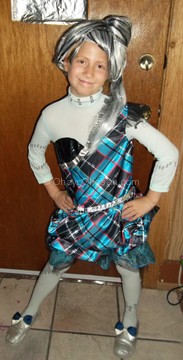 I was so happy that they had this Frankie Stein's Sweet 1600 costume that included a wig and had a pretty puffy dress! Lisi was pretty thrilled too, and after the order we just had to wait for it to arrive.


Lisi found the wig to be a bit itchy, but overall really loves the costume. In order to make the wig fit better next time I need to get some spirit gum, and pin it down a little. Maybe put something around the edge to avoid itching, or tell her to get used to it. This is her first time wearing a wig after all, and the experience can be a bit strange!
The costume includes the Wig, Dress, and the tights. The silver shoes with the bows (the bows did not come on the shoes, nor with the costume. I bought them at the Japanese dollar store Daiso.) are Lisi's.
I love that for the Monster High girls, they get a 'Sweet 1600' instead of merely a Sweet 16! Though that means they were born in the year 414!! Wow.
Do your girls have a favorite Monster High character? I love these costumes and am so happy that Lisi was able to get one.