Disclaimer: We received the following box in order to facilitate our review. No other compensation was gained for writing this post. All opinions are our own unless otherwise specified.
As with the Nerd Block Jr. Boysbox I previously reviewed, this Nerd Block Jr. Girlsk   is from the same company as costs the same $14 a month subscription fee. This time though the toys are (obviously as named) geared towards little girls ages 6 – 11. Right up the alley for Lisi who is just about to turn 8!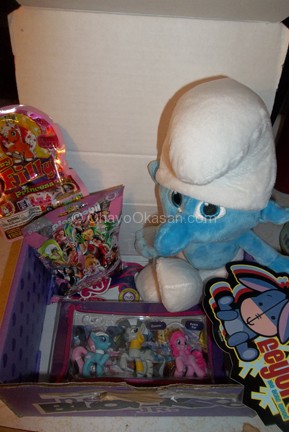 I was pretty excited to see what Lisi was going to get! She ended up with a Pretty Filly toy, a girly playmobil kit, a set of ponies, an Eeyore sticker, and the Smurf plush. Of course before I opened the box Var said "I bet there are ponies in there, because they've never heard of Bronies." All sorts of disappointed. Of course he was write that she got ponies, but it was nothing against him. Maybe I need to start a Brony and Pega-sister service? Yeah.. okay.. not really.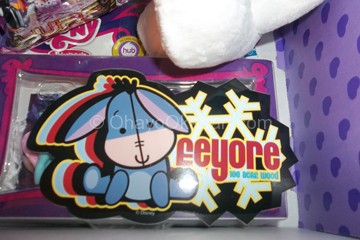 I don't usually like Winnie the Pooh characters, but I have to admit that the sticker of Eeyore here is absolutely adorable.
Lisi loves most of her box, no one here is really a Smurfs fan, but that doesn't mean a plushie isn't pretty much always welcome to snuggle with the rest on her bed.
Overall I'm really pleased to be able to have seen what Nerd Block Jr. Girls has for both girls and boys. For the price you get a lot of 'swag' that your little one can enjoy!
Do you enjoy subscription boxes? Do you think that your kids would love the types of things included in Nerd Block Jr. boxes? What about you, would you like an adult Nerd Block? Maybe the Horror Block?
I can't decided between the two personally!