Disclaimer: I received one Beauty Box 5 box in order to facilitate this review, no other compensation was given and all opinions expressed are my own.

It's time again!!
What time you ask? Well, it's time for my monthly beauty box five review! That's right, I've become a BB5 (beauty box 5) blogger! So I'll be able to review a box monthly for everyone. 😀
Beauty Box 5 boxes cost $12 a month if you do monthly payments or you can pay for a year for a reduced cost.
This months box came with a total of 5 items! Woo, one of them is a Bellapierre Cosmetics Makeup Base, which retails at $18.99 on it's own so it's worth more than the box. Super score! 😀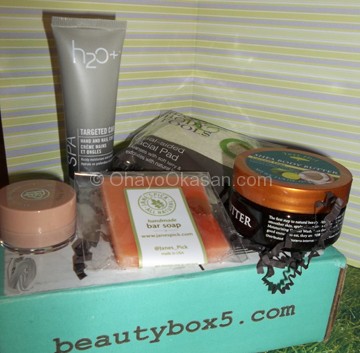 My 5 lovely items and my box. I was so excited to try the Bellapierre base the most out of everything.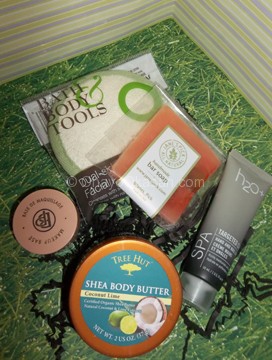 I wasn't so sure about the body butter scent I got this time. Coconut Lime?
Ehhh… I'll write my opinions below of course, but first things first. I want to show you my experience with the Bellapierre Cosmetics Makeup Base!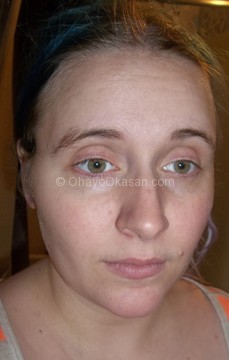 Can you tell I went to bed late? Even when I don't I tend to have these dark circles under my eyes and have a few patches of my face that I feel are just… too pink.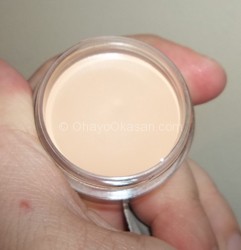 Thankfully, the color I have is absolutely perfect. I wasn't sure how this was going to go on or feel, but I just sort of went for it.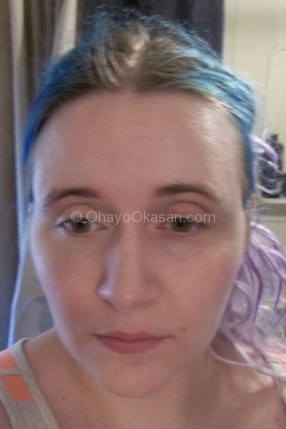 Up here you can see me with it on only half of my face. My left side (the side with the mole) doesn't have it on (note I didn't do anything above my eyebrows…) and my right (without the mole) has it on. I'm not wearing very much but it's helped with the darkness of my under eyes and my upper lid that I tend to suffer from.
The only photoshopping done here was cropping down the picture and changing the DPI from 420 to 72. Nothing else.
Here's a close up of my eyes. Again my left and my right, left with nothing on, right with.
Of course, I put some on the let side when I was done with these pictures, but I am loving this base and it's now in my purse.
So then, here are my thoughts about the products included in my Beauty Box 5 box! I'll rate them 1 – 5 with 1?s being the worst and 5?s being the best!
Jane's Pick – All Natural Soaps: 1.5
I am not even sure what scent of this I got, but I am not super loving the smell. It's a pretty soap, with a mix of orangey shades but I can't get over the smell. The little sticker that closed the small sampler package had various types listed with check boxes next to them, but none of them checked. I can't tell what I am smelling, but I sure don't like it. It does lather well, but I used it once and had to rinse off and use my usual soap after to get rid of the smell. #janespick
Tree Hut – Shea Body Butter (Coconut Lime): 4
As I mentioned above I wasn't sure if I'd like this scent in the slightest, but I was willing to give it a shot. The scent wasn't too bad, but it wasn't overly great. The body butter works great on my knees and elbows where I like to use this kind of thing after an awful winter dries them out. The scent is the only thing keeping me from giving this a 5 star really, though others may absolutely enjoy this kind of scent. #treehut
Bellapierre Cosmetics – Makeup Base: 5
Like I mentioned above I LOVE this and it's now in my purse. I don't heavily wear makeup, but sometimes just need something quick and easy so I feel a little better going through the day. Sometimes I just need a perk and this gives me exactly what I need. The color is right, the feel is light, and it worse great for an eye shadow primer even though I didn't take a picture of that. #bellapierreusa
H2O Plus – Hand & Nail Cream: 4
This may be changed to a 5 later, but for right now I'll go with a 4. My nails were severely damaged in taking off the acrylic nails I had so I am not sure if this is helping fully just yet or not. I will say it's done great for my hands softness wise which I appreciate. The winter has been bitterly cold off and on and it's just made me feel awful. I like my hands to be soft! #h2oplus
Swissco – Dual-sided Facial Pad: 4
The only real downside to this facial pad is that I found the luffa side just too rough the first few times I used it. I ended up having to smoosh it up and kind of 'abuse' it for it to feel like it wasn't just being too mean to my face. Still, a nice pad and for the low price of $2 I would say this is a total must have! #swisscollc
---
In all? I am wowed by the great products this month!
Have you tried a Beauty Box 5? Do you subscribe to any boxes? Which of the products above would YOU like to try?