Disclaimer: We received the follow plush craft item below in order to facilitate our review, no other compensation was gained for writing this post. All opinions are those of myself and/or members of our household.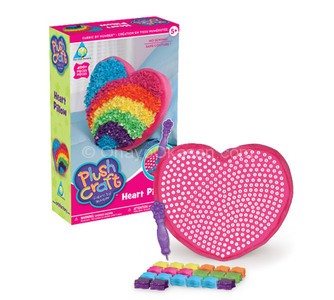 Recently I got a special little craft kit just for Lisi to be able to review. I heard about Orb Factory in my search for an arts and crafts project that was easy, but still fun and pretty. I don't usually trust little kits, I've bought many for the kids over the years that haven't been so great. But I was so thrilled that we were able to review an Orb Factory Plush Craft heart pillow!
This craft line is rated for ages 5+ and come in a variety of different designs. Even Var wants his own pillow to do because of how much Lisi seemed to love it.
The process is simple, a kind of 'color by number' type of craft, but with fabric pieces and a little push stylus.
The video below shows Lisi explaining what to do, and I apologize for the darkness of the video. I tried to edit it the best I could to get better lighting, but this was the best I could do right now. @_@;
Now I am not sure which of the plush craft's Var would like, but I have a feeling he'd absolutely love their Foxy Pillow. He's a giant fan of the "What Does The Fox Say?" song, and… after getting over myself I actually find I like it a bit myself. >.> Oh my…
Lisi was a little intimidated by the craft at first, she wasn't sure she could do it oddly enough. But after I showed her how with a couple of pieces of frabic and the little punch stylus she was so happy to finish this up in one go! So many craft kits have been used for a little bit and then had the interest lost in them.
I plan to get Lisi a few more of these kits for her birthday, and I think they'd be a good present for any of her friends too…
I even just learned that Kat, who is 13 1/2 is interested in one! The adorable Purr-Fect Pillow! She got to do part of Lisi's pillow (the purple part at the bottom) and actually found it fun too. It's not often that my 7 1/2 year old and 13 1/2 year old agree on a craft project!
Over all the Plush Craft line from Orb Factory is an easy, but fun, craft for many ages. Yes yes… I wanted to do more of it myself when I was showing Lisi what to do. I wonder if there is any hope that someday there will be a panda bear Plush Craft. I'd buy it in a heart beat!
Disclaimer: We received the product mentioned above in order to facilitate this review, no other compensation was gained in writing this post.