I never actually managed to pack a hospital bag until I was pregnant with Risi. I didn't have the money for things, and really only tossed a few baby things in a bag and thought I was good all the other times!
With Lisi, I didn't even get that far.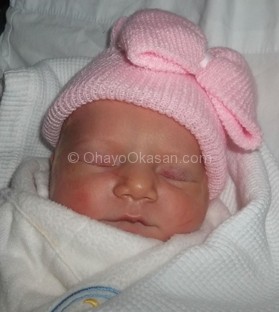 This time though, I was super prepared and had a hospital bag packed and in the van a little over a month before the baby was born.
Here is a list of things I recommend to have in your hospital bag to make things more comfortable during your stay:
Travel sized containers of your own favorite shampoo, conditioner and lotion.
Chapstick, a new stick of your favorite type. Hospital air is extremely drying.
A bag of change and $1's for the vending machine, for the middle of the night hungries.
A comfortable Pajama dress/shirt, and your own robe so you're not stuck wearing hospital gowns.
At least two pairs of socks, no slip are great if you can stand the way they feel.
A couple of outfits for the baby
Swaddling blankets for the baby
Your own 'hospital' style hats (like the one Risi is wearing above) are awesome too.
A spare charger for your phone.
A towel from home.
A book/ereader/tablet
Hairbands and a spare hairbrush that you don't need at home before the baby is born.
Digital camera with batteries, don't forget your memory card!
Clothes for you to change into for when you leave the hospital.
Spare clothes, toiletries and a towel for dad.
Any pacifiers or soothies you intend to give the baby.
A copy of your birth plan.
Any snacks that the vending machine may not carry.
At least one pair of large underwear.
A change of clothes for two for dad, as well as a towel for a shower. (Forgot to add, thanks to the commenters for reminding me!)
Really I can't think of anything else that may have been useful other than my Itzbeen, but if you don't have one of those a pen and some paper to write down feeding and diaper change times works well too. 🙂