Disclaimer: I received the following product for free in order to help me write this review, however all experiences and opinions are those of myself and my household. This disclosure is done in accordance with the Federal Trade Commission 10 CFR, Part 255 Guides Concerning the Use of Endorsements and Testimonials in Advertising.
I would like to introduce the Rubbermaid LunchBlox Kids Flat Kit.
This handy compartmentalized lunch box comes with a ice tray that all the little compartments snap onto in order to keep your lunch fresh and cold through-out the day! I couldn't wait to be able to use this for the first back to school lunch of the year, which of course I got the chance to do this past week. 🙂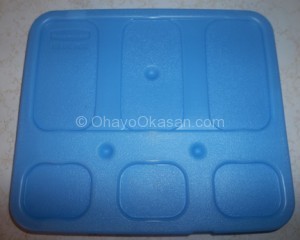 We had Tonkatsu for dinner on Labor Day, and made sure to make enough so all the kids could have the same for their lunch the following day (the first day of school!)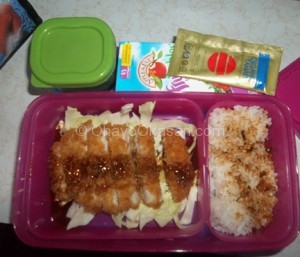 I love how the containers are just the right sizes for all our needs, not only that but the lids are leak-proof but easy enough even for Lisi to open! No struggling with opening any of them! As you can see above I didn't make use of the side container on the first day, but put her juice box on top of the Blue Ice tray in order to keep it cool during the day. The small sauce container held some Hi-chew (Japanese Candy) as a special little treat.
The pieces are Microwave, Dishwasher and Freezer safe, as well as being BPA free! Though of course you wouldn't want to actually microwave the blue ice tray, o.O that could go badly.
This Flat Kit includes a large container with dividers, a side container, a sauce container and of course the Blue Ice chill tray/pack that goes under them all.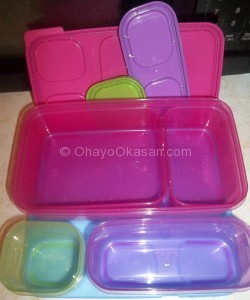 Rubbermaid has other LunchBlox options available as well! You can check out their website Build A Better Lunch for coupons, recipes and more!