Introducing Sally Hansen"s awesome Salon Insta-Gel Strips Starter Kit! Everything you need to do a home gel manicure easily!
I was able to try the kit in the color 'Wine Not' and I absolutely love it!
The kit comes with the following:
· 1 Mini LED Lamp
· 16 Gel Polish Strips
· 1 Gel Top Coat
· 2 Nail Cleanser Pads
· Cuticle Stick, File & Buffer
· Instruction sheet
Now, you'll REALLY want to pay attention to the instruction sheet on this. Learn from my mistake and read the entire thing BEFORE you try and do your nails, instead of trying to go step by step like I attempted. LOL
I originally tried to do a video of me with this and I just couldn't do well holding my hand up where my webcam could see it and my face and THEN apply the nail strips. I tried, and all the videos were a bit of a disaster!
Still, the nails worked out well, and for never using nail strips before (I know right?) I did a good enough job that I thought they looked great. My favorite part was not having to worry about using vaseline to keep my fingers from getting polished up, or having to clean up nail polish that I ultimately always tend to get on my fingers. D:
The top coat works well, and you can easily use 99% rubbing alcohol on a cotton ball if your little cleanser pads dry out or if you want to use the topcoat with other polish.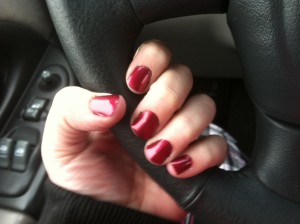 Here is a few of my left hand after I was done, I forgot to take other pictures of it afterwards because I got caught up with all the packing and moving that has been going on lately here.
With that, the polish managed to last about 4 1/2 days with everything I'd been doing (packing, moving, cleaning, etc) before it started to have any major chips or anything, which is better than just polish alone really! I think in order to get the 2 weeks of wear you'd have to not do a whole lot of stuff with your hands!
After I took off the Wine Not I did use the gel topcoat and the led lamp to set over some pink polish I had and it worked like a charm!
Sally Hansen as all sorts of pretty colors and patterns of nail strips that I look forward to using with the gel coat and lamp in the future! I love this little kit and am so happy that I got to try it, and I would highly recommend it to you too! There is a little learning curve with the nail strips, and thankfully it packs all come with 16 so you have some time to do that easily!