I am so pleased to be able to review these wonderful candies! The fine folks at Sun Cups sent me two packages (of two cups each) of each of their four flavors. Yum!
This gave me enough to let everyone here sample some including myself!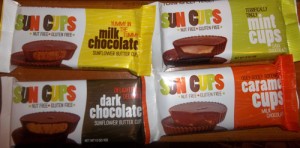 The flavors are:
Dark Chocolate Sun Cup
Milk Chocolate Sun Cup
Dark Chocolate Mint Cup
Milk Chocolate Caramel Cup
Each of the flavors are delicious in their own ways, but here is what everyone thought of each.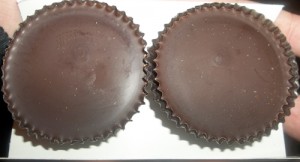 Dark Chocolate Sun Cup:

Sis- Doesn't really like dark chocolate, chocolate throws her off flavor wise.
Var- The outside is a little weird, but the inside tastes nice.
Lisi- It's okay, outside too dark chocolate wise.
Kat- Tastes like sunflower seeds covered in dark chocolate. Doesn't like dark chocolate.
Me- Don't mind dark chocolate, agree that it tastes like sunflower seeds with dark chocolate. I like the combination.
Cid – Doesn't like dark chocolate, sunflower is okay but overpowered by dark chocolate.
Aussie – Chocolate is good, sunflower butter is buttery taste, not too strong sunflowery taste. Likes it.
Milk Chocolate Sun Cup:
Kat- "Tastes like chocolate covered sunflower seeds"
Sis- "Mmm! This one's really good!"
Lisi- "Mmmm!!!"
Var- "Tastes like a Reese's!"
Me- Agree that it tastes just like a Reese's with a sunflower seed type flair. Very good!
Cid- Chocolate doesn't overpower sunflower, good chocolate, interesting taste for the sunflower, good alternative for those allergic to peanut butter.
Aussie- Can taste the sunflower butter more, I like it. Dark Chocolate is better. Can see myself eating over peanut butter.
Dark Chocolate Mint:
Sis – Tastes like a York!
Var – Tastes like a York!
Kat- Pretty good, but don't like the aftertaste.
Lisi- Good, but chocolate a bit too dark.
Cid- Mint makes the dark chocolate almost bearable. Mint filling is good, but a little gritty.
Aussie – Reminds me of a mint Timtam minus the crunch, which is an improvement. Favorite so far.
Me- Delicious, gooey center, like Camp Fire mints but better! Can see myself buying this one far too often for my own good!
Milk Chocolate Caramel:
Lisi – Loves it!
Var – Loves it!
Sis – A little too sweet for the caramel, good chocolate,
Kat – A little too sweet, but not awful.
Me – Lovely tasting Caramel, smooth, creamy and ooey-gooey like it says!
Cid- Messy, noticeably different from regular Caramel, very gooey. Pretty good.
Aussie- Very good Caramel, really good for a caramel candy, very fragile. But good.
All in all pretty positive despite some finickiness about dark chocolate, everyone sat through the taste testing session for me and I appreciate them doing so.
I like all of the flavors with the mint and caramel being my favorites of the two, still, the sunflower butter cups are delicious as well!
You know what's next?? A giveaway! Stay tuned for a special giveaway of one 12  pack (12 2-cup packs) case of one flavor of YOUR choice!