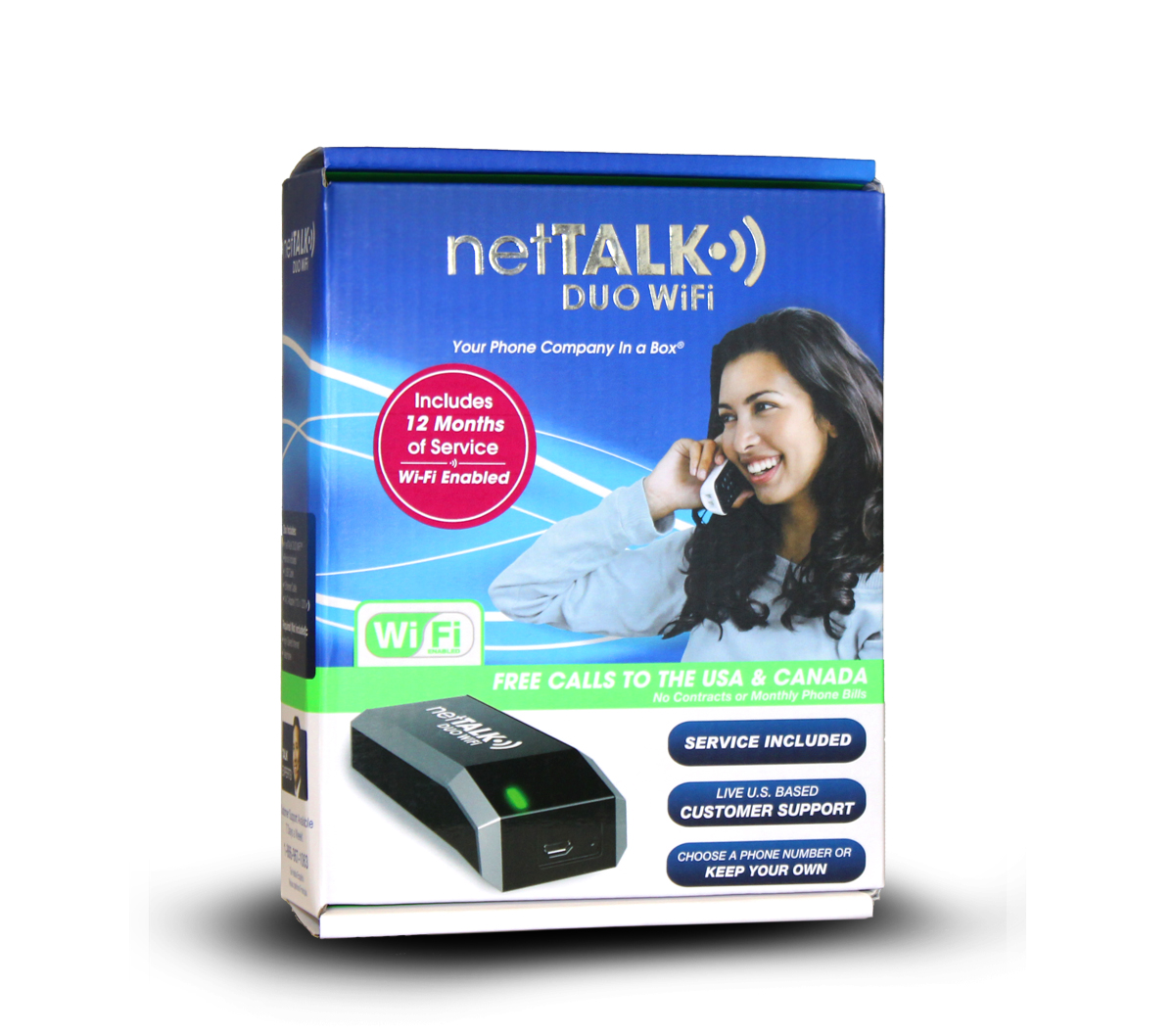 Phone service in a box! That is what NetTALK Duo Wifi is. This is phone service that works not only through just your router or computer, but now through Wifi as well. I don't have a home phone, just a mobile phone. The oldest has one two but I worry if she'll talk too much and blow through minutes. You know, being 12 and all that jazz? As well have having a 9 year old too, and both girls. We needed something and when someone mentioned the NetTALK Duo, I just jumped at the chance. Phone service, for a year, for the price of the unit? Why not?!
Exactly. 😉
Following the easy instructions included, I had my netTALK Duo hooked up to Wifi and ready to go in just about 5 minutes. If that. Really I had thought 'oh this is nothing' and decided I could do it without following directions. Hmmm.. yeah… No?
The instructions really were simple, and aside from the little twist of needing to dial the area code even if you're calling local. I didn't have a single problem setting up the  unit or making calls.
I've checked calling various numbers and have yet to have a single problem with sound quality on either end! I'm a believer now. 😉
For a VoIP system, I'm really rather impressed. I honestly never thought anything would work that well aside from Skype on the computer. But here I am having this hooked up to my phone and more than happy I went for the chance.
NetTALK Duo Wifi is available not only online but at Target and other leader retailers as well. This is a product I would highly recommend if you're like I was and spending way too much on a phone line every month. My previous home phone was $30 a month through the cable company and just… no.
Not when you can spend the price of the NetTALK Duo here and have phone for a year. $65 one time, or $30ish a month? For unlimited local and long distance in the US and Canada? Yeah… I considered that one a no brainer for me.
After the first year, each additional year is only $30 +tax. Not bad really. Roughly what, $3 a month for phone service over the $30 before. I can handle that.
Here's some information about the netTALK Duo from their press release.
The netTALK DUO is the first voice-over-IP (VoIP) device and digital phone service that don't require a computer to make or receive calls.
The lowest cost, flat-rate international calling plans in the industry. (This will make Aussie calling family back home not bad on the budget!)
Live customer service and technical support
Nationwide number porting.
Free 411 Directory Assistance in the US
Fax Friendly Service!
I am so happy to have a phone the kids can use and I don't have to worry about minutes, a large bill in case no one does use it for a bit, or anything like that. I have a local number, unlimited time, and eventually a teeny tiny phone bill that even has e911 service.
Now then, the awesome folks from NetTalk are allowing me to giveaway one unit with a free year of service to one lucky winner!
All you have to do is use the Rafflecopter below!! Arigatou Ganbatte ne!
a Rafflecopter giveaway