I actually fell in love with my Dot.mine planner from Time Mine the second I opened the package.
It's so pretty, and I'm sad that I technically cannot use this planner until August. But this will be perfect for once I start back up in school, and all the kids are in school. I'll have a 1st, 2nd, 4th and 7th grader! On top of my own schooling and other things.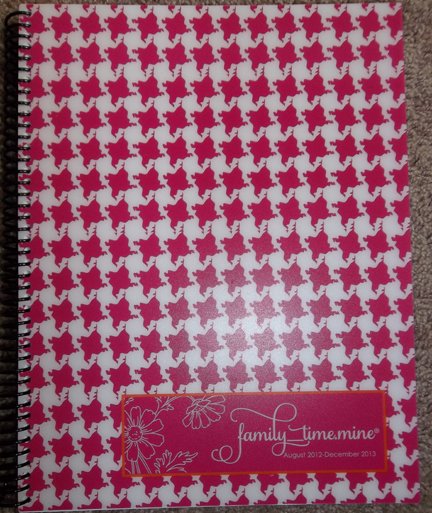 This is my pretty planner! It's got spaces for all sorts of details, and stickers inside too. Thank goodness, because I like stickers, and the more space I have to write the absolute better! The planner spans from August 2012 through December 2013. Not bad for the price tag of $19.99 with lots and lots of space to write details as I said before.
A fully intense family planner considering I have a lot to keep track of! I've never used a planner before like this, so I hope it helps me to become more organized like I wish I was!
These would be perfect for working moms, not working moms, homeschooling moms, middle school children, college students, heck any student who needs a way to stay more organized and can handle a planner!
 I even like the little pocket, to shove something in rather quickly so I can look at it later without it being just randomly loose. Yeesh. Otherwise papers end up in my purse and get ruined. >.> Yeah. I admitted that!
You know what else is cool? They also have a Spanish/English bilingual planners for those who may want them! I don't know much more than a few words from Dora the Explorer… So.. that didn't do me much good. But that's got to be to helpful for someone. Right?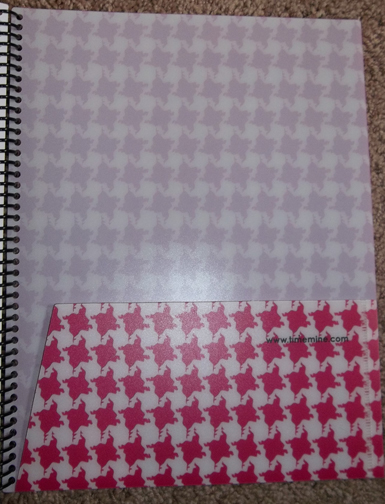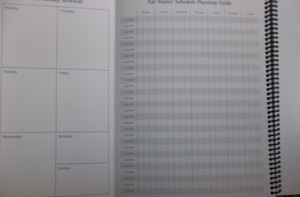 There's even so much detail you can have things down to the 1/2 hour, starting at 7:30am – 9:30 pm. There is a calendar for each month, and then a weekly breakdown as well to really get the most out of this.
I almost considered giving this to the oldest, since she's starting middle school. But I think I will get her a less fully intense dot.mine planners because I don't really think she'll need AS MUCH details as I will to handle our day to day all things considered! 😉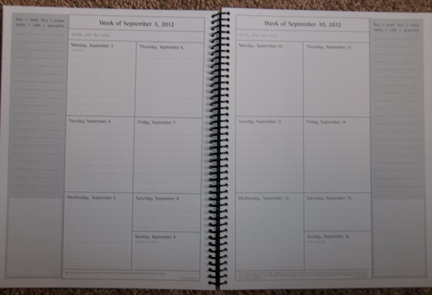 The above is a view of a couple weekly pages.
 Want to know what others think about them? Other members of Karma Media got to review planners from Dot.Mine as well! Come see what they say!
Karma Media has teamed up with Dot.Mine Planners to give 20 readers a planner each. Winners will be given a choice as to which planner they would like from Dot.Mine, day planners that help you find your scheduling bliss!
Giveaway is open to US residents only and will end July 6, 2012 at 11:59 PM EST
Enter the Rafflecopter below and GOOD LUCK!!!
I received this product through Karma Media in exchange for my honest review.