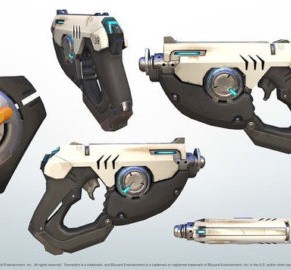 This post contains affiliate links, which means I might make a small amount of money that supports this blog and our family if you make any purchases through the links. Thanks!
At the beginning of August we're all going to an anime convention. If you've never been to a convention of any type it's basically a fun weekend/few days of getting to dress up (if you'd like) and enjoy various activities on a variety of topics. There are video game conventions, comic conventions, anime conventions, and probably many other types of conventions. To be honest these are the only ones I've gone to!
Though at anime conventions many people also dress up as video game characters, this year our entire family is doing a group of Overwatch characters! Overwatch is one of the few video games I play actually. Anyway, this post isn't about what I'm doing.
Risiel's favorite character in Overwatch is Tracer! So.. in true to me fashion, instead of just buying cheap replica guns off ebay or something else, I decided to make some that are more Risi sized. Why not? I've seen a few youtube videos and follow some better known cosplayers on Instagram and Facebook who make amazing things.
You can see what Tracer's guns look like in the picture above.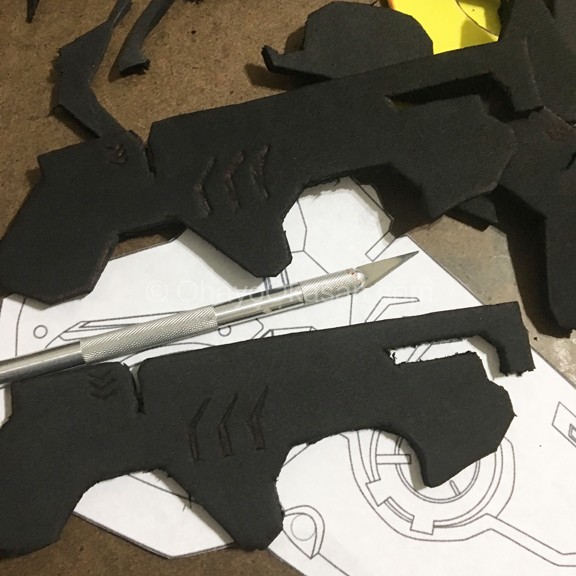 I bought the foam for detail pieces first, I actually bought foam for the guns themselves, but I didn't buy the right things. So I started with these little detail pieces for the sides of the guns.
For this craft I needed/need
♥ EVA foam in various thickness – 6mm for the detail pieces, and almost 1/2 inch that as you can see below are foam workout mats I managed to find locally at Lowes.
♥ X-acto knife, sharp scissors and a utility knife or two. Just beware that the blades are going to get dull pretty fast while working on these.
♥ Contact Cement – caution, do this outside/in a shed/garage unless your heater is off. The container says it can cause an explosion even from the other room. Don't risk it. @_@;
♥ Plasti-dip spray – to seal the guns later so you can paint them later.
♥ Acrylic Paint – Whatever colors you need for your weapon – White, grey and neon-ish blue
♥ A outline of the weapon – you can either find them online for free or for purchase, or make your own using photoshop/illustrator.
♥ A sharp pencil to trace your outline into the foam, since pens don't show up well.
♥ Wood burning tool or Soldering iron to burn details into your foam – Do this outside as it stinks so bad.
♥ Dremel – for sanding and detail work
♥ Silicone for filling any mistakes/gaps that might need filled. I use and like this linked one, as the slow speed works well for being careful!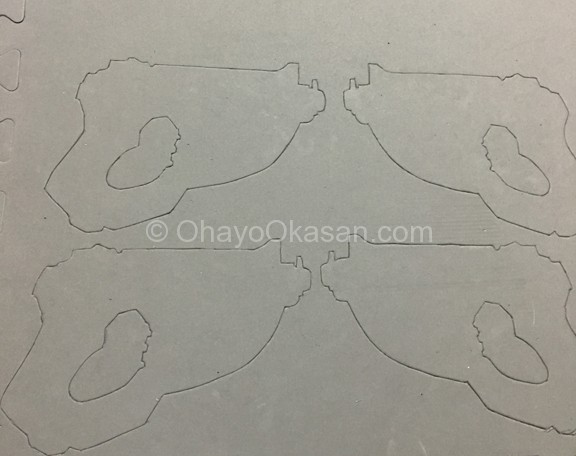 If you use the foam mats like I did, you'll notice that one side has bumps on it. Which you don't want on your weapon. So you'll be making mirror images and making sure the dumpy parts are glued together so you have two smooth sides. Tracer has two guns, so I had to make four total. Use a sharp pencil to go around your outline, and press kind of hard. Don't worry since you're cutting this line anyway you want it deep so the foam doesn't decide just to bounce back! You might have to sharpen your pencil a few times. It's worth it though.
Cutting out this thicker foam was harder than I'd like until I gave up with the X-acto knife and used the Utility knife that I had to go buy for cheap at Michaels.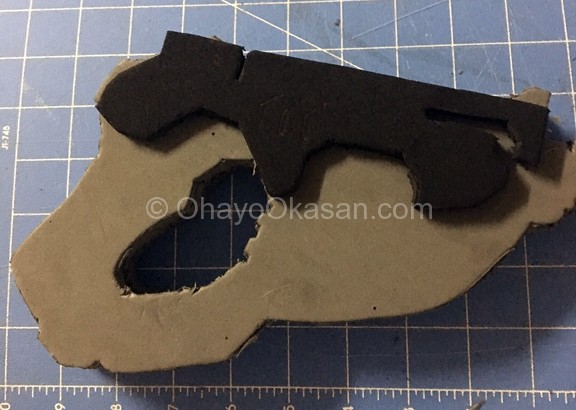 This is just me testing our the detail pieces I had cut out, I had so much more work to do. Risi was happy the second the thicker pieces were cut out, because she knew it was all coming together. They're not perfect, but she's happy so it works for me!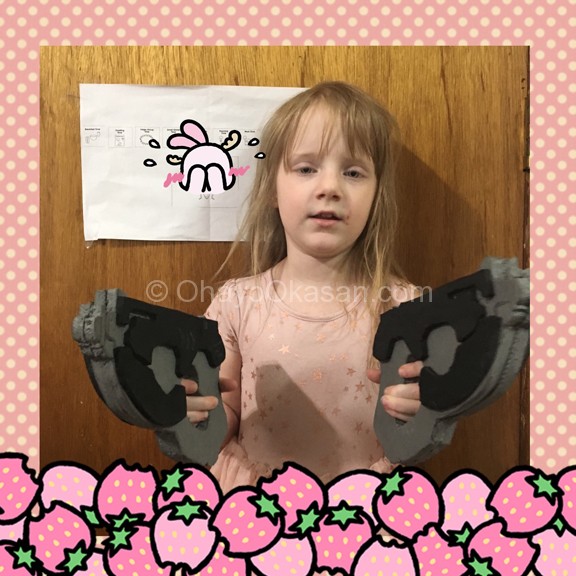 Once I had all the pieces for the Tracer guns glued together (minus the parts that go in the round places you see empty above) Risi REALLY wanted to pose for a picture. The guns are still super rough as you can tell, and I haven't plasti dipped or painted them. I still have so much work to do!
From here I used a sharp pencil again while looking at the gun picture to work out all the places that needed details. Lines, rounded bits that were a little small for the dremel, other little details I needed done that would get taken care of with either the dremel and/or wood burner/soldering gun.
My darn soldering iron has been used a lot, so the tip isn't nice and sharp anymore. I can't find all the various pieces for my wood burning tool, so guess who has to go get another darn tool? If you guessed me, you'd be right! >.> I am disappointed in some of the mess that happened as I was trying to work, but I can fill any of the places up with silicone that need to be taken care of. So don't worry too much about mistakes. Also, if it's your first time doing this (it's mine! can you tell?) it's good experience and practice makes better. Don't stress perfection. In my case Risi is 4 1/2 and doesn't notice the tiny details, and how many people at a convention will be judging every last inch of her guns?
Yeah, basically no one. Little kid cosplayers are super cute and I am sure people will love her costume from top to bottom despite the fact that I will probably make mistakes on every last bit of it. Considering I have to modify the costume to work for hot weather and the fact that Risi gets bad rashes easily so I have to edit the actual outfit part of what she's wearing too!
So far I've gotten a little more work done than what it shown. I've made three different versions of the circles that go in these little cut out bits, and done some more sanding with my dremel. I'll show you guys the finished results when I get there!
I am making the bigger kids work on their own weapons and things, though of course not without help. I can't wait to show all those too!
Have you ever cosplayed before? I've made the kids a lot of costumes and have done a few for myself too. I actually made cosplay costumes on commission a few times in the past, many many years ago!