Media Kit
You may download my Media Kit in PDF format, or click the image below to view it right here.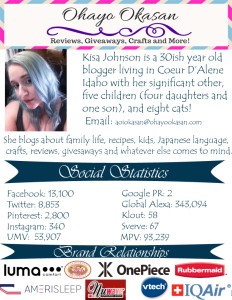 G+:
  268
Unique Monthly Views: 52,502
Monthly Page Views: 213,151   Email: aiokasan(REMOVE)@ohayookasan.com 
or
kisa(REMOVE)@ohayookasan.com You will be emailing 
Kisa
not Kat, Kat is my oldest daughter. 
 Disclaimer:
I am paid a small amount for the ads I currently have on my site through various means, as well as through coupons if anyone prints the ones shown.
I also receive items to do reviews. Any other compensation will usually be noted in the post.
About Ohayo Okasan:
Started in January 2012 after having many blogs on and off over the years. I never really found my groove with  my other blogs and this time was able to take off a bit quicker. I enjoy getting to post all sorts of things on this little corner of the web I occupy. Be it reviews of products, pictures of our local wild turkeys (also known as the WTG or Wild Turkey Gang), pictures of the kids, craft ideas (I haven't gotten there yet, but this blog is still fairly new!), recipes, giveaways, and general posts about life, I LOVE to share!
Review and Giveaway Guidelines
I only give my honest opinions about products, however in the events that I have nothing nice to say about a product, I will give the company the opportunity to decline the review. When I do my reviews, I always post to Facebook, and Twitter. I am starting to become more active in Pinterest as well. I prefer to do reviews with giveaways as it makes it more interesting to my readers, however, a coupon code is also effective as well.
When doing reviews, I do require full sized products as opposed to samples in order to get a more accurate review of the product. I also will not ship product back after the review. Please keep in mind that I prefer if the company sponsoring a giveaway ships products to my readers, however, in some cases I would be willing to send the prize to the winner.
Advertising with Ohayo Okasan
I will only post ads on my site that are family friendly, and will not post ads that promote hate or intolerance. Fees for ads are dependant on the size of the ad and the time frame for the ad. Payments must be made in advance via paypal before ads will be placed on my blog.
Services & Rates
Product review – Please email for information.
Featured giveaways- Please email for information.
Sponsored Posts- Please email for prices.
Social Media
Tweets
$10 per tweet
Facebook
$10 per post
Instagram
$10 per post.