Disclaimer: This is a sponsored post on behalf of Supercuts, which means that compensation was received for writing this post.
Who is looking to start a business? Well it would seem that a fair bit of people really are. Someday I would love to start some kind of business, but I'm still not sure if a Coffee shop anime/manga store will really work as well in the states as I wish it would. Of course I'd want a lot of other things from Japan to offer too… but I digress!
A group of 1000 People with a net worth of over $200,000 were surveyed by Supercuts and here you are able to see the results.
Of the respondents:
56% are planning on opening or starting a business in the next 12-18 months. (Either alone or with a partner.)
25% are females looking to start their own business.
56% looking to start a business are planning on having a business partner.
31% of the people looking to start a business are planning on going into business with a spouse or domestic partner. (That's roughly 10% of all respondents.)
30% of respondents looking to start a business are going into business with a friend and 26% are going into business with a colleague.
Females are more likely to go into business with a spouse or domestic partner than males.
How are business partners likely to be related? Would you be surprised to know the answer?
This chart below details the number of those who are likely to be related to their partners and in which way. I was surprised Friend was so high on the list!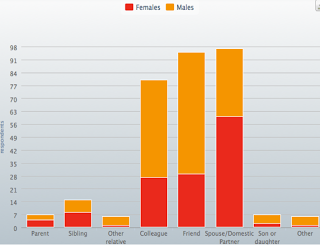 A great business to start is your own Supercuts Franchise! Like I wrote in my previous post owning a Supercuts franchise is a great idea, even in this economy! The hair cutting industry is stable, everyone needs a haircut at one point or another, and the Supercuts price is perfect for even those in a tight budget searching for a job.
Are you looking to start your own business? Have you thought about owning a Supercuts franchise?
Blogger, Illustrator, Reviewer, Voice Actress, Mom of 5 humans, and 8 kitties! I do a little bit of many things. Crafting, singing, sewing, baking, cooking, on top of blogging, taking care of kids, and doing freelance work here and there.
Latest posts by Kisa Johnson (see all)