The Holidays are coming! Are you ready?! We are!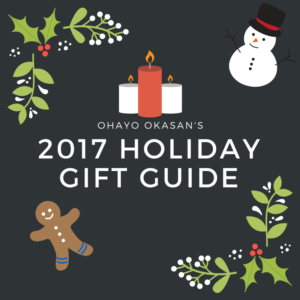 It's sure darn cold enough that you'd think it was winter and not fall around here. 41 in September, yep the weather went from hot hot hot, to cold cold cold. It's time to get ready for the hustle and bustles of the holidays here!
Ohayo Okasan is pleased to announce that we are now accepting submissions for our 2017 Holiday Gift Guide.
This gift guide will be promoted from October 1st – December 24. (Your product information and links will remain on the site indefinitely.) Items will be promoted at minimum once biweekly.
If you'd like to get your product in front of our active and engaged 34,000+ social media followers on Facebooknofollow,Twitternofollown, Pinterestnofollow, and Instagramnofollow, please read on…
*Disclaimer: I was sent items in exchange for review, and some links are affiliate links – Thanks!*
Family-friendly categories include
What you receive
Submission guidelines
Send your submission requests to kisa@ohayookasan.com. We look forward to working with you this holiday season!